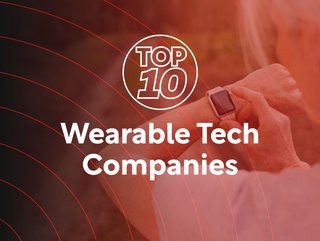 Mobile Magazine considers some of the leading technology companies that develop wearable technology
Mobile Magazine considers some of the leading technology companies that develop wearable technology and enable digital tools to become more portable
Wearable technology has quickly become a popular innovation, as technology companies seek to expand the perimeters of their digital transformation strategies. It also has great potential to revolutionise key industries, including the healthcare sector.
Some of the benefits of these types of products include providing people with the ability to monitor fitness levels, track location with GPS and view text messages or information more quickly. Furthermore, these types of devices keep people's hands free and enable a more portable use of technology and remove the need to remove devices from pockets.
With this in mind, here are some of the leading wearable technology companies.
Founded in 2012, Augmedix is the first company to bring ambient medical documentation solutions to hospitals and health systems. The organisation works in acute and ambulatory care settings and has built a reputation of trust, quality and reliability.
Healthcare professionals will wear the company's wearable technology to connect their clinic with the Augmedix charting service, ensuring that they can focus on caring for patients. Augmedix Go is a clinician-controlled mobile app that uses AI technology and structured data to instantaneously create a fully automated draft medical note after each patient visit.
HTC, or High Tech Computer Corporation, is a Taiwanese consumer electronics company that was founded in 1997. The company began as an original design and equipment manufacturer that designed and manufactured laptop computers.
Whilst the company failed to succeed in smart phone development, it has still contributed wearable technology products. UA HealthBox, is one of the world's first Connected Fitness systems that was created specifically to measure, monitor and manage the factors that determine how a person feels during fitness activities.
Committed to innovation, Garmin makes products that are engineered for life on the outside, with a goal of ensuring its customers can make the most of the time that they spend pursuing their passions.
With more than 19,000 associates in 80 offices around the world, Garmin brings GPS navigation and wearable technology to the automotive, aviation, marine, outdoor and fitness markets. The company also offers an array of products for all types of athletes including, sport watches, smartwatches and fitness trackers.
When it comes to wearable technology, Sony offers consumers bluetooth connected wrist-worn devices that can offer users quick access to their mobile phones and allow users to log various aspects of their life. The company also offers wearable cameras.
The company first entered the wearables market in 2019, announcing its platform, mSafety. This Internet of Things (IoT) offering combines a connected wearable device (a wristwatch) with a cloud-based backend solution to provide payers, health systems and app developers a ready-made platform to build remote health monitoring and mobile health applications. It does not require phone access.
Huawei offers a range of standalone wearable communication devices that encompass a diverse range of capabilities to integrate into the lifestyle of the user. The wearable technology includes smartwatches, fitness trackers and earphones.
Powered by Huawei's innovative technology, the devices are able to offer health monitoring, notifications and connectivity. With a key focus on user experience and cutting-edge design, these devices ultimately have a goal of enhancing daily activities and creating a better relationship between technology and well-being.
In October 2023, the company unveiled its Huawei Watch GT 4 series in efforts to fuse technology with fashion.
Samsung offers a wide range of wearable technology options that can connect to a user's mobile device. This includes the Galaxy Wearable application which can manage and monitor the wearable device features and applications installed through Galaxy Apps.
The company also offers a range of wearable technology options for wellness, safety and productivity within a business context. It states that its wearables can help to reduce downtime and improve efficiencies within the manufacturing industry by providing faster reaction times and creating a baseline for a smart factory. In addition, employers using geo-tracking can easily find and assist workers if they're in danger.
Xiaomi Corporation is a consumer electronics and smart manufacturing company with smartphones and smart hardware connected by an IoT platform at its core. Founded in 2010, Xiaomi is one of the world's leading smartphone companies, with 654.5 million smart devices connected to its AIoT platform as of June 2023.
In September 2023, the company released two new wearable devices, the Xiaomi Watch 2 Pro and Xiaomi Smart Band 8. Xiaomi states that these gadgets are perfect for anyone who wants an excellent smartwatch or fitness tracker to keep tabs on their wellness and fitness goals.
Already established leaders in the technology industry, Microsoft has offered a range of wearable devices and insights for its customers in the past. It even worked with Timex to design the first-ever smartwatch, Timex Datalink, in 1994. Microsoft co-developed the product as a wearable alternative to mainstream personal digital assistants (PDA) with additional features such as water resistance and easy programmability.
Whilst the company has had no notable new developments in wearable technology (as of 2023), it was well-known for its now-disbanded smart band, Microsoft Band, which had smartwatch and activity and fitness tracker features.
Fitbit is an American consumer electronics and fitness company. It produces wireless-enabled wearable technology, physical fitness monitors and activity trackers such as smartwatches, pedometers and monitors for heart rate, quality of sleep and stairs climbed, as well as the related software.
In 2019, Fitbit was ranked as the fifth largest wearable technology company in shipments, having sold more than 120 million devices and having 29 million users in more than 100 countries. The company was acquired by Google in January 2021.
A leader in wearable technology, Apple has boasted a long lead in wearable technology. Most notably, it developed the Apple Watch, which incorporates fitness tracking, health-oriented capabilities and wireless telecommunication, as well as integrating with iOS and other Apple products and services.
The Apple Watch was released in April 2015 and quickly became the best-selling wearable device worldwide. It has now been hailed as revolutionary for healthcare, as it can support the user across multiple aspects of health, including heart health, mobility, activity and medications.
As of September 2022, new Apple Watches come with watchOS 9 preinstalled and requires an iPhone running iOS 16.
******
For more insights into the world of Mobile - check out the latest edition of Mobile Magazine and be sure to follow us on LinkedIn & Twitter.
Other magazines that may be of interest - Data Centre Magazine.
Please also check out our upcoming event - Net Zero LIVE on 6 and 7 March 2024.
******
BizClik is a global provider of B2B digital media platforms that cover Executive Communities for CEOs, CFOs, CMOs, Sustainability leaders, Procurement & Supply Chain leaders, Technology & AI leaders, Cyber leaders, FinTech & InsurTech leaders as well as covering industries such as Manufacturing, Mining, Energy, EV, Construction, Healthcare and Food.
BizClik – based in London, Dubai, and New York – offers services such as content creation, advertising & sponsorship solutions, webinars & events.