Executive Profile: Blackberry's saviour, John Chen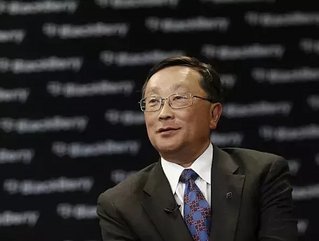 John Chen joined Blackberry in November 2013. He has been credited for saving the company and turning it around
BlackBerry started its journey on top in 1999 and, by 2010, the company held a market share of more than 40% — above Apple, Google, and Microsoft. However, it later struggled as it began to see significant drops in sales. After repeatedly delaying new product launches, its market share shrunk to just 1% by 2016.
Arriving at BlackBerry Limited with 40 years of experience in his hands, John Chen was responsible for redefining the company's vision and goals as executive chairman of the board and CEO. He created a successful pivot and rebranded the company from hardware producer to security services and software provider. 
In order to kickstart Blackberry's cybersecurity consultancy, Chen later acquired Encription, a UK cybersecurity company, for an undisclosed amount in 2016. He also acquired Cylance, a security software start-up that uses artificial intelligence to identify and disarm threats, for US$1.4 billion in cash in February 2019.
"The way I approach a company is to find the gem in it," said Chen to CNBC. "It [Blackberry] was a very iconic company, and I didn't want to see it die."
Blackberry's once-popular phones might have reached the end of the line as the company announced that it would no longer support them. However, the company has proven that it would do well without them. It achieved a 4% revenue growth in fiscal Q3 of 2021 — valued at approximately US$184 million (£135.44 million) — exceeding Wall Street's expectation of a meagre 1% even without them. 
The revival specialist
John S. Chen graduated from Brown University in 1978 with a magna cum laude in electrical engineering and from Caltech in 1979 with an MS in electrical engineering. 
The Hong Kong-born American businessman later began his career as a design engineer for Unisys in 1979. Eventually, he served as vice president and general manager of its Convergent RISC Platform Division and the Convergent UNIX Systems Group.
He ended his tenure to join Pyramid Technology Corporation as executive vice president in 1991 and was appointed president, chief operating officer, and director in 1993. He continued his service until 1995 as he later joined Siemens Nixdorf as a vice president. A year later, he was promoted to president and CEO of Siemens Nixdorf's Open Enterprise Computing Division.
Chen moved on by becoming the CEO of Sybase, a strong competitor of Oracle, in 1998. Chen led his team to turn the "unwired enterprise" into a profitable mobile device producer. Chen continued to lead the company through 55 consecutive quarters of profitability during his 15-year tenure. Chen also served on the Board of Directors for The Walt Disney Company from 2004 to 2019 and Wells Fargo & Co. from 2006 to 2018. 
"You won't find too many CEOs who are pessimists. CEOs find win-win situations, thread the needle and move on. There will be ups and downs and choppiness. It's never smooth sailing, but things making news last about two days then fade into the background," said Chen, revealing bits about his leadership style.