Samsung's new wireless charger also disinfects your phone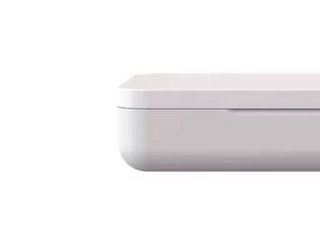 Samsung's UV Steriliser effectively kills up to 99% of bacteria and germs, including E. coli, while also charging any compatible devices inside...
With the world continuing to labour under lockdowns, social distancing measures, and the ever-present threat of COVID-19, personal hygiene has never been more important. However, no amount of handwashing is going to compensate for what might be the dirtiest items we own: our smartphones. 
Researchers at the University of Arizona found that cell phones can be around than the average public toilet seat. have even found pathogens like , and even . Just having these microbes on your phone won't automatically make you sick, according to Susan Whittier, director of clinical microbiology at New York-Presbyterian and Columbia University Medical Center, but they still pose a potential health risk if they make their way into a human digestive or respiratory system. 
With the risks of COVID-19 coming from droplets, airborne particles and unwashed surfaces, our phones have the potential to be hotbeds of infectious bacteria. 
Wait, before you leave to go dip your phone in bleach, there are a number of solutions to this problem, the simplest being: go wash your phone with an antibacterial wipe and stop reading The Wall Street Journal on the toilet. Yes, you, Greg. I'm talking to you. 
In a world where personal hygiene is more important than ever, South Korean tech giant Samsung has announced the launch of a new product for the modern smartphone user: a UV Steriliser with Wireless Charging. 
Announced at the end of last week, the UV Sterilizer is manufactured by Samsung C&T, a partner of the Samsung Mobile Accessory Partnership Program (SMAPP), and is available via select online and retail stores. The simple white box allows users to disinfect all their daily carry accessories, from wireless earbuds to sunglasses. Not only does the device remove harmful bacteria from cell phones, but it also charges them wirelessly - as long as they're a Samsung or other brand mobile device that supports Qi wireless charging. 
The box has a relatively sleek design with a single button which activates the UV disinfection process for 10 minutes. The UV Steriliser effectively kills up to 99% of bacteria and germs, including E. coli, Staphylococcus aureus and Candida albicans, according to tests done by two independent test and certification institutes, Intertek and SGS.
UV sterilisers aren't common in most of the world, but the fact that this product has come from a Korean company is no surprise. These devices are a common appliance in Korean homes, and are typically used to sterilise toothbrushes. Also, since Koreans brush their teeth after every meal, the market is also filled with portable options. 
The possibility of a mobile battery pack with a UV disinfectant function showing up on the market in the near future feels pretty high.