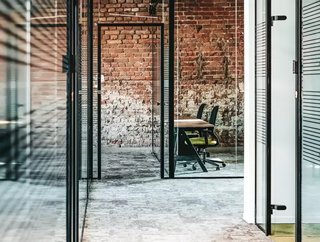 Zoom's head of UK&I, Phil Perry, discusses the hybrid future of work as the world struggles to find a good reason to come back to the office.
As global vaccine rollouts allow the world's richer economies to edge closer to a "post-pandemic" landscape, there's an increasingly fierce debate raging over whether we even need to come back to the office at all. 
The "Back to Work" Fiasco 
In June of this year, Apple CEO Tim Cook sent out a company-wide memo saying that all staff would be required to return to the office some time in September. Apple, like pretty much all tech companies, had been working more or less fully remote since the start of the pandemic, and Cook's memo wasn't exactly well-received. Employees pushed back with their own open letter to management, highlighting the false narrative pushed by the company's executives about just how eager they were to return to in-person work. In the letter, employees wrote that "Messages like, 'we know many of you are eager to reconnect in person with your colleagues back in the office,' with no messaging acknowledging that there are directly contradictory feelings amongst us feels dismissive and invalidating… It feels like there is a disconnect between how the executive team thinks about remote/location-flexible work and the lived experiences of many of Apple's employees." The dust up between Apple's management and its workers led to a slew of resignations throughout the supposedly hip, progressive firm. 
Apple isn't the only company to have faced backlash from disgruntled employees in the face of the decision to return to the office. A global survey of 30,000 workers conducted by Microsoft found that 41% of workers were considering quitting or changing professions this year. In the UK and Ireland, another study revealed that 38% planned to quit. In the US, more than 4mn people quit their jobs in April alone - including the entire staff of a Burger King in Nebraska, who definitely take the top prize in the "quitting in style" category.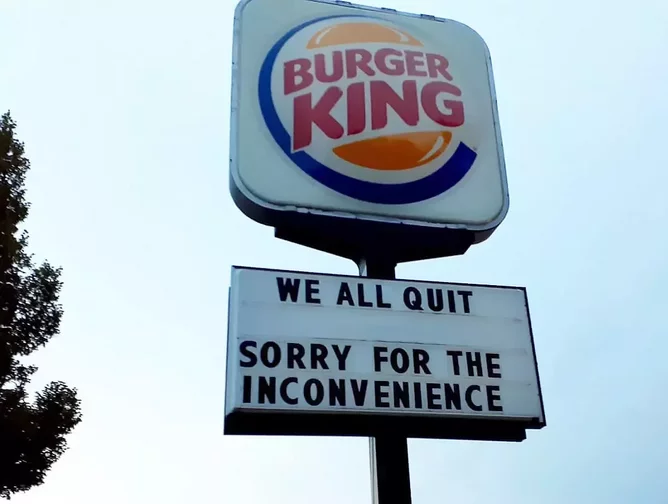 Of course, the now-viral Burger King walkout from a branch where employees had been working 60 hour weeks with no air conditioning in the middle of one of the hottest summers on record wasn't about having to return to the office - those essential workers never left. But in an economy where wages have remained stagnant while productivity (as well as corporate profits and executive bonuses) soared over the last decade, where billionaires are more interested in spending their tax-free fortunes on a space-based pissing contest than meaningfully contributing to society, it's not all that surprising that patronising memos and threatening comments from CEOs (Morgan Stanley CEO James Gorman said he'd be "very disappointed if people haven't found their way into the office" by early September, adding that "Then we'll have a different kind of conversation.") have prompted millions of workers to decide they've had enough.
As usual, pearl-clutching economists have even given it a catchy name: The Great Resignation. 
The Remote Slacker Fallacy 
When the pandemic started, there was a great deal of grumbling by management that, without anyone looking over their shoulders, workers' productivity would plummet. What actually happened - something which several four-day workweek trials have also pointed out in the past couple of years - is that the extra time, flexibility, and peace workers at home found in the remote lifestyle actually boosted productivity.  
A two-year study by Great Place to Work of more than 800,000 employees at Fortune 500 companies found that workers were just as productive (if not more so) when working remotely. Another study by Stanford University of 16,000 US workers found that working from home increased productivity by around 13%, and another by ConnectSolutions found that remote workers accomplished 30% more work in less time than they would spend working in the office. 
Zoom to the rescue… Again
Employers are, quite understandably, nervous about the return to the office. Sure, some back-to-work orders are the result of managers' antiquated attitudes towards the fact that, if they can't see employees working, they aren't actually working - something that multiple studies have found to be demonstrably untrue. But there are plenty of companies where a fully remote approach just isn't viable. 
There is a middle way, however. "We are now seeing the rise of a hybrid model that gives employees the choice to work in the office, remotely, or a mixture of both," says Phil Perry, the UK and Ireland boss at Zoom. Hybrid work, he continues, is increasingly emerging as a way for companies to meet their in-person needs while giving employees the flexibility that has proved so beneficial over the past 18 months. "The increased flexibility helps workers operate from anywhere, fitting their jobs around their individual needs. It offers a better work-life balance, where employees have more time to take care of their families or themselves," Perry explains, adding that the hybrid model has also been shown to improve companies' access to talent, "as the pool of candidates widens beyond the commutable location towards a global marketplace."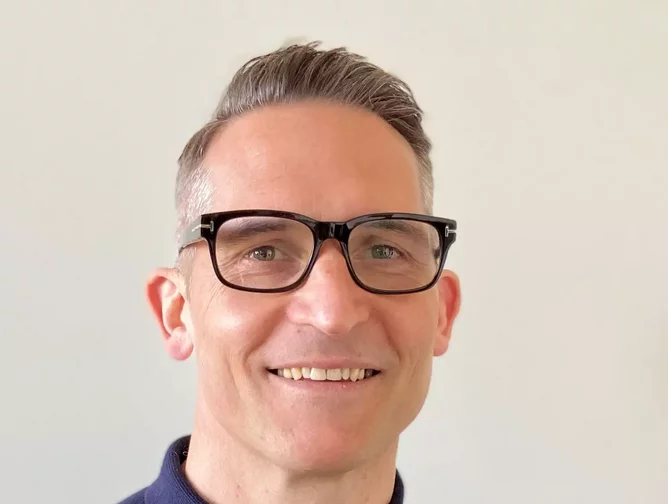 It's worth noting that Zoom itself has a lot riding on the future of hybrid work. When I asked Perry about the experience of going from being a business tool to the bedrock of human civilization more or less overnight, and what a return to the office would mean for Zoom, he reflected that the growth that Zoom experienced was "seismic."
In 2019, Zoom clocked about 10mn meeting participants per day. Last year, that number repeatedly exceeded 300mn as people turned to Zoom's platform both for work and human connection. "For many, video conferencing offered a respite to the isolation that people felt during the pandemic. It's been incredible to see how communities, organisations, friends and families have stayed connected with a tool that was traditionally used by businesses," says Perry. He adds that one of his favourite stories from the pandemic was the Scout Association, which turned to Zoom "to provide virtual experiences for 475,000 young people, providing a sense of community and connection during ongoing national lockdowns." 
Now, however, Zoom's future very much depends upon the hope that the next six months won't see a reversal of all the progress we made over the past 18. Perry is confident, however, that "the shift towards the hybrid work model has already begun," adding that "remote meetings eliminate commutes, encourage inclusivity, and improve work between teams." 
In a year when it feels like the patience of the global workforce with its employers is hanging by a very precarious thread, using collaboration tools in support of a hybridised working model might be just enough of a compromise to prevent the analysts at Bloomberg's worst fears ("WE QUIT - SORRY FOR THE INCONVENIENCE" signs outside every Burger King in America) from coming true. 
For the companies already experimenting with hybrid working models - in July, TikTok announced that it was transitioning to a workweek that would remain fully remote two days out of five - the benefits are already being felt. From bigger talent pools and better collaborative tools, to happier, more productive employees given greater freedom to get on with their jobs, Perry emphasises that "All of these benefits were felt during the pandemic, and workers want the advantages to stay afterwards as well."