Samsung begins mass production of next-gen DRAM chips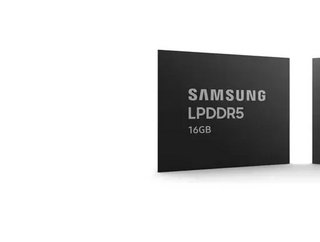 Samsung's new 16Gb DRAM chips will power the next generation of foldable, 5G and multi-camera devices...
Samsung has begun mass production of its new generation of dynamic random access memory (DRAM) chips at its Pyeongtaek plant south of Osan, South Korea.
The company that the new generation of chips will be the industry's fastest example of a Low-Power Double Data Rate Synchronous Dynamic Random Access Memory (LPDDR5 DRAM) chipset to date. 
With a processing speed of 6,400 megabits per second (Mb/s), the new LPDDR5 is reportedly up to 16% faster than the current industry standard 12Gb LPDDR5 (5,500Mb/s) chips. The new chipset combines eight chips to achieve transfer speeds of around 10 5Gb HD videos, or 51.2Gb of data, per second. By contrast, Samsung's current chipset generation requires 12 chips working in tandem to achieve comparable speeds. 
The result is the industry's best ratio of chip size to processing power in a smartphone, which Samsung claims will be instrumental in powering the next generation of AI, 5G and foldable devices. 
The size reduction is being achieved using Samsung's third-generation 10nm-class (1z) manufacturing process. "The 1z-based 16Gb LPDDR5 elevates the industry to a new threshold, overcoming a major developmental hurdle in DRAM scaling at advanced nodes," said Jung-bae Lee, executive vice president of DRAM Product & Technology at Samsung Electronics. 
"We will continue to expand our premium DRAM lineup and exceed customer demands, as we lead in growing the overall memory market." 
In order to support production of the LPDDR5, Samsung has expanded production capacity at its Pyeongtaek plant, making the 128,900 square meter facility the company's largest semiconductor production line to date. 
The new chipsets will most likely make their debut in , set to be announced in February 2021, and bundle the LPDDR5 into the company's new chipset. The devices is also expected to accomodate 5G capability, as well as an increasingly powerful camera array, placing ever-growing demands on its chipset. 
Outside of its own smartphone lines, Samsung plans on selling its new 16Gb LPDDR5 package to global smartphone makers, as part of an ongoing strategy to strengthen its presence as a hardware vendor in the flagship mobile device market throughout 2021. The company is also planning to expand the use of its LPDDR5 offerings into automotive applications.