Top 10 mobile apps for mental health support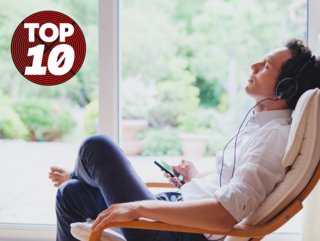 Top 10 mobile apps for mental health support
We share the Top 10 mental health apps that are leading the way in this rapidly growing, global mobile market
Over the last few years - particularly during (and as a direct result of) the global COVID-19 pandemic - mental health apps have represented one of the most successful realms of mobile apps.
This sphere is growing rapidly, both in terms of its user base and the range and sophistication of the services that it offers.
In fact, in 2022, the global mental health apps market size was awarded a $5.2bn evaluation. What's more, it is expected to grow even further, at a staggering 15.9% CAGR from 2023 to 2030.
So, in this week's Top 10, we explore the mental health app providers that are paving the way in this remarkable sector.
10. Catch It
Catch It is a mood tracking app, which allows users to create and complete their own personal, virtual mood diary.
The app is a joint project from the Universities of Liverpool and Manchester, with the aim of helping users to understand and monitor their moods.
9. Moodkit
Moodkit is a mental health app that offers a series of mood improvement tools, based on the practice of CBT.
Its tools include activities designed to improve the user's mood, a thought checker (which allows the user to identify and change negative thoughts), a mood tracker and an in-app journal.
8. Babylon
Babylon is a specialist healthcare platform, which offers a wide range of smart health tools.
Designed to offer an all-in-one healthcare solution, the app allows users to speak directly to a doctor or nurse, book video appointments with their healthcare provider, arrange referrals to specialists (including pharmacists and mental health professionals), and conduct proactive health monitoring or tracking.
The app also has an in-built AI-powered symptom checker, which can help users to identify a potential condition more successfully.
7. IESO
The IESO app is a free NHS service, which offers users one-to-one typed therapy.
The app connects users to a cognitive behavioural therapy (CBT) specialist, and allows them to engage in this specialist talking therapy through text. The app and its team of specialists can offer treatments to a wide range of mental health disorders, including anxiety, OCD, PTSD, phobias and insomnia.
Number of users: over 110,000
6. ChillPanda
ChillPanda is a mobile game, designed with the aid of a team of clinical psychologists. The game consists of a series of calming activities and adventures, allowing the user to play as a panda.
It works by allowing the user to measure their heart rate, and so track how they are feeling through the app. It also recommends different activities, based on their emotions and stress or anxiety levels.
5. Thrive
The Thrive mental wellbeing app provides intuitive and easily accessible digital therapy and mental health support.
Its services include meditation, deep muscle relaxation and calm breathing, as well as a dedicated CBT programme, all within the app.
Its users include some of the world's largest companies, including the likes of AVIVA, Santander, AXA and the NHS.
Number of users: 3.8 million
4. WYSA
Offering a similar service to IESO, WYSA is another app that offers a flexible, remote mental health support tool.
But, it is unique in its use of clinically validated, conversational AI. The platform specialises in helping organisations, businesses and employers to improve the mental health support that their teams receive.
This AI healthcare platform has held over half a billion conversations with more than five million people about their mental health, spanning 95 countries.
Its partners include the likes of BOSCH, Columbia University, Harvard Medical School, L'Oreal and the NHS. Plus, it has received extensive industry awards, including Forbes' Top 5 Innovations in Mental Health for 2020, Google Play's Best App, and being named as a World Economic Forum Top 10 Innovator for 2022.
Number of users: 5+ million

3. Headspace
Headspace is a meditation app, with a rapidly growing global user base, of over 70 million members, spanning 190 countries across the world.
The app offers science-backed meditation and mindfulness tools, and hundreds of guided meditation options, including specialist focus music, sleep meditation, and courses targeted towards managing anxiety. In fact, it's proven to reduce stress by 14% in just 10 days.
Number of users: 70+ million
2. Calm
Calm is the leading app for sleep and meditation, with more than 1.5 million five star reviews on the Apple app store alone.
Its core goal is to help users to improve their health and happiness. And, it achieves this through a wide variety of different tools and services, including specialist solutions geared towards improving sleep quality, reducing stress and anxiety, and improving focus.
Users of the app can improve their meditation skills, access exclusive focus or relaxation music, learn mindful movements and stretches, and follow audio programmes taught by mindfulness experts - all through a single, comprehensive platform.
Number of users: 100+ million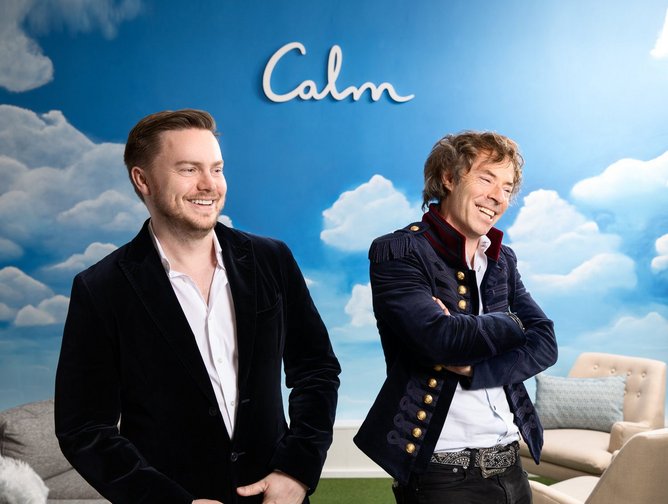 Alex Tew and Michael Acton Smith, Founders of Calm
1. Better Help
Through BetterHelp, users can access professional therapy with a licensed therapist, directly.
This pioneering mental health platform gives consumers access to flexible online mental health services, making this treatment more flexible and easily accessible than ever before.
Users can choose whether to access their online counselling or therapy services through video chat, phone calls or purely text-based communication (depending on their personal preferences).
BetterHelp is currently the world's largest therapy service, with over 290 million messages, chat, phone or video sessions completed, by a team of over 30,000 licensed therapists, helping over 3.8 million people.