Apple's new iPhone 14 satellite 911 emergency service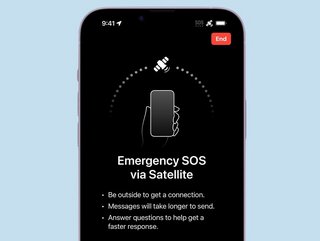 Apple has now launched its 911 emergency service which allows users of the iPhone 14 in American and Canada to reach 911, even without WiFi or phone signal
The new iPhone 14 Emergency SOS feature has been rolled out in America and Canada, and is set to be released in an additional four countries in December.
The details of iPhone 14's Emergency SOS via satellite feature
Through the pioneering new safety feature, owners of the Apple iPhone 14 phone located in America or Canada can contact an emergency operator, without the need for either WiFi or phone signal.
The "off the grid" feature was first announced when Apple launched its new iPhone 14, as one of the device's headline developments.
It enables the latest iPhone models - the iPhone 14, iPhone 14 Plus, iPhone 14 Pro, and iPhone 14 Pro Max - to use satellite connectivity to send emergency calls in areas that don't have either WiFi or a cellular network service.
The feature - which is reported to have cost Apple around US$450mn - will extend to become available in France, Germany, Ireland, and the UK in December, and it will be free for users for two years. Although Apple has said that they plan to charge for the service in the future, a price point has not been specified.
"Some of the most popular places to travel are off the beaten path and simply lack cellular coverage. With Emergency SOS via satellite, the iPhone 14 lineup provides an indispensable tool that can get users the help they need while they are off the grid," commented Greg Joswiak, Apple SVP of Worldwide Marketing, in a press release statement.
"Our teams worked tirelessly to tackle a new set of technical challenges to bring this service to life, in addition to building a reliable on-the-ground infrastructure."