2040 vision: A look to the phones of the future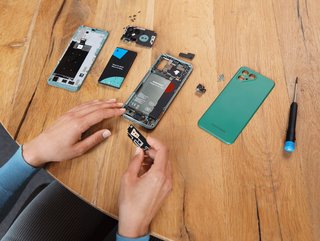 2040 vision: A look to the phones of the future
Looking ahead to 2040, what will mobile technology look like? Mobile Magazine focuses on the future with sustainable manufacturers and service providers
The future has to start somewhere. Some may argue the future is already here.
Cutting edge transformations are already at our fingertips and happening right now. And with advancements in technology, the possibilities are endless – but what more can we possibly achieve?
Making the phones of the future
Established 10 years ago, Fairphone makes smartphones to inspire and motivate the industry to look at social and environmental issues in the electronics supply chain.
Fairphone, which aims to make devices designed to last with fair and recycled materials, ensures future devices are designed for even better durability, repairability, and eventual recycling with its Fair Materials Sourcing Roadmap. The guidelines identify 14 focus materials it wants to source 70% of from fair and recycled sources by the end of 2023.
"The Life Cycle Assessment for the Fairphone 4 shows that 75% of the emissions associated with a smartphone occur during production," Fairphone's Press Officer Anna Jopp explains. "This means that the most efficient way to reduce the emissions caused by smartphones is to produce less phones. And the way to achieve this is to use the phones we already have for as long as possible."
Fairphone believes that repairability and modularity are key to achieving longevity in a smartphone, with their latest model, Fairphone 4, coming with a five-year warranty and can be opened without tools. Its modular design means users can remove and exchange eight different parts only using a screwdriver and the device is easier to recycle once it has really reached the end of its life.
And looking ahead to 2040, the brand hopes to see a more eco-conscious approach like Fairphones to be more common practice.
"Let's be realistic: We likely will not outsell huge competitors any time soon," Jopp adds. "But we need to grow to be an inspiration and to demonstrate that there is a market for ethical electronics and a better way of doing business.
"We have shown that it is possible to make a profit while also caring about the environment and the people in the supply chain."
The brand is happy that the world is becoming increasingly interested in the way mobile devices are made - but acknowledges more needs to be done.
Jopp explains: "There is still a lot of work to do. The industry still relies on producing and selling more and more. Life cycles are still very short and longevity is still not being addressed.
"Phones need to become easier to repair for sure, with upcoming and recent EU legislation certainly a step in the right direction, but we also shouldn't forget about software longevity. We especially need the support of the chipset manufacturers for this.
"There will be no 'miracle fix' for the problems in this industry. Eco-friendly packaging is great, but if we look at the 1.4 billion phones sold each year – only around 20% of which are re-used or recycled – this is simply not the most pressing problem when it comes to smartphones. The biggest impact is likely to come from upcoming legislation on repairability and eco-friendly design as well as, I hope, an increasing awareness and change in mentality, both on the side of consumers and of manufacturers."
Mobile operators look forward to 2040
But what good will a mobile phone of the future be without adequate cellular providers?
"Operators in 2040 are likely to be lean, highly automated, logically – and in some cases physically – more separated than they have been into different businesses," Reza Rahnama, MD of Mobile at the BT Group – the parent company of BT, EE, Plusnet and Openreach – said of network operators of 2040.
"The network communication companies will likely be part of many aspects of physical environments as there are going to be networks for controlling physical functions whilst the intelligence sits in the cloud. The devices will be more intelligent as they process a lot more data.
"The security aspect will also evolve - quantum security, for example - as security is one of the biggest drivers and concerns. The network will transform aspects of education and entertainment significantly, utilising AI in order, not only to provide better services to customers, but to enable them to become always available."
He highlights that major challenges facing the BT Group – and other carriers like it – are simplification of networks and businesses themselves.
He asserts: "We'll need to develop the software development, system integration and DevOps capabilities across all domains within the network platform company, as well as developing the agile service development capabilities and developer ecosystems with partners and customers in the Services company.
"We'll need to do all this while continuing to increase coverage and capacity, and continuing to improve efficiency, especially energy consumption. The biggest challenge is going to be having a highly skilled engineering network. There is a need to understand next generation mobile technologies and fibre networks and a detailed understanding of cloud software engineering and service resilience. Network operators will become enablers of putting the technology in the hands of people and things. Therefore, understanding the use cases – which will be very complicated – is critical."
The biggest challenge facing network operators is the rollout of 6G networks, which are expected to be developed and released by 2030. 6G, big data and the decision-making it enables, will become the main driver for this generation, Rahnama adds.
He continues: "There's no doubt there will be faster connectivity, but data driven networks and the introduction of AI-style capabilities into the hands of the consumer will be the main driver.
"We're hoping the standardisation will drive the network more towards greater autonomy and automation in order to provide constant availability - although in the radio network, this will be difficult.
"Any new generation of mobile technology which brings the capability of controlling the physical environment requires advanced security, for security continues to be at the heart of what we believe 6G will deliver."
It's safe to say the future of mobile is not only about technological advancements but also about sustainability. Whether conscious practices in prioritising social and environmental issues, fair and recycled materials, repairability, and modularity, or improving efficiency and reducing energy consumption, as we look ahead to 2040, sustainability will continue to play a critical role in shaping the future, ensuring a more environmentally friendly and responsible approach to technology.