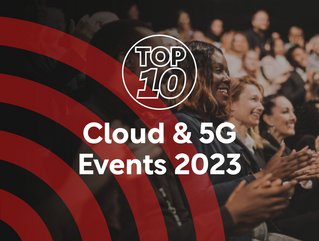 Top 10 Cloud & 5G events for the remainder of the year
As the second half of the year gets well underway, Mobile Magazine summarises some of the leading cloud and 5G events coming up for the rest of 2023
There's nothing quite like gathering for events, conferences and trade shows - sharing knowledge, networking with peers and hearing cutting-edge insights from the field's leading experts.
And even though we're eight months into the year, there are still a host of events - both in-person and virtual - worth counting down the days until.
We round up 10 of the leading cloud and 5G events still to come in 2023.
10. Google Cloud Next '23
Where? San Francisco, California
When? 29-31 August

Next '23 is Google Cloud's global exhibition of inspiration, innovation, and education where decision makers, developers and those passionate about an accessible, scalable, socially responsible cloud come together to share challenges, solutions, 10x ideas, and game-changing technologies. The first time back in person, the the annual developer and partner conference will be made available on-demand.
There is also a London-based instalment of the event from 11-12 October and another in Tokyo from 15-16 November.
9. Platform Global 2023
Where? Antibes, France
When? 3-5 September

Although with a strong focus on data centres, digital infrastructure, power, sustainability and ESG, Platform Global will highlight how the seamless integration of cloud-based applications, among other advancements, is fundamental to meet the ever-expanding demands of our ever-growing digital world. The inaugural event, held last year, saw more than 280 senior executives register.
8. Edge Computing Expo
Where? Amsterdam, The Netherlands
When? 26-27 September
The free-to-attend hybrid Edge Computing Expo arrives at the RAI this September where attendees can hear from leading experts as they explore how edge computing can enable a significant increase in operational efficiency and automation, while dramatically reducing latency in your business. Among the specialist sessions is creating best practice roadmaps for cloud-to-edge architectures.
7. MWC Las Vegas
Where? Las Vegas, Nevada
When? 26-28 September
Branded North America's largest and most influential connectivity event, MWC Las Vegas follows the flagship MWC Barcelona in February and March as well as MWC Shanghai in June. A version on the African continent - MWC Kigali, held in the Rwandan capital - follows in October. With North America at the forefront of 5G innovation, the GSMA MWC series' Las Vegas trade show is held in what is fast becoming a leading global tech hub and showcases the hottest trends in connectivity and mobile innovation.
6. DCAC Live
Where? Austin, Texas
When? 27-28 September
Now in its seventh year and expanding to a two-day summit, DCAC flips the static conference model on its head to create a dynamic and disruptive event focused on emerging technologies. Although somewhat aimed at the data centre space, the conference encompasses subjects like cloud and cloud computing as part of a wider technological focus to bring industry professionals together at a launch point of discovery on how to push tech to the limit and get the most of our services - and take a sneak peek into what the future may hold.
5. Cloud & 5G LIVE
Where? Virtual
When? 11-12 October

Originally a stage at Tech LIVE 2022, Cloud & 5G LIVE makes a triumphant return this October - this time as an exclusive two-day virtual event for industry leaders.
More than 30 of the brightest minds in Telco, Cloud, 5G, AI, and Sustainability will grace the virtual stage with in excess of 1,000 attendees expected to beam in from around the world. Cloud & 5G LIVE presents a unique opportunity for knowledge sharing, learning, and networking with industry professionals from all corners of the globe.
Five themes will guide attendees through this year's bumper two-day event: The Future of Cloud Computing, The Future of 5G, Women in Cloud & 5G, Cloud & Infrastructure, 5G Network Transformation.
4. 5G World (Network X)
Where? Paris, France
When? 24-26 October

Now part of Network X, 5G World is the flagship event of the 5G Series: branded as the only global event series bringing together the entire connectivity ecosystem, enabling the connected society.

With a history spanning almost two decades with audiences travelling from across the globe for 5G World to hear from innovative operators, leading solution providers, disruptive new players and others who provide inspiration and innovation on how to successfully roll out 5G networks and monetise new use cases.


When? 7-8 November

Offering the opportunity to listen to exceptional insights and engage with distinguished keynote speakers, Edge Computing World allows attendees to accelerate their understanding of how digitisation works and is affecting all industries today. Cloud infrastructure providers and telco networks service providers are just some of the leaders set to attend the event in November, with senior executives from Deutsche Telekom, Telefónica and many more set to be in attendance.

Where? London, UK
When 20-21 November

Gartner IT Infrastructure, Operations & Cloud Strategies Conference 2023 brings the world's technology leaders together to hear top trends, find objective answers and explore topic coverage in addition to best practices. Promising to deliver must-have insights, strategies and frameworks for IT infrastructure and operations leaders, the two-day event promises attendees access to tech-driven vendors and a chance to meet peers, evaluate solution providers and explore partnerships.
1. TechEx Global
Where? London, UK
When? 30 November - 1 December
TechEx Global is the leading exhibition and conference series focusing on key trends in IoT, Digital Transformation, AI & Big Data, Cyber Security & Cloud, Edge Computing and Blockchain. The Cyber Security & Cloud conference agenda will highlight the most innovative advancements in technologies which are affecting these fields, including real-life case studies and expert panel discussions.
******
For more insights into the world of Mobile - check out the latest edition of Mobile Magazine and be sure to follow us on LinkedIn & Twitter.
Other magazines that may be of interest - Data Centre Magazine.
Please also check out our upcoming event - Cloud and 5G LIVE on October 11 and 12 2023.
******
BizClik is a global provider of B2B digital media platforms that cover Executive Communities for CEOs, CFOs, CMOs, Sustainability leaders, Procurement & Supply Chain leaders, Technology & AI leaders, Cyber leaders, FinTech & InsurTech leaders as well as covering industries such as Manufacturing, Mining, Energy, EV, Construction, Healthcare and Food.
BizClik – based in London, Dubai, and New York – offers services such as content creation, advertising & sponsorship solutions, webinars & events.
​​​​​​​