Top 10 largest cable companies in the US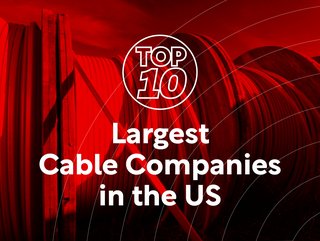 Top 10 largest cable companies in the US
Mobile Magazine rounds up the largest fibre cable companies in the United States of America
Fibre technology is the backbone of communication networks keeping us connected, revolutionising the way data is transmitted. With demand for high-speed transmission growing - and the size of said transmissions surging - providers are working harder now than ever to ensure their customers' needs are met.

Here, we run through the top 10 largest cable companies in the USA that offer fibre services.

With a footprint covering the suburban US East Coast, WideOpenWest operates across 14 markets and is beginning to expand its all-IP fibre technology to new markets through greenfield initiatives. Construction of its all-fibre network was nearing completion in Central Florida in March 2023.
9. Breezeline
Coverage: East Coast
HQ: Quincy, Massachusetts
President: Frank van der Post
Formerly Atlantic Broadband, Breezelinehas a network covering 13 states along the US' East Coast, passesing 1.69mn homes and serving around 694,000 internet customers. Its services are provided via hybrid fiber-coaxial (HFC) and fibre to the home (FTTH) network. It boasts 1,695 fibre miles in Columbus, Ohio and 835 in Cleveland, Ohio respectively.
8. Brightspeed
Coverage: Midwest, Southeast
HQ: Charlotte, North Carolina
CEO: Bob Mudge
Brightspeed is a fixed broadband provider in 20 states and owns both copper and fibre networks that pass 6.7mn homes and 600,000 enterprise buildings. Of its 1.15 million broadband subscribers, around 76,000 are fibre subscribers and the brand plans to build-out its fibre optic network to reach more than 3mn consumer and business locations, investing more than US$2bn in the process. Despite only being founded in 2021, Brightspeed has built - and continues to build - a large amount of infrastructure to provide millions of homes with fast, reliable internet.
7. Windstream Holdings
Coverage: South, Midwest, Northeast
HQ: Little Rock, Arkansas
CEO: Tony Thomas
A telco offering residential fibre internet services under the Kinetic brand Windstream has 1.17mn high-speed internet customers, of which 265,000 are fibre internet customers. Its fibre network covers more than 150 residential communities in 18 states. Windstream Wholesale has multiple fibre construction projects underway including an extension of its existing Tulsa, Oklahoma route from Little Rock, Arkansas to Memphis, Tennessee, a new fibre build from Raleigh, North Carolina to Jacksonville, Florida and another from New York City to Montreal.
Cable and internet service provider Astound Broadband is made up of the former RCN, Grande Communications, Wave Broadband, and enTouch brands and has more than 1.2mn broadband subscribers. Its coast-to-coast fibre network serves eight of the top 10 metro markets in the US. in June, Astound joined the growing ecosystem at DataVerge, owner and operator of the only carrier-neutral interconnection facility in Brooklyn.
Teleco Frontier has 2.8mn broadband subscribers across 25 states, with, 1.68mn of those fibre broadband customers. Its fibre network reaches 5.2mn locations and the brand has plans to expand its fibre network to 1.3mn new locations, reaching a total of over 6.5 million fibre locations by the end of the year. By the end of 2025, Frontier plans to reach 10 million total fibre passings. This year, Frontier was on track to spend US$800 million on expanding its fibre optic network through 2025, with the goal of having 90% of its customers connected to fibre optic cable before 2026.
Offering internet services under its Quantum Fiber and CenturyLink brands, telecommunications company Lumen Technologies has 3mn broadband subscribers. Quantum Fiber, which provides fibre-based services to residential and small business customers, has more than 830,000 subscribers. In June, Lumen announced that super-fast internet service was available to thousands more families and businesses as Quantum Fiber, unleashed gig and multi-gig speed internet in 18 cities by combining a blazing-fast fibre internet product with a frictionless, 100% digital platform.
"We live in a digital society and connecting people is important work. With each new city, thousands more people gain access to our reliable internet," said Maxine Moreau, President of Mass Markets at Lumen.
3. Altice USA
Coverage: National
HQ: Long Island City, New York
CEO: Dennis Mathew
Cable and fibre internet provider Altice - which operates under the Optimum and Suddenlink brands -has 4.3mn broadband subscribers across the US. The brand has recently heavily invested on its fibre offerings, and has made its 8 Gbps Fiber Internet service available to over 1.7 million residents and businesses across its fibre-to-the-home (FTTH) footprint.
"After launching 2 and 5 Gig symmetrical Fiber Internet speeds last year, Optimum is pleased to have invested even further in our network and infrastructure to bring next level 8 Gig symmetrical internet speeds to our fibre footprint," said Leroy Williams, Chief Growth Officer at Optimum. "Optimum is now the nation's largest 8 Gig Fiber Internet provider, and availability will continue to increase as we deploy fibre to more homes and businesses as we solidify our position as the connectivity provider of choice across all the communities we serve."
2. Verizon
Coverage: Mid-Atlantic, Northeast
HQ: New York City, New York
CEO: Hans Vestberg
Telecommunications company Verizon offers internet services under the Verizon Fios (FIber Optic Service). Launched in 2005, Fios was the first large deployment of fibre to the premises by a major carrier. It is available in nine states in the Mid-Atlantic and Northeastern regions of the US and serves 7.5mn wireline broadband subscribers and by the end of 2025, Verizon aims to expand Fios Internet's reach to 18 million households with around eight million subscribers. In the final quarter of 2022, Consumer Fios' revenue was US$2.9bn with its full year revenue at US$11.6bn, an increase of 0.6 percent from full-year 2021. Its revenue was $2.9 billion in first-quarter 2023.
1. AT&T
Coverage: National
HQ: Dallas, Texas
CEO: John Stankey
AT&T's fibre arm was launched a decade ago in April 2013 and with the company announcing its intent to build a network capable of delivering speeds of up to 1 gigabit per second, seven times faster than the average internet speed available at the time. Now, 10 years later, AT&T delivers internet speeds of up to 5,000 Mbps, five times faster than its initially promised speeds.
At a conference in June, AT&T CFO Pascal Desroches said the company is the "largest fibre provider in the US, and we are adding more than anybody else." As of 2018, AT&T had more than 1.1mn global route miles of fibre and in the first quarter of 2023 generated more than US$30.1bn in revenue.
As well as being the largest fibre company in the US, AT&T is the third largest telecommunications company in the world by revenue, and the largest provider of mobile telephone services in the US. This year, AT&T ranked 13th on the Fortune 500 of the largest United States corporations, with revenues of $120.7bn.