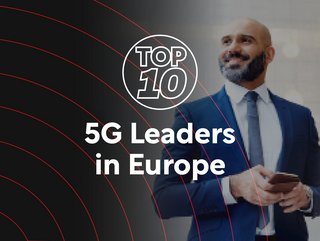 Top 10 5G leaders in Europe
Mobile Magazine rounds up the top companies leading 5G across the European continent, including the likes of Telenor, Vodafone and Nokia
Fifth-generation technology - more commonly known as 5G - continues to roll out worldwide, and Europe is no different. Following its first deployment in 2019, now 73% of the European population has access to 5G as of the end of 2022, according to ETNO. This is up from 62% in 2021.
However the continent has been criticised for falling behind on 5G in recent times, with this shortcoming widely attributed to lack of investment.
Despite calls that adoption lags behind its global peers, discover the driving forces shaping Europe's 5G landscape with us as we round up the top 10 telecoms and technology companies at the forefront of this groundbreaking technology.
Telenor's VP Head of NG Network Technology Patrick Waldemar explained how the Norwegian majority state-owned multinational telecommunications company's purpose is to empower societies and connect people to what matters most. "There are a lot of future applications that, when powered by 5G, can deliver on that purpose," he details. "I am really excited to see how the future application of 5G will empower societies."
As well as boasting social benefits, Telenor's 5G has radically changed the way search and resume operates across Norway, with it being billed a "quantum leap in the use of technology in emergencies".
At the end of 2022, TIM's 5G network is reported to be available in 555 locations across the country. This follows news last year that the company - Italy's largest phone group - had received €725 million (US$756m) in a government tender for the deployment of 5G networks. The provider has achieved more than 90% coverage in Milan, with the network available in a host of other cities at a speed of up to 2 Gigabits per second. Thanks to 5G provided by TIM, Monza will be the first Formula One European racetrack connected with 5G.
Swisscom provides 5G mobile coverage to more than 96% of the Swiss population and achieved this feat in just eight months, despite challenges posed by health risk concerns and stricter limits on power levels than anywhere else in Europe. In April 2019, the operator was the first to launch commercial 5G in Europe and, in the years since, has continued to =build out both 5G capacity and coverage across dense urban hotspots, remote alpine regions and major transport routes.
BT has started rolling out high-speed 5G in a number of remote locations across the UK, including Scotland's Fort William. The UK's biggest telco now covers more than 60% of of the nations with 5G and is focusing on areas covered by outdated technology. The group aims for its 5G to be everywhere by 2028. BT's private 5G is also enhancing entertainment in the form of sport to provide secure broadcast-grade infrastructure through Media & Broadcast's new Vena network.
Orange was the brand behind Pikeo, Europe's first experimental end-to-end 5G Stand Alone (SA) network at the time of its launch in June 2021, with results released earlier this year underlining Orange's leadership in determining the shape of future networks. As a Premium Pa\rtner of the Paris 2024 Olympic and Paralympic Games, Orange is working to contribute to the most inclusive and sustainable Olympiad in history through a less energy-intensive technical architecture and more efficient 5G network, which will help reduce Paris 2024's direct and indirect carbon footprint.
Back in February, Telefónica developed the first use case in Spain for package delivery based on 5G-connected drone air traffic control. In the first quarter of the year, Telefónica activated nearly 1,000 new 5G sites across Germany alone during the first quarter of the year, and is on track to reach 90% of the population with 5G by the end of this year.
Claiming to have 5G in more places across Europe, Vodafone is the first UK network to offer 5G roaming and continues to roll out 5G across Europe faster than any other network. Following its merger with Three in June, the combined business will invest £11bn (US$14bn) in the UK over 10 years to create one of Europe's most advanced standalone 5G networks. Margherita Della Valle, Vodafone Group Chief Executive, described the merger as being "great for customers, great for the country and great for competition".
Deutsche Telekom has achieved a population coverage of 47% across the 10 national companies it covers in Europe outside of Germany, and is aiming to boost that to 65% by the end of this year. Deutsche Telekom is in the business development phase of new 5G services in areas like entertainment, mobility, education, medicine and art, and is seeing a rising number of 5G projects in its national companies across the continent.
Nokia has been the forerunner in defining the fundamental technologies for the 5G era, and uses its leadership position to ensure that 5G technology remains indispensably valuable to people and organisations that use it every day. Nokia is at the forefront of driving standardisation efforts to meet consumer, enterprise and industrial requirements and anticipating future needs by innovating new applications enabled by 5G. It partners with telcos both across Europe and worldwide to enhance their own individual networks.
Ericsson was the first company to bring 5G to four different continents, and has been able to roll out 5G using their existing hardware. The 5G service is available to 63 countries and there are 147 live networks. Ericsson in Denmark is currently working with Faroese Telecom to achieve 100% geographical coverage across the The Faroe Islands' total land area and sea coverage of up to 120 kilometres in all directions. Ericsson has been ranked as the leader in the Frost Radar 5G Network Infrastructure Market 2023 report for the third consecutive year, demonstrating the company's efforts to invest in technology leadership for customers' benefit.
******
For more insights into the world of Mobile - check out the latest edition of Mobile Magazine and be sure to follow us on LinkedIn & Twitter.
Other magazines that may be of interest - Data Centre Magazine.
Please also check out our upcoming event - Cloud and 5G LIVE on October 11 and 12 2023.
******
BizClik is a global provider of B2B digital media platforms that cover Executive Communities for CEOs, CFOs, CMOs, Sustainability leaders, Procurement & Supply Chain leaders, Technology & AI leaders, Cyber leaders, FinTech & InsurTech leaders as well as covering industries such as Manufacturing, Mining, Energy, EV, Construction, Healthcare and Food.
BizClik – based in London, Dubai, and New York – offers services such as content creation, advertising & sponsorship solutions, webinars & events.