Enhancing mobile app technology with artificial intelligence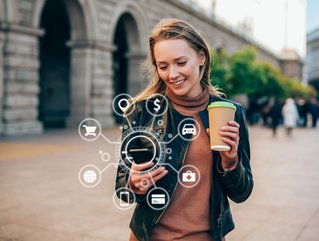 As the telecommunications industry continues to innovate at pace, we look at how artificial intelligence technology is taking the industry further
Mobile phones have been using artificial intelligence (AI) for some time now, take Apple's Siri as an example, the famous AI assistant that helps iPhone users get things done, whether that be making a dinner reservation or sending a message.
But now, AI is revolutionising the way mobile app developers create applications and the way the end-user experiences them. This comes as no surprise as a report from KPMG has indicated global AI investments will top US$150bn by 2025.
From healthcare, entertainment, and education to e-commerce and technology, all this is bound together by our smartphones. For many of us, our smartphones are the place where we leverage different technologies to support our day-to-day lives.
Creating a more personalised mobile experience with AI
By combining AI with the internet of things (IoT), technologists can create personalised experiences like never before. IoT can collect and generate large and varied datasets from consumers as they use their devices. Each time a device is used, there is more and more data generated to be fed into AI algorithms to create personalised experience for the user.
Together, IoT and AI can lead to a better utilisation of resources and higher efficiency. In web development, the tech delivers modified and more efficient apps as well as strengthening data security measures - this is vital in today's technology landscape as the future of mobile apps will be revolving around connected devices.
As online retail experiences continue to become increasingly popular, retailers are continually looking to stay ahead of their competition by adding more value. There are a number of factors organisations now need to consider to remain competitive, looking at price alone is now not satisfactory. By adding in AI technology into mobile devices and retail apps, customers will be able to gain a more personalised experience based on the data generated from their phones.
AI and security opportunities for mobile apps
Hacking and phishing attacks are continuing to plague organisations in all industries - mobile and telecommunication being no exception. These attacks are not only becoming more common, but also more sophisticated and as a result, personal data security has become a point of concern for both mobile users and developers.
Developers can use AI to identify the telltale signs that indicate suspicious activity, and raise alarms before any sensitive data is compromised. This is made possible with AI as it has the ability to learn from a users' actions and identify actions which are out of the ordinary by monitoring activity on a device.
Apple is already showing the benefits of AI and smart technology for improved security. The newer versions of the famous iPhone have Face ID technology that utilises AI and machine learning (ML) ensuring only verified users have access to information on the device.
AI: enhancing the mobile app user-experience
There are a number of ways the mobile industry can enhance the user-experience with the help of AI, with search engines being one key example. Text and voice have been, for a while, traditional search models for mobile users surfing the web.
Now, AI has given mobile developers the option to integrate visual technology that helps users find an item they are looking for without the name of the item, or the words to describe it. In some cases visual search is the more accurate and fatser option.
Additionally, AI can also improve translation services often embedded into mobile devices. Many apps already enable translation, but do not work without the internet. AI has the ability to enable smartphones to translate different languages in real-tiime without the need for an internet connection.