Apple rolls out massive surprise iOS 14 update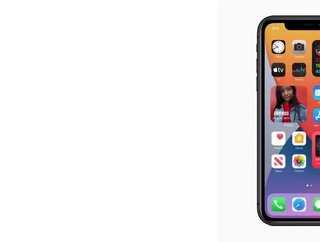 Apple re-imagines the iPhone experience with an updated home screen and App Clips...
The latest version of Apple's operating system is now live. The company of iOS 14 on Wednesday, and supports the iPhone 6 generation and later. 
The update features some of the biggest changes that Apple has ever made to its iconic home screen, including new widgets, a repositioned App Library (that takes inspiration from Android's long-standing navigation flow), and a new feature called App Clips. 
"Together with iPhone, iOS is central to how we navigate our lives and stay connected, and we are making it even more powerful and easier to use in iOS 14, with the biggest update ever to the Home Screen," said . "We are thrilled to see the incredible ways developers are taking advantage of widgets and App Clips to create new experiences that we think customers are going to love."
The launch , as the launch has come with only one day's notice for them to complete tweaks and updates to their offerings. Usually, Apple gives developers at least a week to prepare for a new update, and the decision has of the company's behaviour with regard to its App Store ecosystem. 
As a result, users who update their iPhones to iOS 14 this week in their third-party apps. 
On the home screen, redesigned widgets are now more customisable, allowing users to access useful information without entering apps, and to vary the widgets' sizes.
The particular widgets on display can also be set to vary based on the time of day, location and current user activity. "For example, users might see the News widget in the morning, Calendar events during the day, and their Fitness summary in the evening. Home Screen pages can be customized to show apps and widgets for work, entertainment, sports, and other areas of interest," says Apple in its press release. 
The App Library has been added to the final page on the home screen and - like on Android devices - gathers together all the onboard apps in one location. iOS 14 also puts the apps it believes to be most relevant to what the user is doing near the top of the library display. 
Courtesy of Apple, Inc
Notifications for incoming calls and Siri have also been freshened up, with picture in picture support allowing iPhone users to take FaceTime calls while using another app. 
App Clips are stripped down versions of apps that display over whatever the user is currently doing, allowing them to complete a simple task before returning to their current app. Apple has designed new App Clip codes (although the software also works with QR codes and NFC tags) to trigger these pop ups. 
The messaging app has also had a revamp, with the ability to pin favourite conversations and incorporates mentions and in-line replies, making the experience more similar to Facebook's Messenger experience. 
Additionally, there have been some new features included in the areas of Maps, Privacy and Audio. 
iOS 14 is available as a free download to all iPhone users with a compatible device.