Top 10 telecoms podcasts to listen to in 2023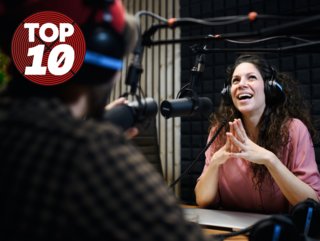 Listened to enough true crime? We've outlined our favourite Top 10 telecoms podcasts, which explore the latest global news in cloud, tech and connectivity
We're all familiar with the expression that 'there's a podcast for everyone'. But, even the most committed podcast fans might be surprised to learn about the breadth and depth of tech and telecoms podcasts that are out there.
The podcast genre is growing at a phenomenal pace. In fact, statistics show that the number of global podcast listeners is set to reach 464.7 million in 2023. This represents a 9.6% increase from 2022, and a staggering 22% of all internet users.
Below, we have shared our top 10 favourite podcasts that are covering key developments in the telecoms industry.
These include channels that are featuring the biggest names in the sphere - Deloitte, Oracle, Mark Zuckerberg and Richard Branson, no less - and critical topics including DE&I, AI, the cloud and 5G.
10. Telecoms.com
Streaming from London, this light-hearted weekly podcast explores the latest industry developments in telecoms and technology.
The 40 minute episodes feature expert commentaries on a wide variety of telecoms topics, including 5G, AI and IoT.
Listen to the Telecoms.com podcast here.
9. Stories from the Cloud
Oracle's cloud-focused podcast explores the success stories of the world's enterprises, outlining how they are using cloud technologies to succeed in the global marketplace.
Previous episodes include 'Navigating cloud waters with manufacturer UGN, Fujitsu and Oracle', in which manufacturers UGN and Fujitsu share their unique insights into cloud deployments.
Listen to the Stories from the Cloud podcast here.
8. Lex Fridman Podcast
Host Lex Fridman is an AI researcher, working with world-leading institutions, including MIT. He delves into a huge variety of topics, including science and technology, as well as broader discussions spanning history and philosophy.
Previous podcast episodes include 'Noam Brown: AI vs Humans in Poker and Games of Strategic Negotiation', featuring the research scientist at Meta AI Noam Brown, and 'Kate Darling: Social Robots, Ethics, Privacy and the Future of MIT', in which Lex speaks to Kate Darling, a researcher at MIT Media Lab specialising in human robot interaction and robot ethics.
Listen to the Lex Fridman Podcast here.
7. Telco in 20
Telco in 20 is, as its name suggests, a podcast that covers key telecommunications topics in bite-sized 20 minute segments.
Host Danielle Royston shares the latest news, insights and best practices for cloud technologies, with episodes including 'Get Ready for MWC 2023', and
'Bye-bye, private cloud; hello, public cloud'.
Listen to the Telco in 20 podcast here.
6. The Telco Podcast
In case its name didn't already make this apparent, The Telco Podcast is firmly focused on the telecoms space, and the advancements that we can anticipate in the very near future.
Hosts Anton Smith and Maciej Mazur offer an in-depth, expert analysis into a wide range of critical topics, including the edge, 5G, OpenRAN, AI and the cloud, just to name a few.
Listen to the Telco Podcast here.
5. User friendly
User friendly is Deloitte's business podcast. So, as you'd expect, this insightful business podcast is both informative and readily digestible, covering all of the key emerging trends in technology, media, and telecommunications.
Its previous episodes include everything from 'Leadership in an age of disruption' and 'Social Impact of Technology with HPE'.
Listen to the User friendly podcast here.
4. The Joe Rogan Experience
The Joe Rogan Experience has consistently ranked as the most popular podcast on Spotify, with a staggering average listeners of around 11 million per episode.
Having ran since 2009, host Joe Rogan was instrumental in driving the growth of the podcast genre. Plus, his 1,900+ episodes cover an immense breadth of global topics, including many invaluable insights into the telecoms sphere.
These include exclusive, highly personal interviews with Mark Zuckerberg, and the world-famous CIA whistleblower Edward Snowden.
3. The Diary of a CEO
In the last few years, Steven Bartlett has risen to become a household name. His story is made even more impressive by the fact that, just a few years prior, he was a "broke" university dropout.
He founded Social Chain when he was just 18, then resigned as the company's CEO at 27, at which point he launched 'The Diary Of A CEO' podcast.
The podcast covers a wide range of business topics, but one of the most famous episodes was Bartlett's highly personal interview with Richard Branson.
The episode 'Richard Branson: How A Dyslexic Drop-out Built A Billion Dollar Empire' sees Branson offer new insights into his remarkable career story.
Listen to The Diary of a CEO podcast here.
2. Women in Tech Podcast
Hosted by WeAreLATech's Espree Devora, this inspiring podcast is a fantastic showcase of the exceptional women working in tech.
The podcast features an exceptional variety of women, spanning different backgrounds, companies and seniority levels, and including engineers, investors, female founders, journalists, UX and UI designers, and many more.
Each episode sees the guests share their career stories, how they got into tech, and offer insights into their current work.
"The purpose of the show is for every listener to walk away feeling 'If She Can Do It So Can I'. I call it 'actionable empowerment'".
And with a bank of 600 episodes, there's plenty to get your teeth stuck into.
Listen to the Women in Tech Podcast here.
1. TED Tech
TED Talks have contributed widely regarded insights into almost every conceivable topic. These videos have hosted all manner of global pioneers, and are renowned across the globe.
So, it's hardly surprising that their dedicated technology podcast has secured the top spot on this list.
This deeply insightful podcast explores the biggest questions surrounding technology and its developing role in our lives.
Host Sherrell Dorsey takes the listener through the latest news and developments from TED's thought-leading speakers.
Previous episodes include 'The future of machines that move like animals', featuring insights from Robert Katzschmann, and 'How global virtual communities can help kids achieve their dreams', with guest speaker Matthew Garcia.