T-Mobile's ambitious action to build a sustainable future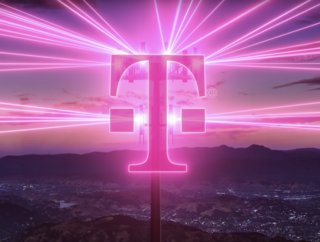 T-Mobile is taking giant leaps towards a greener future. Picture: T-Mobile
T-Mobile operates with 100% renewably purchased electricity. Here is how it commits to a more environmentally and socially responsible approach
With all eyes on the industry's net zero goals, businesses across all areas of the telco sector are working to lessen their impact on the environment.
As of last year, 50 global operators had pledged to reduce their carbon footprint over a ten-year period, according to the Global System for Mobile communications Association's (GSMA) Mobile Net Zero report. Additionally, operators making up 44% of global telecom revenue committed to net-zero targets by 2050.
And T-Mobile is no different in tackling its environmental incentives head on. With renewable energy sources like solar and wind power producing no carbon emissions as part of the electricity generation process, T-Mobile is taking giant leaps towards a greener future.
The company told Mobile Magazine in 2022 that it had established a set of guidelines in the handling of its operations, including design choices that can bring more efficiency to its energy usage. This extended to its supply chain group, from smaller things like minimising empty space, fuel usage and having fewer equipment truck runs.
T-Mobile's sustainability promise
Reflecting on its highlights from 2022, T-Mobile shares commitments to a more environmentally and socially responsible approach to business, showing the brand is invested in achieving sustainability across its global operations.
Last year, T-Mobile processed 11.7 million devices to be reused, resold, or recycled, reduced overall Scope emissions by 20% - progressing to its 2040 net zero target, what it calls its "most ambitious goal yet - and obtained a grade A based on the 2022 CDP Climate Change assessment.
The brand is also looking for opportunities to extend the life of devices and accessories by embedding sustainability at every stage of the product lifecycle - from design and packaging to distribution and end-of-life. It says it is committed to enforcing ways to reduce waste and improve the longevity of its products and materials.
Holding its environmental impact as a core value, T-Mobile says it is "all in" regarding its environmental commitments as it's the right thing to do for its business, customers, employees and the planet.
T-Mobile's energy-related endeavours mark a shift in the supply chain, incorporating sustainability into the design, manufacture, distribution, and disposal of its products.
As well as this, approximately 94% of its wireless products are accredited with UL Solutions' ECOLOGO certification or the EPEAT Registry, which ensures compliance to certain sustainability standards. The company also saw a 38% reduction in energy consumption per petabyte of data.
In the same period, more than 150,000 lbs of waste was diverted from landfill sites and, compared to 2020, overall emissions fell by 1.68 million metric tonnes of carbon dioxide equivalent (MT CO2e).
More of T-Mobile's achievements in 2022 can be found in the company's report 'Connecting with Purpose'.
The realities of ESG and working towards environmental goals
Recognised at COP27 in November 2022 that the company achieved its goal, T-Mobile was the first business of its kind to make the ambitious plans to source 100% renewable electricity a reality.
The RE100 goal was achieved through investment and further efforts to acquire renewable energy. A heavily-discussed topic at the conference, executives including Bob Vorlicek, Vice President, Network Supply Chain at T-Mobile, Rebecca Sternberg Marttila, Managing Director at Accenture and Kris Timmermans, Accenture Global Management Committee Member - Supply Chain, CFO/EV and Customer Channels used the conference as a platform to recognise this achievement, and encourage others in their own environmental journeys.
Last year's conference, hosted in Egypt in November 2022 - the next instalment due in November and December 2023 in Dubai - profiled how T-Mobile had developed a net zero strategy as early as 2018 and formalised ambitious plans to source 100% renewable electricity in 2021.
Its primary focus is gathering world leaders to tackle the realities of environmental, social, and governance (ESG) head on and formulate plans for steady progress towards a number of goals for the betterment of the planet - environmentally and socially.
Marked as leaders across the telecoms ecosystem, T-Mobile has taken sustainability beyond corporate responsibility, repackaging it as a core strategic priority for others to follow suit with.
******
For more insights into the world of Mobile - check out the latest edition of Mobile Magazine and be sure to follow us on LinkedIn & Twitter.
Other magazines that may be of interest - Data Centre Magazine.
Please also check out our upcoming event - Cloud and 5G LIVE on October 11 and 12 2023.
******
BizClik is a global provider of B2B digital media platforms that cover Executive Communities for CEOs, CFOs, CMOs, Sustainability leaders, Procurement & Supply Chain leaders, Technology & AI leaders, Cyber leaders, FinTech & InsurTech leaders as well as covering industries such as Manufacturing, Mining, Energy, EV, Construction, Healthcare and Food.
BizClik – based in London, Dubai, and New York – offers services such as content creation, advertising & sponsorship solutions, webinars & events.