Oracle NetSuite details its expanding global client base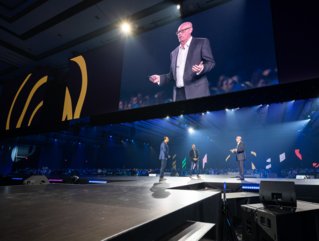 Live from SuiteWorld 2022 - Oracle NetSuite outlines the latest additions to its global client base, which include TravelPerk, OnBuy and Templafy
Mobile Magazine is in Las Vegas, attending Oracle's SuiteWorld 2022 event.
At SuiteWorld 2022, Oracle NetSuite has shared insights into the latest companies to join its global client base.
TravelPerk chooses NetSuite to evolve its financial operations
TravelPerk, a business travel platform, has chosen Oracle NetSuite to create an integrated business system, enabling the company to build more robust financial operations, supporting its global expansion plans.
The TravelPerk platform boasts the world's largest inventory of transport and accommodation options. As the global travel industry experiences a post-pandemic resurgence, in early 2022, TravelPerk secured a further $115mn in VC funding. However, during this rapid growth period, the company saw strains emerge, as its existing custom-built accounting system created inefficiencies and data management issues.
So, during the SuiteWorld event, TravelPerk execs spoke about why NetSuite was selected as a solution to address these issues, and establish a platform for further global expansion.
"TravelPerk's rapid growth comes down to investing in our own internal systems and procedures, just as much as we focus on making a fantastic platform for our customers," commented Asif Livesey, the Financial Controller of TravelPerk.
"As a platform business, the systems that support us are critical and that's why we selected NetSuite. With NetSuite, we have a system that can help us solve our financial challenges now, while also matching our future business aspirations. NetSuite will help us drive efficiencies across our organisation and be our one source of truth as we grow."
"With huge opportunity comes the need for scale and process and as its financial source of truth, NetSuite will give TravelPerk the data, insights, and efficiencies it needs to pursue its mission," added Nicky Tozer, the SVP of EMEA at Oracle NetSuite.
OnBuy adopts NetSuite to enhance its financial management and reporting
OnBuy, an online marketplace, has also announced that it will now be using Oracle NetSuite to develop an integrated business system, which will enable the company to improve its financial operations and reporting, and support its expanding customer base.
Following a huge period of expansion during the pandemic, and £35mn in series A+ funding in 2021, OnBuy has replaced its finance system with NetSuite, to allow it to seamlessly upscale at a pace that supports its expanding business.
"OnBuy's meteoric growth is thanks to our refreshing approach to online commerce, and a proposition that champions transparency and collaboration," commented James Watts, CFO, OnBuy.
"The systems we use must also reflect those values and enable us to succeed. With NetSuite, we now have much greater visibility across departments and revenue streams, and more ways to report back to the business and investors. NetSuite will grow with us as we harness its ability to manage a multinational, multicurrency business."
Templafy integrates NetSuite's reporting and manual task automation capabilities
Templafy, a document generation platform, revealed that is using Oracle NetSuite to create business documents that are performance-optimised, faster.
The company has adopted NetSuite with the aim of driving more scalable growth, implementing stronger financial processes, and providing better support to its international operations, which currently comprises over three million enterprise users, spanning more than 80 countries.
"As the future hybrid workforce emerges, Templafy is primed to redefine how enterprises create high-performing business documents," said Cynthia Stephens, the CFO of Templafy.
"As a software business, we understand the power that systems have on our journey and with NetSuite we have set ourselves up for continued success. Our finance function has a better foundation to help manage our growing business with improved controls, greater reporting, and a means of achieving and doing more, efficiently. NetSuite is key to our aim of sustainable growth."
"Templafy is solving a problem facing modern, hybrid workforces across the world," added Nicky Tozer.
"But to achieve its mission, it needed greater structure and capabilities for its finance team. With NetSuite, Templafy has a system that can scale, grow and adapt as it pursues profitable growth."