Nokia Technology Strategy 2030: Networks must use AI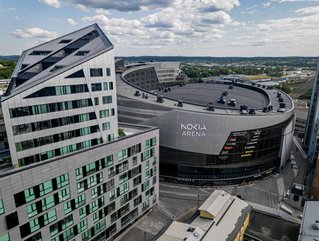 Nokia's Technology Strategy 2030 identifies the trends and emerging technologies that will impact the networks of service providers, enterprises and industries
Nokia's new Technology Strategy 2030 report highlights how AI and machine learning, amongst other technologies, are crucial to addressing network demand
Network traffic is expected to increase up to 9x by 2030, according to new projections from Nokia Bell Labs.
This is due to the continued proliferation of AI, machine learning (AI/ML), automation, extended reality (XR) and IoT devices, as well as cloud use.
With the ability to meet this demand hinging on network performance, Nokia has released a Technology Strategy 2030 which is designed to guide service providers, enterprises and industrial customers to prepare for an understandable surge in traffic.
This blueprint outlines eight key trends that will provide competitive business advantage, drive innovation and create jobs, as well as actionable steps providers can take to achieve these goals.
Demand for end-user bandwidth, amongst other surges
Nokia today presents its Technology Strategy 2030 that identifies trends and emerging technologies that will shape technology, networks and the world for the next seven years.
The report outlines an expected increase in the demand for end-user bandwidth and global enterprise traffic, anticipating that the demand on global telecom networks will grow at a CAGR of 22% to 25% from 2022 to 2030.
Global network traffic demand is expected to reach between 2,443 to 3,109 exabytes (EB) per month in 2030. If there is a higher adoption rate of cloud gaming and XR in the second half of this decade, Nokia has projected a CAGR that reaches as high as 32%.
According to Nokia's Global Network Traffic 2030 report, network traffic is growing and will rise dramatically over this decade. Driving this growth are recent trends such as artificial intelligence (AI), machine learning (ML), extended reality (XR), digital twins, automation, as well as billions of devices.
Nokia Technology Strategy 2030 is fundamental to realising the full potential of AI, cloud and other emerging trends with connectivity. The company's future network architecture proposal is seen as vital for the next phase of digital transformation for Nokia and its customers.
In order to capitalise on the transformative potential of these technologies to solve future challenges, Nokia highlights that networks will need to adapt and transform. It states that delivering lasting, accessible, sustainable innovation hinges on reliable, secure, cognitive networks.
Nishant Batra, Chief Strategy and Technology Officer at Nokia, said: "Nokia's Technology Strategy 2030 is a direct response to the proliferation of cutting-edge technologies over the last decade. One thing is for certain: radical changes are needed now to evolve networks to meet the challenges of tomorrow and beyond. Enterprises across industry face three trends bearing down on them: AI, cloud and the constant evolution of connectivity.
"Our Technology Strategy 2030 lays out a future network architecture for our customers and the industry. It brings to life opportunities for innovation, sustainability, productivity and collaboration, which can only be enabled by the exponential power of networks."
The future is now: Networks "need" to be more automated
Nokia's Technology Strategy 2030 identifies the trends and emerging technologies that will impact the networks of service providers, enterprises and industries over this decade, and how Nokia will help networks evolve.
The key trends influencing Nokia's Technology Strategy 2030 are AI, cloud continuum, metaverse, API economy, Industry 5.0, Internet of value, sustainability, and security. These trends will all rely on ultra-responsive and secure networks at their core.
For networks to support the increasing demands of the future, Nokia states that they will need to be more automated by using AI and ML, as well as addressing the transformative needs and operating models of organisations and consumers. Technology breakthroughs like XR and digital twins, combined with Web3 and other much-lauded emerging innovations, will transform businesses, society and the world.
Jerry Caron, Global Head of Research & Analysis at GlobalData Technology, said: "By 2030 the pace of technological advancements we are currently seeing will significantly increase traffic on networks. Nokia's Technology Strategy 2030, with its emphasis on effective use of AI, cloud, connectivity, and API economy, is the type of framework that service providers and enterprises will need to embrace.
He continues: "The service provider industry will need to transform itself from the traditional, vertically integrated structure to a more horizontal, API-driven future that is sustainable, simpler, more scalable, automated, and offering much more flexible service delivery.
"Nokia, and the industry as a whole, must show that they understand the problems and potential, with a revitalised approach as indicated by the long-term Nokia Technology Strategy 2030."
******
For more insights into the world of Mobile - check out the latest edition of Mobile Magazine and be sure to follow us on LinkedIn & Twitter.
Other magazines that may be of interest - Data Centre Magazine.
Please also check out our upcoming event - Net Zero LIVE on 6 and 7 March 2024.
******
BizClik is a global provider of B2B digital media platforms that cover Executive Communities for CEOs, CFOs, CMOs, Sustainability leaders, Procurement & Supply Chain leaders, Technology & AI leaders, Cyber leaders, FinTech & InsurTech leaders as well as covering industries such as Manufacturing, Mining, Energy, EV, Construction, Healthcare and Food.
BizClik – based in London, Dubai, and New York – offers services such as content creation, advertising & sponsorship solutions, webinars & events.