Optimising customer experience with innovative tech advances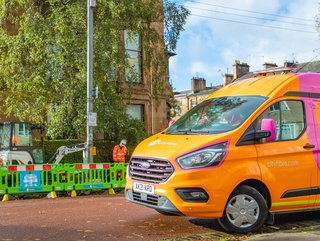 Orange and pink van
CityFibre's Elsa Chen and Vova Gerneshii of GMS delve into how technology plays a significant role in improving CX in mobile and telecommunications
Good customer service is at the forefront of any successful business, as it is a direct connection between customers and your company. Ensuring positive customer experience practices leads to improved relationships with customers to ensure their return time and time again.
Here, CityFibre's Chief Customer Officer Elsa Chen and Vova Gerneshii, Product Director of Enterprise at communications service provider for enterprises and mobile operators Global Message Services (GMS) illuminate the ways technology plays a crucial role in improving CX in mobile and telecommunications – an industry often tarred with the same brush.
"High-quality customer service plays a crucial role in building a respected and well-loved brand," Gerneshii explains. "When a brand consistently delivers exceptional support, it establishes a strong reputation in the market. For example, a consumer electronics company that provides quick and effective technical support can earn a reputation as a reliable, trustworthy brand. This can also set it apart from other brands that have slower response times or ineffective feedback channels."
GMS' CPaaS solution enables brands to unify multichannel customer communications via a single API and self-service platform. Complementing this is an AI-driven chatbot and CCaaS platform that enables brands to build engaging, two-way communication 24/7 at any touch point, significantly enhancing CX.

Around-the-clock care
He adds that, because customers demand immediacy and seamless interactions – the pace of which can make or break a brand – technology including the likes of AI chatbots plays a significant role in modern CX and offers round-the-clock customer support, allowing customers to receive assistance and information at any time.
"Another key advantage of AI chatbots is their scalability," he says. "They can handle a large volume of customer inquiries simultaneously with no fatigue or delays, while providing quick, instant, and efficient responses. Thanks to their interactivity, advanced AI chatbots can deliver deeper personalisation than more static or passive channels.
"Leveraging customer data and preferences, they can understand customer behaviour at an individual level. Data such as their purchase history and browsing preferences can be considered to help deliver more personalised recommendations."
And, when a human touch is required, AI chatbots can be configured to assess problems that are too complicated early in the dialogue, allowing the issue to be handed over to a live human agent.
But, as Chen adds: "One AI size doesn't fit all."
"We ensure personalisation through our interactions with ISP partners and their specific needs," she says. "Different ISPs have different customer experience requirements; there tend to be some common denominators, but customisation is encouraged.
In CityFibre's book, service co-creation means developing bespoke AI solutions rather than expecting a standard solution to serve all. The creation process involves our operational teams working with customer experience experts from different ISPs to ensure our AI-powered engagement tool is tailored to deliver a seamless service in every scenario.
"This bespoke way of working with ISPs has already turned old industry norms on their head. It's amazing what is possible when you consciously challenge the norm and choose never to stand still."

Enhancing CX in telecoms
Addressing the telecoms industry's customer satisfaction record, Chen says there is no reason for poor client experience to be the norm – so it shouldn't be.
"Many of us relate to the frustration that can come with upgrading our broadband, or, even worse, when seeking help during a service outage – and the experience stays with us. The power of customer service excellence, ultimately, is the cornerstone upon which we can build competitiveness and growth. Our commitment to raising the bar takes inspiration from outside of telecoms; Uber or Amazon are great examples of frictionless customer experience. Like them, we are investing and exploring the role innovation and technology can play.
"By using clever AI algorithms, service delivery – from an end-user's perspective – can be made effortless and intuitive, and problems can also be solved quickly, often before the customer is even aware of them.
"We are also utilising talent from outside telecoms, helping to embed the customer-centricity we see in these other sectors. Having the right people leading this charge is vital because we must challenge every aspect of what has been accepted to date and draw on a diverse range of expertise if we are to successfully set the standard for what good looks like in UK telecoms."
Partnering with mobile operators, GMS enhances their messaging business and protects revenues by optimising A2P, P2P, and P2A traffic exchange, while preventing SMS and voice fraud.
Gerneshii highlights how although harnessing AI is crucial, the importance of human touch should not be overlooked: "The use of AI chatbots in customer service can lead to gains in productivity and efficiency for the human workforce. Repetitive tasks can be automated, and this enables human agents to focus on more complex and specialised customer issues.
"AI chatbots can also be programmed with predefined rules and algorithms to deliver accurate and consistent responses. This reduces human error or inconsistencies that might arise from a lack of knowledge or fatigue."
And, just because a customer may be interacting with a chatbot rather than a human being, it doesn't mean customers will be cheated out of a personalised experience. Gerneshii explains how personalisation can be enabled when setting up dialogue flows for a chatbot – for instance, when a user provides their personal data such as their name and preferences, during the first conversation, the chatbot stores this information in context for use in future conversations.
Chen continues: "Complex scenarios often require a more hands-on, tailored approach. Managing customers through any upgrade or migration journey, for example, is a resource-intensive process."

A learning curve
She explains how – using an AI-powered engagement tool concept launched in 2022 with a large ISP partner – it put much less strain on the customer and proved more cost effective. Exchanges between the technology and customers are human-like, conversational, and can handle various enquiries and requests.
"From an end-customer perspective, as well as for our large ISP partner, they can happily avoid the expense and operational pain of call centres, making the migration process trouble-free. Everyone wins!"
The pair acknowledge that, though there is still much to learn when it comes to enhancing customer service, tech and AI can nevertheless pave the way to identifying patterns and predicting future customer needs to aid brands in delivering the best CX possible.