Finding solutions to tackle the towering e-waste problem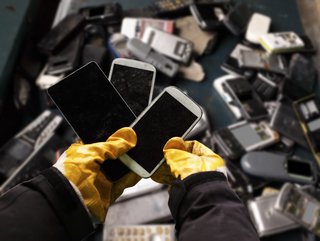 Finding solutions to tackle the towering e-waste problem
E-waste is piling up, with tech often simply discarded rather than being taken in for repair. How can we cut back for the sake of the environment?
With mobile devices often held on short-term contracts that encourage a convenience culture, much perfectly usable tech is often discarded or quickly forgotten about, rather than being recycled.Bearing in mind the global human population was shy of 8 billion at the time, 2023 Statista data showed the number of mobile devices operating worldwide stood at almost 15 billion in 2021, up from just over 14bn in the previous year. That figure is expected to reach 18.2bn by 2025. And the United Nations reports that e-waste is the world's fastest-growing waste stream, with the 50 million tonnes of electronic waste generated every year expected to more than double to 110 million tonnes by 2050.
A mounting problem
E-hoarders in the UK, for example, are estimated to have enough unused cables to circle the planet five times, with every household thought to have 20 unused electronic items. One in three adults said they recycled their unwanted electricals and only 2% mended them or took them to be repaired, according to Material Focus.
"When electronic devices aren't recycled, rare metals and other expensive materials - including gold, silver and platinum – can be lost for good," explains Gavin Miller, CEO of device insurance, warranty and support services firm Asurion Europe. "This then puts pressure on mining for more of the planet's scarce resources, which adds to environmental damage – even when people want to be greener it can be hard to know how to recycle products or make a one-off repair."
Miller says a change is needed in attitude and behaviour by consumers, facilitated by industry and government. He adds that supplier collaboration with government and the wider industry would also help combat this ever-rising problem.
Not enough recycling being done
"Industry has an important role to play in this," he adds. "The telecoms and technology sectors can significantly speed up progress by supporting a shift in consumer behaviour."
VMWare's Senior Director, App and Cloud Platforms Ed Hoppitt, concurs: "The harsh reality is that our use of hardware and electrical components isn't going to reduce as businesses across the globe continue to digitally transform. The answer lies in companies putting in place achievable, impactful e-waste programmes to do their bit in reducing and re-thinking e-waste.
"Responsibility lies with business leaders to figure out how to balance the need for digital transformation in hopes of avoiding, or postponing that 110m figure."
There are incentives popping up to help reduce e-waste, with the Royal Mint recovering gold from electronic waste for use in coins and bars.
Asurion's research found that, by extending the life of a smartphone, tablet or laptop device by 12 months, the carbon footprint of manufacturing replacement devices is reduced by an average of 99kg of CO2e (carbon dioxide equivalent) per person – or over 4.5 million tonnes of CO2e across the UK, equivalent to 0.9% of the country's total greenhouse gas emissions.
Hoppitt adds: "Remember, end of life doesn't necessarily mean end of use. We can all do our own research into what can be done with hardware that's no longer used and find opportunities to reuse or recycle, whether that's by the individual person, the manufacturer or a dedicated e-waste recycling facility..
"It's been estimated that the value of e-waste produced annually is more than the GDP of most countries. This is largely due to the high concentrations of precious metals and minerals, like copper and iron, which can be extracted from electronics in the recycling process, known as 'urban mining'. However, most resources are dumped or burned as opposed to being responsibly collected, contributing to a hefty US$10bn being wasted each year."
Other e-waste solutions
Miller hopes that device trade-in incentives and technology support plans can help consumers find alternative resolutions to enhance solutions.
"Trading in broken or unwanted devices in good condition for cash, or to contribute to a device upgrade, is a great way to tackle the e-waste challenge," he says.
"Retail trade-in is proving to be more effective in some cases than local recycling collection schemes, or provides much-needed support," citing the London Waste and Recycling Board's scheme, which collects around 90,000 tonnes of e-waste recycling a year.
"And a home-technology protection plan extends the lifetime of devices by providing a range of cost-effective services that can include maintenance, installation and repair."
Research suggests many consumers lack awareness about how to dispose of e-waste responsibly. Miller hopes raising awareness about such solutions will be a step in the right direction in combating the problem, but acknowledges this is not something consumers can do on their own.
'Change is afoot'
Miller says: "It is often easier to replace products instead of repairing or recycling them. Many consumers treat electronic goods as having only a limited shelf-life."
He adds: "The current cost-of-living crisis may be forcing a change in people's attitudes towards product replacement and instead getting them thinking about alternatives like recycling and reusing. "But this means there is a growing requirement for accessible device repair or disposal services as well as more cost-effective and responsible ways to upgrade devices. Change is afoot."
Last year, Vodafone reported a 26% rise in people trading in items over a six month period and a 72% increase since the previous year. Financial services provider Allianz also estimates that the average replacement cycle period for smartphones in North America and Europe has lengthened since 2016 by 30% and 24% respectively.
Miller stresses the industry must play its part in tackling e-waste, to promote an environmentally friendlier future by encouraging a circular economy following a reduce, reuse, recycle model.
He says: "Share tips with your customers on how to extend device lifetime and optimise performance through a support plan, and offer your customers affordable and flexible device support and protection options.
"And consider ways you can work with the government to reduce e-waste and make bigger environmental gains.
"You can offer your customers device repair rather than replacement and provide them simple, incentivised solutions for device recycling."