A characteristically 21st century industrial revolution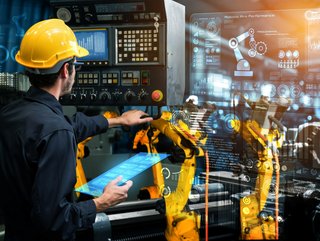 Exploring the near-future of 5G and AI in manufacturing, and the roadblocks that need overcoming before the next industrial revolution
Increasingly, we're seeing more and more companies display a futuristic vision of their digital transformation plans.
5G, AI and the IoT are set to hold a vital place in the manufacturing industry. This technology will transform the way that we approach almost every step of the manufacturing workflow, spanning everything from concept to creation.
We are on the cusp of what has largely been coined as the 'Third Industrial Revolution'. But what will this actually look like in practice? And, what steps will we take before we can achieve this vision?
Areas of opportunity – what can we expect to see from Industry 4.0?
Already, the world's giants are preparing for this digital transformation shift. As a prime example, Hyundai recently partnered with Singtel to deploy Singtel's 5G infrastructure network solutions within the Hyundai Motor Group Innovation Centre in Singapore (HMGICS).
In its centre – which is the first of its kind in the world – Hyundai uses 5G to advance its manufacturing techniques and ensure higher quality control standards across its production of electric vehicles.
Singtel's technology will unlock huge possibilities for Hyundai, including enhancing its high-precision quality control, deploying edge computing management and services orchestration, accessing real-time feedback across the factory's manufacturing process, and implementing new UX features (such as allowing customers to live stream the manufacture of their cars).
This is just one example of 5G in action. The future potential for 5G solutions to overcome our current performance limitations is seemingly never-ending.
"For manufacturers facing increasing competition and growing pressure on margins, 5G offers remarkable benefits. With its increased speed, higher bandwidth and lower latency, 5G has the potential to be a key enabler and accelerator of the next generation of smart manufacturing," says Arash Ghazanfari, the UK Chief Technology Officer at Dell Technologies.
"5G networks' high speed and low latency will accelerate communication between companies and their equipment using AI and IoT deployments. Data gathered by companies can help detect inefficiencies such as machine delays on the manufacturing floor and provide new benefits, including but not limited to, supporting accelerated communications between energy companies and their drilling sites."
"Developments such as these will enable companies to achieve more streamlined operations, while also highlighting new opportunities to drive down existing costs," Ghazanfari adds.
Smart factories, and the discrepancy between future visions and current deployment
The technology that we can expect to see within our lifetimes include pioneering robotics, automating mundane and repetitive tasks, minimising human error, enhancing precision engineering, creating digital twins and triplets, and deploying the metaverse to expand our capabilities.
However, while AI is successfully being used across a wide variety of augmentation tools – with this side of the technology taking off immensely – automation AI is still being relegated to the sidelines. In the case of automation AI, "not many are using it yet".
"This is where you give up control and let the AI make decisions for you. And this is something that's inherently difficult for people to fully trust, because it's difficult to fully comprehend", says Jeff Winter, Industry Executive of Manufacturing at Microsoft.
"Automation AI is in its infancy, and it will take years before it's perfected enough and trusted enough to start taking over high-risk decisions in our lives and in our businesses."
By and large, the manufacturing industry is just in its 5G infancy. And, according to many industry experts, development is not happening at the pace that we would expect.
So why is this the case?
"It's a very interesting conundrum that most people in manufacturing talk about AI a great deal… but what is actually being used on the shop floor is very little", adds Patrick Bangert, the VP of Artificial Intelligence at Samsung SDS America.
One of the most common reasons for that is that some machines simply fail. Limited data availability is a huge contributor here, as limited data samples mean that the data will necessarily overrepresent the normal case, but it may not represent the very rare case at all – precisely because it's so rare.
"For example, in a predictive maintenance case, most machines in the manufacturing industry only tend to fail once every few years. And that's rare enough for you simply not to have data on it, or for you to have maybe one or two data points on it... A human being may be able to draw some abstract lessons from a single example, but the computer doesn't have that capability," explains Bangert.
So, alongside this, there's also the cost of data preparation. The data set needs to be representative of the situation and, by necessity, under-represent the normal case, while overrepresenting the rare cases that we actually need this technology to deal with.
This then neutralises the perceived cost-benefit ratio. For 5G manufacturing technologies, the cost is well known, but, as it is not widely deployed, the benefits are uncertain. This then creates a Catch-22 scenario, where there are a limited number of reference use cases amongst competing companies and manufacturing facilities, because they also haven't adopted the technology.
"So people have to take a risk. But, the manufacturing industry is not very good at taking risks. And, in addition to the finance, there is the risk of your AI system just not working, or not working in the cases that we really needed to. So another big obstacle is the fear of the unknown," Bangert adds.

Cybersecurity in smart factories – the risk least understood
As is largely to be expected, the threat of cybersecurity breaches remains one of the biggest risks to the success of the so-called next industrial revolution.
Unsurprisingly, the rise of Industry 4.0 has made smart factories a prime target for cybercriminals. In fact, in 2021, manufacturing overtook financial services as the most frequently cyber-attacked sector.
Nevertheless, some reports indicate that the risk is not being taken as seriously as we might expect.
According to a recent report from Capgemini, 51% of industrial organisations predict that there will be an increase in smart factory cyberattacks within the next year.
However, currently, 47% of organisations still don't classify cybersecurity in smart factories as a C-level concern. In fact, only 51% of respondent organisations said that they build cybersecurity practices in their smart factories by default.
What's more, 53% of smart factory respondents stated that they experience a problematic disconnect between the C-suite and smart-factory leaders. This lack of collaboration, a limited budget, and human factors (primarily, a cyber security skills gap) are the three main obstacles to implementing stronger cybersecurity measures.
So, what action should organisations be taking? How can we prevent cybersecurity threats from compromising the wave of Industry 4.0?
Largely, enhancing the understanding of those at a decision-making level – about how smart manufacturing technology works, and what its capabilities are – will be key to pushing that growth cycle forward.
"We need to know what we are up against. To really understand the tactics, techniques and procedures of attackers and design our architecture to address the threats at different levels of the architecture", says Steven Sim, President of the ISACA Singapore Chapter.
"There is no perfect security – risk reduction or mitigation is a bottomless pit, if we do not know when to stop. And this is where optimisation comes into the picture, because it tells us how much risk to strive for. To run a business, we need to take risks, and the only way to perfect cybersecurity is to avoid risks altogether, and that's simply not running a business at all. Therefore, understanding the enterprise risk of attack – and how IT, OT and IoT risks can be aligned to operational risk and business risk – is a key step. The goal posts must be set in place first."