Future folding smartphones could be the size of credit cards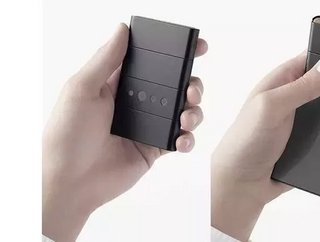 A new Oppo partnership with Japanese designers has led to the release of a unique new prototype...
OPPO, the Chinese consumer electronics and mobile communications company, has teamed up with the Japanese design studio Nendo to produce a three-way-fold smartphone with the dimensions of a credit card.
The device, which is currently at the concept stage, was presented at the 4th China International Industrial Design Expo (CIIDE) 2020, which has the theme, "New Designs, New Trends, New Momentum."
Life design
The device takes folding displays to a different level because it can change form depending on the occasion. OPPO, which is headquartered in Dongguan, said that increasing phone sizes have made smartphones less practical in terms of their original use. Therefore, the new device design is a nod to modern innovation and practicality. 
Called the 'slide-phone', the idea behind the three-way-fold, says OPPO, is to create "a comfortable relationship between people and their products through a human-centric approach to design."
The folding design is based on a caterpillar-like mechanism which sees the fully unfolded device display a wide, 7-inch screen that folds once down to 3.5 inches for taking photos, video calls and game-playing, and then down a second time to 1.5 inches for notifications and music player options. 
In it's unfolded, full-screen glory, the widescreen display is useful for multitasking, taking panoramic photos, or playing games with an on-screen controller on each side. The device also comes with a stylus.
Unlike the latest, port-less, button-less devices, the slide-phone buttons are on the sides of the device and it has a wired charging station. 
Designed in collaboration with Oki Sato, CE and chief designer of famed Japanese design studio Nendo, the new slide-phone is unlikely to make it past the concept stage as a marketable unit. Instead, the exercise in design has demonstrated an approach to consumer technology that is more user-friendly than current offerings.
However, the features are reminiscent of the Galaxy Z Fold 3, due for release in 2021, and the conventional Apple foldable iPhone concept.