APAC mobile market to reach 2.1bn users by 2030, worth $1tn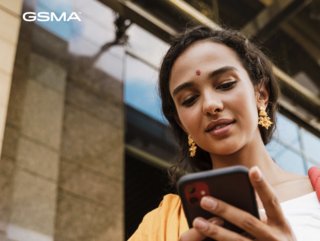 GSMA's Mobile Economy Asia Pacific 2023 report
New report from GSMA on The Mobile Economy Asia Pacific 2023 highlights growth and challenges of market worth US$1tn by 2030 with 2.1bn users
The latest GSMA report on The Mobile Economy Asia Pacific 2023 makes for fascinating reading, not least due to the incredible headline statistics.
The APAC region accounts for 1.73 billion mobile subscribers. Putting that into global context, the entire population of the US is around 330 million people, while Europe is around 750 million.
In 2022, mobile technologies and services accounted for 5% of GDP for the entire region – a not insignificant US$810 billion. If the APAC mobile market were a country, it would be ranked 20th in the world in terms of GDP – above the likes of Switzerland, Argentina and the UAE, and double the US$405 billion South Africa mustered in 2022, according to the World Bank.
According to the GSMA report, trends shaping the mobile ecosystem in APAC include 5G monetisation, the rise of generative AI, and fintech. And the region has much more scope.
The report says that 5G will account for 41% of mobile connections in the region by 2030, up from 4% in 2022. By that time, there will be 1.4 billion 5G connections as the technology and network rolls out, and handsets become more accessible.
But the report also states that while mature markets like Australia, Japan, Singapore and South Korea are leading 5G innovation, almost half of the population in Asia Pacific (47%) still lack access to mobile internet.
This means APAC is lagging behind Latin America, China and Eurasia.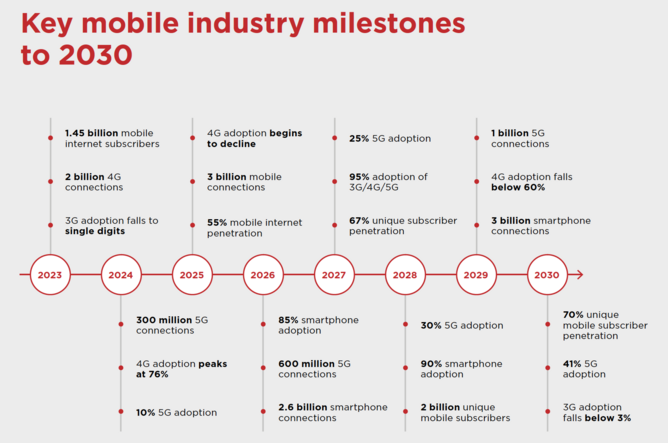 The mobile road to 2030, as seen by GSMA
Mobile sector in Asia Pacific worth a trillion dollars by 2030
Key findings from the report include mobile subscribers rising to 2.11 billion by 2030, and smartphone adoption to hit 94% (up 18% on 2022).
The mobile sector will be worth almost US$1 trillion by the end of the decade, with 5G alone adding US$133 billion to the regional economy.
The report also highlights the growth of fintechs, from mature markets like India to emerging markets like Vietnam and Indonesia.
"As the mobile market spanning the world's largest geographical area, APAC's connectivity ecosystem is highly nuanced and consists of both pioneering mobile innovators and emerging markets," said Julian Gorman, Head of APAC at the GSMA.
"The region has some of the fastest growing 5G markets in the world today, notably India, which is set to add tens of millions of 5G connections in 2023. However, across APAC as a whole, we're also seeing some of the world's largest disparities in mobile internet usage.
"If we are to fully realise the digital transformation mobile connectivity can bring, we need to establish a flexible, forward-looking regulatory and policy regime to support mobile network deployment and operations. This includes greater efforts to close the digital divide, particularly for women and vulnerable populations."
******
For more insights into the world of Mobile - check out the latest edition of Mobile Magazine and be sure to follow us on LinkedIn & Twitter.
Other magazines that may be of interest - Data Centre Magazine.
Please also check out our upcoming event - Cloud and 5G LIVE on October 11 and 12 2023.
******
BizClik is a global provider of B2B digital media platforms that cover Executive Communities for CEOs, CFOs, CMOs, Sustainability leaders, Procurement & Supply Chain leaders, Technology & AI leaders, Cyber leaders, FinTech & InsurTech leaders as well as covering industries such as Manufacturing, Mining, Energy, EV, Construction, Healthcare and Food.
BizClik – based in London, Dubai, and New York – offers services such as content creation, advertising & sponsorship solutions, webinars & events.