What control do we have over innovative mobile technologies?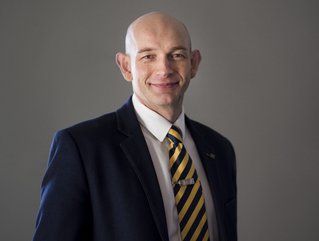 James Williams is Director of Programmes at global trade body Mobile Ecosystem Forum (MEF)
James Williams, Director of Programmes at Mobile Ecosystem Forum chats about his career, m-commerce, AI, and the industry's bright future
The buying and selling of goods and services through wireless handheld devices such as smartphones and tablets, mobile commerce - otherwise known as m-commerce - has exploded more so since the world was rocked by a global pandemic.
Buying online has become the normal shopping experience, with high streets closed and businesses working hard to maximise their online sales.
Mobile commerce, or sales that are conducted entirely over a mobile device, encompasses the general phenomenon of internet shopping on all devices, from laptops and desktop PCs to smartphones and tablets.
M-commerce is no passing trend and has been steadily growing in popularity for the past decade. But is this sudden larger shift - propelled by the likes of AI - towards m-commerce the way to go or are there more pitfalls than initially thought? James Williams explains.
Hi, James! Thanks for sitting down with us. Could you please introduce yourself and your role - and how you got to this point in your career?
I'm from the north of England and fell into the mobile industry very much by accident over 30 years ago now. My focus for the past decade has been business messaging which has huge headroom for growth. The power of the humble SMS and richer channels such as chat apps like WhatsApp, Rakuten Viber, Telegram etc. cannot be underestimated – when used correctly. And yet millions of organisations around the world are yet to learn about the benefits of using it. Our industry still has a lot of work to do, and I have taken very much a 'hands on' approach over the years to get things done!
What is MEF and what does it do? What sets it apart from competitors?
The Mobile Ecosystem Forum (MEF) is a not-for-profit industry trade organisation that provides a fantastic neutral platform for companies around the world to engage on a vast range of topics. Membership helps grow any organisation's brand presence, provides a vast array of ways to interact both with members and other stakeholders across the Mobile ecosystem as a whole - think members only online working groups, live webinars open to all, in-person events around the world and more! - and terrific insight. It's all about sustainable growth; protecting consumers every step of the way is important to MEF and its members.
We have members with a handful of employees. We have others with quite literally several hundred thousand employees. All are the same at MEF and they have the same voting power. It's this genuine neutrality, the genuine impact the industry members' initiatives such as the Business SMS Code of Conduct have, and the broad range of topics members discuss that truly sets MEF apart.
How did you come to work in the mobile industry?
I had an industrial placement in the first year of my European Business and German degree. This was in the mobile industry. I then had a longer placement in my third year, also in mobile. And I got a job immediately after graduating in – you guessed it – mobile. And all three in the same company. That was over 30 years ago…
What key mobile trends are you finding the most interesting right now?
Mobile commerce (m-commerce) truly has become the norm now and its increasing prevalence is impacting on so many areas globally. Think mobile payments, business messaging, authentication, IoT and many more. I'm also seeing a surge of mobile video content spending and usage. Video is mighty powerful. It has been around for so long and brands have really picked up on how impactful it can be. I can't not end my answer without mentioning AI though. Personally, I really am still on the fence though about whether it is actually something positive or not. It comes down to the controls on it, and unfortunately, I think in many ways the genie is already out of the bottle…
Have you ever been given an inspirational piece of advice that you've carried with you throughout your career?
I have to admit that I am very pragmatic and don't have business heroes as such. I appreciate the great achievements of many and hold what they've done to further the industry in very high regard, but nobody is perfect; we humans by our very nature are, after all, imperfect creatures! I do though remember working for Roy Axford at Siemens in Manchester many years ago. Roy was an old school manager - he had a terrific handshake, looked people in the eye when talking to them and spoke clearly and with conviction. The value of those qualities has stayed with me for decades. So it's not what somebody said but rather what somebody did that impacted me. The spoken and written word can be very powerful but action is the acid test in my book.
What is your greatest achievement to date? Was it overcoming a significant challenge, for example?
There is no one single thing that stands head and shoulders above anything else that springs to mind. I have helped many organisations develop their business messaging strategies over the years and when I see them truly listening and working with me to address issues and turn things around, that is very gratifying. Particularly when it is 100% quantifiable in terms of the additional revenue and margin they are earning, after making the changes. I've been on the sales side of things for a long time and your successes - and failures - are clear for all to see. I like that. There's nowhere to hide and there's real accountability.
What do you see the future of the mobile industry - and your place in it - looking like?
The future is exceedingly bright. The world is transitioning rapidly to a mobile-first environment and it'll be super interesting to see what new things come along. However, there are still several billion people around the world yet to be connected. To truly move the game forward, more resources and creative thought need to be put into working out how to deliver digital inclusion for all. There is already an element of digital 'haves' and 'have nots' and that is something that has got to be reeled in and changed for the good of all.
I have no intention of leaving the mobile industry (but never say never, right, as who knows what the future REALLY holds!) and whatever I might be doing, you'll find me evangelising the huge upside business messaging used correctly can bring to any organisation on the planet!
James Williams is Director of Programmes, Mobile Ecosystem Forum (MEF), a global trade body established in 2000 and headquartered in the UK with over 200 member companies across the world. As the voice of the mobile ecosystem, it focuses on cross-industry best practices, anti-fraud and monetisation. The forum provides its members with global and cross-sector platforms for networking, collaboration and advancing industry solutions.