Top 10 remote workforce solutions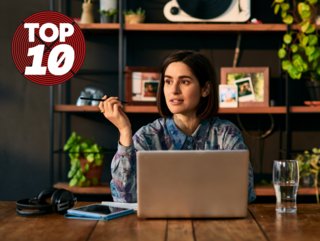 Top 10 remote workforce solutions
With 97% of employees wanting their role to be at least partially remote, a flexible approach is set to prove critical to future-proofing businesses
Recent TECLA figures revealed 85% of managers believe that having remote workers within the team will become the 'new normal'. Although the remote shift was one that was initially pandemic-imposed, this shift is one that's becoming increasingly permanent.
From a company perspective, offering this flexibility to employees is a great way to ensure that they remain competitive and, therefore, desirable, as they navigate the so-called great resignation.
Recently, Spotify named its 'work from anywhere' model as a key factor in achieving a 15% reduction of its attrition rate, compared to 2019.
In its initial announcement of the new policy, Spotify expressed its belief that "listening to our employees, embracing the need for change, and finding our way of making adaptations is definitely the way to continue to evolve our culture for the long-term".
And, with statistics showing that 97% of employees want their role to be at least partially remote in the future, this liberal thinking is set to be the best approach for businesses to take. With that in mind, we've shared our pick of the top 10 enterprise-level remote workforce solutions enabling the shift to virtual.
10. VMWare
VMware's Workspace ONE is a comprehensive digital workforce platform, offering teams integrated application management, access control, and unified, multi-platform endpoint management, all from one location.

Depending on their requirements, users have the flexibility of choosing whether to deploy the solution as either a cloud service or through on-premises deployment.

Through the platform, businesses can also improve the security of their remote working practices, thanks to Workspace ONE's simplification of zero-trust access control models.
9. Slack
Slack is an instant messaging application that's designed to help teams across the world collaborate and communicate more effectively. Through Slack, teams can instant message, set up dedicated messaging channels, and arrange calls.
The platform allows users to connect to a wide variety of other remote working apps – including Google Drive, Jira Cloud, OneDrive, Zoom and Workday – to link all tools together in a single location.
Its global user base has passed the 20 million mark, 85% of whom say that Slack has improved communication, and includes the likes of Airbnb, Deliveroo, gsk and Uber.
8. Monday
Through Monday's visual, cloud-based platform, users across different teams and locations can effectively keep track of key projects.
Primarily a project management tool, it allows users to create their own dashboards featuring a bespoke set of tabs and tracking tools. These include project status, deadlines, assigning roles and responsibilities, comments and custom classifications.
Then, through the system's handy automated reminders, all users are kept informed and working to centralised deadlines.
7. Zoom
Zoom was the remote working solution of 2020's multiple lockdowns, credited with helping countless companies through the pandemic. As of July 2021, Zoom had over 500,000 customers – which represents a 36% increase compared to the same quarter a year prior, with the company's customer base growing by a staggering 470.33% in 2020 alone.
Alongside its iconic video-calling capabilities, Zoom offers a wide range of other collaboration tools, including team chat, VoIP phone, webinars, whiteboard, and its cloud-based contact centre.

6. LastPass
LastPass is a password manager that enables companies to quickly improve their cybersecurity standards. The solution is particularly valuable for businesses that depend on an increasing network of online tools, all of which need to be accessed by their global team.
Users can access all their passwords through LastPass' online vault and use the platform to generate secure passwords whenever they create a new account. The tool is available to integrate as a web browser plugin, or as a smartphone app.
5. DocuSign
Companies of every size and industry are now, finally, taking the long-awaited transition to electronic documentation. Rather than the conventional pen-and-paper approach, electronic signatures are enabling huge time savings.
DocuSign is the leading electronic signature and agreement cloud platform, trusted by companies across the world. The tool is used by a rapidly growing network of over a million customers and a billion users to securely sign off their critical agreements.
4. Oracle NetSuite
Oracle NetSuite is the world's leading cloud business software suite, offering small-to-medium enterprises a huge range of online products and services designed to be integrated across all areas of their operations.
These cloud-based solutions span everything from accounting and financial management to supply chain and procurement, giving users a single, unified business management suite that helps unlock clearer insights and action alongside impactful, data-driven decision making.
3. Salesforce
As the world's leading Customer Relationship Management platform, Salesforce has been instrumental in helping the world's businesses shift to remote.
This broad platform allows companies to connect their marketing, sales, commerce, service and IT teams, while facilitating seamless collaboration between contributors working across the globe. The tool helps businesses to automate and unify their data points in real time, thereby creating a far more exhaustive insight into customer behaviour and experience.
In fact, Salesforce boasts that its capabilities can enable companies to increase their revenue by up to 29%.
2. Microsoft Teams
Coming from the hugely successful Microsoft 365 product family, Microsoft Teams is a communication platform that provides businesses with a comprehensive hub for team collaboration.

Ever since Teams was first announced, Microsoft has been directly competing with Slack for the greater share of the market. In fact, the rivalry even predates the Teams launch, with many reports stating that Microsoft initially planned to acquire Slack for US$8bn.
Currently, though, Microsoft Teams dominates the market, with its 270 million users (as of 2022) far surpassing the 20 million of Slack.
Teams offers an extensive stack of tools, including workspace instant messaging and video conferencing, plus integration with a variety of other applications. Users can also utilise cloud storage and sharing tools, including Dropbox and Google Drive.
1. Google Suite
Securing the top spot is the Google Suite ecosystem. Google launched its G Suite remote working platform way back in 2006. Since then, it has developed a user base of over three billion individual users and some of the biggest organisations in the world (including the US Army).
The platform also boasts 5,300 publicly-accessible apps and over 4.8 billion third-party apps, available through the Google Workspace Marketplace.
G Suite dominates the global video conferencing market, with a staggering 84.95% share of the field (compared to the 5.51% share of Zoom, which takes second place).
What's more, its plethora of tools and commitment to industry leadership mean that Google is likely to retain its crown for the foreseeable future.