Oracle NetSuite's SuiteWorld 2022 - Day 3 Highlights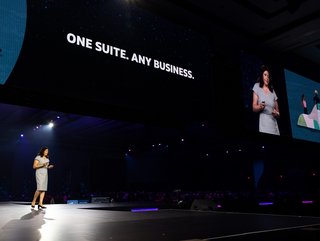 Live from SuiteWorld 2022 - Mobile Magazine shares the highlights from the third day of Oracle NetSuite's event, in Las Vegas' new Caesar's Forum venue
Mobile Magazine is in Las Vegas, attending Oracle's SuiteWorld 2022 event.
During this year's SuiteWorld event, NetSuite has placed a particular emphasis on its goal to become a completely comprehensive, 'all-in-one solution' for growing businesses.
Its automation capabilities span everything from supply chains to recruitment, and procurement to shipping.
Throughout the third day of the event, this aim was a common theme, and was outlined as one of the principal factors driving the platform's latest series of updates.
So, during day three of SuiteWorld 2022, we saw a more in-depth insight into NetSuite's capabilities, with the morning keynote, a wide variety of workshops, lectures and round table discussions.
NetSuite's executive keynote - AI and data entry
Day three's executive keynote provided product insights spanning a number of critical business contexts.
Firstly, Gary Wiessinger, the SVP of Product Management, gave us a greater insight into the sophisticated technologies and intelligence that NetSuite is currently deploying, and advancing, at a rapid pace.
"AI is a boost, that supercharges the impact of ease automation and insight. We make ease even easier, by using intelligence to streamline data entry," Wiessinger outlined.
NetSuite is using AI to enhance the 'learning' of its platform, so that its intelligence grows over time, in a way that is bespoke to the specific user.
"For example with AP automation, reading the PDF bill and entering the data for you, in the appropriate fields, and continuously learning to do it ever better."
"We automate even more, by using AI to learn what users are doing repeatedly, and then we do it automatically," Wiessinger added.
For example, NetSuite's intelligent tools can learn what your customers considered and bought in the past, and then automatically suggest upselling or cross-selling products.
Predictive AI is also being used in numerous scenarios, particularly in the cases of supply chains, to offer automatic solutions that proactively mitigate common problems.

Optimising cash and profits through automation
Financial management, more efficient bookkeeping and increasing profit margins were other key topics being discussed.
Again, in its aim to provide a comprehensive business solution, NetSuite is working to enhance the finance automation capabilities of its software, and its latest upgrades represent major advancements in this field.
"We think about optimising cash and profits like you do, from the perspective of how those key back office processes can best serve and support the rest of your business," outlined Craig Sullivan, the GVP of Product Management International.
"We focus on how we can utilise those incredible power-ups to enable you to plan, to manage cash, do accounting, report, and comply with regulations, wherever you do business."
NetSuite planning and budgeting is now being used by more than 2,000 users, and over the course of the last year, a number of key improvements have been made, especially with regard to planning and budgeting.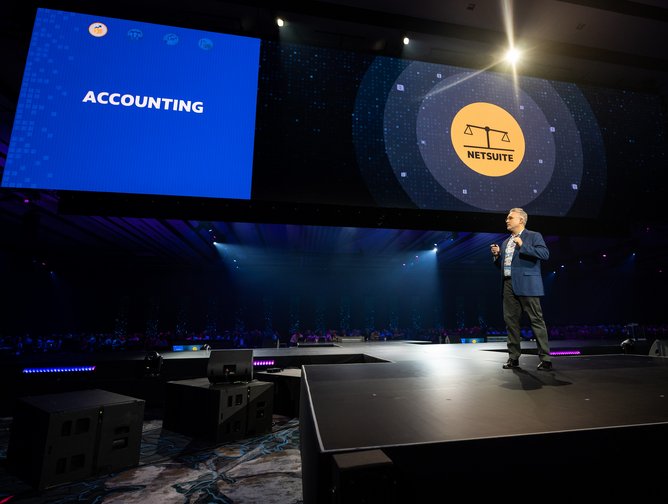 "We've introduced a new version builder for capturing a range of budget or forecast scenarios. We've added a revenue model optimisation capability that inherits your customer hierarchy from your NetSuite instance, and we've added a new centralised task manager to help sequence your planning activities within the solution. And coming soon, we're working with Oracle Smart View to provide integration to Microsoft Office products and Google Sheets," Sullivan added.
Talent mangement, talent retention and SuitePeople
Finally, another area that was spotlighted in the keynote was NetSuite's talent attraction, retention and management solutions.
Currently, $3bn in annual payroll transactions are run in SuitePeople. And, beyond simply making people management more efficient, NetSuite believes that these tools can actually help businesses to manage happier, more productive employees.
"The key is to have an intelligent workforce management solution, literally at your fingertips, that allows you to respond to changing business conditions, and act as it's occurring," said Hanif Ismail, VP of Product Management at SuitePeople.
For instance, the hiring power value stream "covers everything that you would want to do with your employees."
"It starts with staffing, retaining your employees, engaging your employees, and paying your employees accurately, which obviously makes a big difference."
"Fulfilling your payroll tax obligations like tax filings, allocating your payroll expenses to the right GL accounts. Finally, analysing your talent data, so that you can make effective decisions. And we continuously invest in each one of these areas."
To this aim, Ismail announced the availability of a new SuitePeople product, called Workforce management.
The solution - which is largely thanks to NetSuite's recent acquisition of ADD Insights - has four components to it.
These are a scheduling component (which helps users to build an optimised shift schedule, which aligns staffing with the expected demand), the ability to capture the time that employees actually worked, a wage rules engine, and tools that empower employees and managers.