Industry's first on-device attestation solution unveiled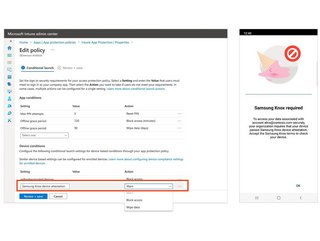 Samsung Electronics' EVP and Head of Global Mobile B2B Team, MX Business KC Choi said the brand is "committed to meaningful innovations that are as secure as they are versatile and optimised". Credit: Samsung
A strategic partnership between Samsung and Microsoft is said to improve enterprise mobile device security for the modern workplace
Samsung Electronics and Microsoft have announced the inaugural steps towards the industry's first on-device, mobile hardware-backed device attestation solution.
The solution is designed to prevent access to sensitive corporate data through compromised devices.
"Samsung is committed to meaningful innovations that are as secure as they are versatile and optimised," said KC Choi, EVP and Head of Global Mobile B2B Team, MX Business at Samsung Electronics. "As work habits evolve and people are working from virtually anywhere on any device, we are paving the way for the future of enterprise device security and democratising the means for businesses to better protect their information."

Samsung and Microsoft partnered up for the venture. Credit: Samsung
Samsung Galaxy smartphones and tablets users can leverage the solution, as well as those on "Security by Knox" devices with Android OS 10 or later, and is combined with protection from Microsoft Intune.
Flexibility for enterprises and end users
Mobile hardware-backed device attestation with Intune provides strong protection for corporate needs without impacting the user experience, the multinational technology brands have said. This move, which adds an extra layer of protection against compromised devices, enables businesses to adopt bring your own devices (BYOD) policies for employees with confidence. Samasung says this increases worker productivity, provides better experiences for users, and simplifies administration.
The attestation solution works on all devices, whether managed or unmanaged and whether owned by an individual or business by allowing enterprises to verify a device's integrity and grant access to the corporate system. This allows employees to bring their own devices to work and safely access their corporate systems without additional security steps.
"Samsung's industry-leading hardware and software solutions, coupled with the power of the Microsoft Cloud and Intune, uniquely position us to empower defenders with end-to-end capabilities to help stop sophisticated bad actors and improve Zero Trust security posture," Michael Wallent, CVP Microsoft Security - Management added. "With this partnership, we are committed to continuous innovation that will ensure the most security-minded organisations have the best possible mobile device protection."
******
For more insights into the world of Mobile - check out the latest edition of Mobile Magazine and be sure to follow us on LinkedIn & Twitter.
Other magazines that may be of interest - Data Centre Magazine.
Please also check out our upcoming event - Cloud and 5G LIVE on October 11 and 12 2023.
******
BizClik is a global provider of B2B digital media platforms that cover Executive Communities for CEOs, CFOs, CMOs, Sustainability leaders, Procurement & Supply Chain leaders, Technology & AI leaders, Cyber leaders, FinTech & InsurTech leaders as well as covering industries such as Manufacturing, Mining, Energy, EV, Construction, Healthcare and Food.
BizClik – based in London, Dubai, and New York – offers services such as content creation, advertising & sponsorship solutions, webinars & events.