Cisco upgrades RAI Amsterdam Wi-Fi for seamless OpenRoaming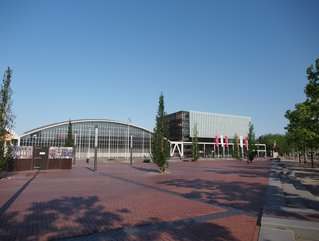 Credit: Alf van Beem, CC0, via Wikimedia Commons
RAI Amsterdam Convention Centre upgrades Wi-Fi 6 network to support WBA OpenRoaming, simplifying connectivity for visitors
The Wireless Broadband Alliance (WBA) has announced that the RAI Amsterdam Convention Centre has upgraded its Wi-Fi 6 network to support WBA OpenRoaming, simplifying the user experience and enabling exhibitors, attendees, and staff to connect to a secure, high-quality network seamlessly.
WBA OpenRoaming is becoming more prevalent in convention centres, stadiums, and other large public spaces, simplifying the wireless experience for visitors. With over 1 million hotspots worldwide, the global standard enables automatic connection for smartphones, tablets and laptops, eliminating the need for users to repeatedly log in.
The service also maintains enterprise-level security, freeing users from the hassle of re-registering or re-entering login credentials.
The Wi-Fi 6 network was deployed in 2021 with Cisco Wireless, supporting high-density use cases and allowing occupancy monitoring with Cisco Spaces. At the Wireless Global Congress EMEA event less than two years later, the Wireless Broadband Alliance partnered with Cisco and multiple identity providers to deliver the first OpenRoaming LIVE experience, with over 1,139 users automatically connecting without needing usernames or passwords and consuming over a terabyte of data.
"Nearly 10k convention centres, arenas and stadiums worldwide have deployed Wi-Fi throughout their venues because it's the preferred way that people stay connected during trade shows and conferences," said Tiago Rodrigues, CEO of the Wireless Broadband Alliance.
"The RAI Amsterdam Convention Centre is on the leading edge of this trend, first with Wi-Fi 6 and now with OpenRoaming. As a result, the RAI is a case study in how venues can leverage OpenRoaming to provide the kind of secure, convenient and seamless connectivity that attracts marquee events."
The adoption of WiFi 6E
The WBA report disclosed that 53% of those surveyed have implemented WiFi 6E, which has become the industry standard, and an additional 44% have plans to adopt it within the next 12-18 months. This trend is primarily driven by the demand for data-intensive, low-latency applications, such as immersive technologies including the metaverse and industry 4.0.
Survey respondents also consider these newer WiFi technologies crucial in delivering high-quality experiences of virtual reality (VR) and augmented reality (AR).
What's more, the report noted that 61% of respondents consider HD video streaming, AR, VR, and the potential of metaverse applications as key revenue opportunities.
In addition, 90% of service providers, equipment manufacturers, and enterprises rank the quality of experience as a significant factor in monetising their WiFi services.
"WBA OpenRoaming provides users with a seamless and secure way to connect to wireless networks without the need for complex usernames and passwords," said Matt MacPherson, Wireless CTO at Cisco. "Together with Cisco and the WBA, conference centres around the world can start exploring the future of connectivity. It's no longer just about connecting people and devices, but about creating unique, personalized and immersive experiences for attendees. It all starts with the network."