KT, KIST to solve "social problems" with 5G AI robot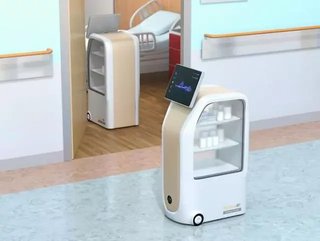 South Korean telecom KT has partnered with KIST to develop a 5G AI robot platform to solve social problems such as quarantining during the pandemic
KT, a telecom operator based in South Korea, has partnered with state research institute KIST to develop a 5G-based AI robot platform that will aim to help solve "social problems" such as quarantining during the COVID-19 pandemic.
KT said in a statement that it has agreed with the Korea Institute of Science and Technology (KIST) to share their knowledge of robotics, communication, and cloud computing sectors to cooperate in the development of an integrated platform including 5G-connected robots, a control tower, and management systems.
In a statement given on 20th October, KT's enterprise division head Shin Soo-jeong said: "We will contribute to the solving of social problems in the quarantine and industrial sectors by utilizing KIST's robot development capability and KT's 5G-connected robot platform and cloud technologies."  
The two companies will work on various projects including a control tower platform for robots carrying everyday necessities and groceries. The 5G-connected platform will be demonstrated in late 2021. The two sides will develop robots hooked onto KT's solutions to reduce safety accidents at industrial sites and commercialize technologies in the bio and healthcare sectors
South Korea's 5G infrastructure 
South Korea, which has a nationwide network of ultra-fast 5G mobile communication, has already adopted a fleet of connected robots that use artificial intelligence (AI) and big data technology to reduce operational costs and labor. Serving robots were commercialised at restaurants to carry food from the kitchen to the customer's table. Quarantine robots equipped with sanitizing devices roam hospitals and public facilities. Guide robots are deployed to airports and shopping malls.
In March earlier this year, it was reported that the nation reached almost 13mn 5G subscribers in January, following an addition of nearly 1mn subscribers from 2020. 
According to a report by Korean news agency Yonhap, telecommunications companies in Korea are expecting a big surge in 5G adoption this year, with top wireless carrier SK Telecom aiming to have 9mn 5G users by the end of the year, and smaller rival LG Uplus targeting 4mn.