IBM, Samsung and M1 unveil first 5G 4.0 studio in Singapore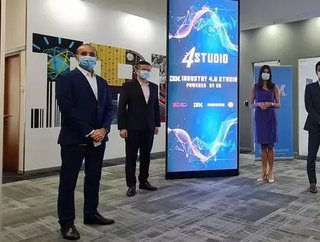 The new studio, supported by IMDA, will use a 5G network to accelerate how enterprises embrace Industry 4.0...
American multinational technology company, IBM, in partnership with Samsung Electronics and M1, has launched a 5G 4.0 studio in Singapore, the first of its kind in the city.
Opened on Thursday 18 March, the studio, which is supported by the Infocomm Media Development Authority (IMDA), combines advanced 5G connectivity with artificial intelligence (AI), hybrid cloud, and edge-computing capabilities to test and establish innovative Industry 4.0 solutions for enterprises, both in Singapore and across the Southeast Asian region.
By simulating operational use cases which demonstrate the extent to which businesses can harness the power of hybrid cloud, AI technologies and advanced 5G capacity, the studio aims to transform critical operations and drive new value.
These goals include enhancing the quality and productivity of production lines and empowering service.
Brenda Harvey, General Manager of IBM APAC, says that "5G presents an enormous opportunity for enterprises to drive new value and transform their operations to harness the next era of industrial connectivity."
She adds: "This project builds on IBM's longstanding strategic partnership with Samsung, and a shared vision with M1 and IMDA, to help businesses tap into emerging hybrid cloud and AI technologies that will define their future success.
"It is crucial these businesses have an opportunity to test and evaluate these technological investments, and we are committed to working shoulder to shoulder with them to ensure they make the best decisions that will truly propel their businesses forward."
Testing and development of Industry 4.0 use cases will also involve collaborative robots, autonomous-guided vehicles, AI visual and acoustic recognition and classification presented in real time, and 3D augmented reality.
Working in collaboration with one another, IBM, Samsung, and M1 are able to deliver solutions which exploit the ultra-low latency, high reliability and security of 5G connectivity by linking Samsung's state-of-the-art standalone 5G network solutions and mobile devices with IBM's hybrid cloud, edge computing and AI technologies, as well as M1's engineering and network services.
By the end of 2022, standalone 5G capability will cover at least half of Singapore, with the city encouraging more businesses to assess how they can integrate 5G into their existing operations.
The opening of the studio provides a stepping stone for Samsung and IBM's global partnership, advancing 5G and edge industry innovation through cross-collaboration with global mobile operators and enterprise networks.
Samsung and IBM's solutions for developing the potential applications of 5G are intended to increase productivity and unlock new business opportunities, as well as provide a basis for enterprises to swiftly customise and launch their applications whilst simultaneously managing them flexibly across any cloud, private, or on-premise environment.
KC Choi, Executive Vice President and Global Head of B2B Business, Mobile Communications Business and Samsung Electronics believes the opening of the studio plays an essential role in the application of 5G solutions for both network and mobile. 
"The opening of the Studio in Singapore is an important milestone in applying 5G-enabled mobile and network solutions with Industry 4.0 capabilities to help transform manufacturing. Mobile and 5G capabilities like these are empowering workers and changing the way factories and warehouses operate, bringing new efficiency and productivity to operations.
"Samsung is pleased to be collaborating with IBM, IMDA, and M1 in this groundbreaking project to help make 5G a reality for customers", he said.