Ericsson and NOS launch first 5G school in Portugal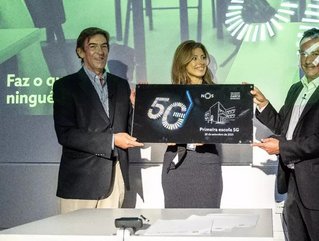 Developed in a partnership between Ericsson and NOS, the João Gonçalves Zarco Secondary School in Portugal is the first to use the 5G network
Ericsson, in collaboration with NOS, has integrated 5G technology into a school in Portugal.  The school, based in Matosinhos, is called The João Gonçalves Zarco Secondary School, and is the first of its kind to take advantage of the 5G network, thanks to Ericsson's role as a technological partner to NOS.
Since 2019, the city of Matosinhos has taken on the role of being a living innovation lab as part of the development of pilots in education linked to smart cities. The João Gonçalves Zarco Secondary School has been at the forefront of tests and has helped to reveal the true potential of 5G technology, reiterating its technological preparation to lead the mobile technology of the future, Ericsson claims. 
The role of 5G in education
Sofia Vaz Pires, head of Ericsson Portugal, said: "Mobile networks will play a major role in connecting every learning establishment and learner. Ericsson is truly excited to join forces in this partnership with NOS to enable new ways of learning and teaching in João Gonçalves Zarco school. With our leading solutions and capabilities, together we will materialise some of the endless possibilities technology has for quality, lifelong learning, where traditional barriers to access are eliminated thanks to 5G."
Manuel Ramalho Eanes, Executive Director of NOS, added: "5G opens perspectives for changes never seen before in current teaching models, enhancing stimulating learning experiences and reducing geographic and social barriers. The collaboration with Escola Secundária João Gonçalves Zarco and Ericsson will allow us to work, from now on, in the actual application of this technology in the school context, reinforcing NOS' firm commitment to empowering present and future generations for the new paradigms of the digital society and the world of work."
This "classroom of the future" is enabled by Ericsson Radio System's most advanced 5G portfolio, with the Massive MIMO product AIR 3278 and high-capacity baseband 6648. The demo was implemented in a live network site using 100 MHz on a 3.6 GHz test frequency.
According to Ericsson, through connecting learning establishments and learners, the use of digital technologies for lifelong learning will not only increase familiarity and confidence, but it will also upskill users and enable new ways of learning for the future.