What could a mixed-reality office look like after COVID-19?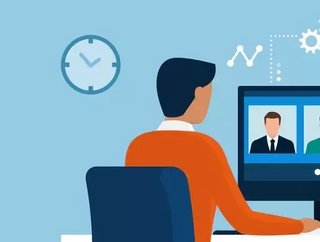 The pandemic has forced many people to work from home - but what will happen to offices once it's all over? Mixed reality might have the answer...
Around this time last year, the UK was placed into national lockdown to try and fight off a new deadly virus, meaning that people were forced to work from home rather than the office.
However, when the pandemic subsides, what will it mean for offices? Will they make a return appearance? Or will working from home become the new normal? 
Luckily, there are a few companies who have managed to combine the best of both worlds through mixed reality.
Microsoft Mesh: Mixed-reality platform
Earlier in March during their Ignite digital conference, tech-based company Microsoft introduced a new virtual 'mixed-reality platform', which enables people in different physical locations to interact collaboratively through 'Holoportation' - a new type of 3D capture technology that allows computer-generated, high-quality 3D models to be transmitted anywhere in the world in real time.
Describing the new technology, Microsoft Technical Fellow, Alex Kipman, said: "You can actually feel like you're in the same place with someone sharing content or you can teleport from different mixed reality devices and be present with people even when you're not physically together."
Image: Microsoft
Microsoft Mesh also aims to enable teams of people who are in various different locations to have more interactive meetings, host virtual design sessions, and also increase the realism of social interaction.
Created using Microsoft's cloud computing platform, Azure, the mixed-reality technology benefits from Azure's enterprise-grade security and privacy settings as well as Artificial Intelligence (AI).
Initially people will just be able to appear as an avatar but as the system is developed, Microsoft claims that they will be able to project themselves as a more life-like figure, adding to the value of the interactive experience. 
Using this technology it may be possible for Microsoft to incorporate it into the world of work, combining both home and office life together. 
Qualcomm: XR1 AR Smart Viewer
Near the end of February this year, chipmaker Qualcomm announced plans for Augmented Reality (AR) glasses which would allow the user to see real-life objects virtually. 
The glasses are part of what Qualcomm is calling its XR1 Augmented Reality Smart Viewer platform based on their Snapdragon central processing unit which allows the glasses to be attached to a smartphone or PC using a USB-C cable. 
Image: Qualcomm
As a result, the deception and display processing - a technical term describing how the glasses (system) tracks the users eye movements to ensure it correctly displays the virtual image to the user - of an object happens in the AR glasses themselves, and the rendering of that object takes place on the connected device, producing a virtual-reality image of whichever object is being shown to the user. 
Qualcomm claims that the XR1 Smart Viewer has "significant performance features, including the ability to have several open applications displayed on the user's screen at any one time. 
Hugo Swart, Vice President and General Manager of XR Qualcomm Technologies, described how the XR1 could change the world of AR.
He said: "The Snapdragon XR1 AR smart viewer marks a new chapter for our reference design portfolio and a big step in the evolution of AR viewers.
"AR simple viewers showcased viewers as an accessory to a smartphone. Now, AR smart viewers allow us to move some processing to the glass, to expand the possibilities of use cases, applications and immersion – this reference design is the first step in our roadmap to help scale the AR industry", he added.
It seems then that perhaps the office will not be completely disappearing after the pandemic - it will just be appearing in a new, virtual way.