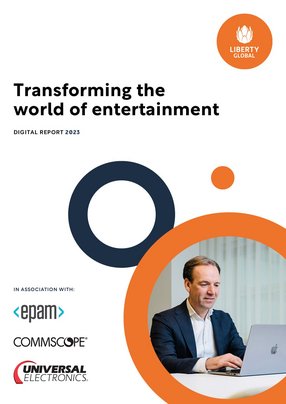 Liberty Global: transforming the world of entertainment
Global communications leader Liberty Global is building tomorrow's connections today, transforming the world of entertainment using the power of technology
Liberty Global is a world leader in converged broadband, video and mobile communications, and an active investor in cutting-edge infrastructure, content, and technology ventures.
With investments in fibre-based and 5G networks, Liberty Global plays a vital role in society, currently providing over 86 million fixed and mobile connections while also rolling out the next generation of products and services, as well as readying its networks for 10Gbps and beyond.
But as Pieter Vervoort, Liberty Global's Vice President for Entertainment Products, explains, there is much more to Liberty Global than providing networking solutions to customers.
"Our core mission is to build tomorrow's connections today," he explains. "We want to bring people together using the power of technology, and especially our network, but also, the services that we deliver to the end-user are then a central piece in those connections. We matter in people's daily lives. Especially during the Covid period this became very clear to us but also to our consumers. Reliable connectivity and great entertainment were highly appreciated when working from and living at home."
An experienced executive professional with 25 years of international experience in the global technology sector, Vervoort spent 17 years working in consumer electronics before joining the telecoms industry a decade ago, starting with the Dutch innovative cable company Ziggo.
"When I joined the group in 2015 – when Liberty Global acquired Ziggo – Liberty Global was very much a traditional cable company," he comments. "At that time, we were active in over 12 markets in Europe and also in Latin America. Today, we are focused on fewer markets, but we are a fixed mobile converged player and have fully integrated broadband, video and mobile into these companies."
As Vervoort explains, Liberty Global is combining the best broadband and mobile networks under brands such as Virgin Media-O2 in the UK, VodafoneZiggo in The Netherlands, Telenet in Belgium, Sunrise in Switzerland, Virgin Media in Ireland, and UPC in Slovakia, creating what he describes as National Champions.
"In the markets where we are active, we like to think of ourselves as National Champions," he continues. "We are either the number one or two player in those markets in which we are active. Our portfolio and our markets have changed quite a bit – you could say that, nowadays, we are as much a mobile company as a fixed company."
Transforming the world of entertainment
Rather than a sole emphasis on fixed-mobile convergence and broadband packages, Liberty Global instead offers an integrated entertainment experience to consumers, with what it describes as the super-aggregation of multiple services. Central to this strategy, Vervoort explains, is providing consumers with one place where they can find all of their personal content, all served in a very intuitive manner.
Its latest product, the Horizon 4 superfast all IP mini set-top box offers 4K Ultra HD picture quality and an upgraded version of Liberty's 'GO' mobile app, enabling customers to watch programmes on the go, whenever and wherever they want.
"In the last couple of years, we've been putting a lot of energy into developing our next-generation video platform, which we call Horizon," Vervoort comments. This has been rolled out to millions of households, with consumer feedback very positive: it reduces churn, thereby increasing day-to-day usage.
"We have really seen that people have embraced that concept. The platform brings together the world of linear TV, time-shift TV, and on-demand, but also over-the-top streaming – all brought together in an intuitive way."
In addition to providing broadband, video, and mobile communications, Liberty Global is a very active investor in cutting-edge infrastructure, content, and technology ventures, such as ITV in the UK, Plume for smart wifi, Lionsgate for content, AtlasEdge for edge computing, and the motorsport series Formula E. Its content portfolio is positioned to capture changes in the consumption of entertainment, sports, and gaming, providing a holistic experience to customers.
"We very much believe that consumers today are overwhelmed with the amount of video content that they can get these days," says Vervoort. "As a result, it's important that they come back to a place where they find all their content and it's also served to them in a straightforward way. This means that search and discovery journeys for content on the platform need to provide the end user with what they expect. This can be done very easily by just using our voice assistant."
In a competitive environment where consumers face overwhelming quantities of media, providing them with a frictionless experience is absolutely essential. As Vervoort explains, these 'digital journeys' – combining high-speed internet with the capabilities of its streaming video platform – drive customer satisfaction.
"These digital journeys need to be absolutely frictionless. We do have traditional channels as well. We still have call centre agents, and we have engineers available to visit customers' homes in the case of an unforeseen problem. But our digital touchpoints – our apps, websites and user interfaces – are critical to our success."
Central to helping provide this seamless experience when it comes to video is the Reference Design Kit (RDK) platform, an open-source software platform supported by Liberty Global and Comcast, on which the Horizon 4 set-top box was developed.
"The RDK platform allows us to create a very rich and fully-integrated video experience," Vervoort explains. "It also allows us to be in full control of our own destiny and roadmap. That also comes with a challenge. So, you need to define the roadmap that you want carefully, and then make sure that, with the RDK software and your own engineers, you're building what you're aiming for."
Developing products with partners
To enable its broadband and video offer, Liberty Global works alongside many partners. Its partners include Nuance, Gracenote, ThinkAnalytics, Cadent, Conviva, and Adobe. When it comes to hardware partners, Liberty Global works with the likes of CommScope, Universal Electronics, and Omni for remote controls, while working with various software partners such as Infosys, Prodapt, and EPAM.
"It's not possible these days to innovate and do everything yourself," explains Vervoort. "We do a lot in-house. So, we have a huge, skilled products and software development team, but we also like to tap into the scale and skills of our partners."
One such partnership is with network infrastructure provider CommScope, which has been a long-term set-top box and modem partner for Liberty Global, with its latest Horizon 4 all IP mini streaming box featuring heavily.
"Together," Vervoort adds, "we have developed products that are now in consumer homes by the millions, and they've proven to be a very reliable, trustworthy partner. Our engineers and our product people work hand-in-glove with the teams at CommScope."
What's more, Liberty Global has an extensive network of content partnerships, from global streaming companies to local broadcasters, ensuring a truly comprehensive offering for customers.
"We have content partnerships with the global streamers – Netflix, YouTube, Disney Plus, Amazon Prime, and Apple. But we also have partnerships with a lot of local players, local broadcasters in most cases. Players like Sky, ITV, BBC, SBS, and RTL are critical in making sure that the end product that we deliver when it comes to video is a complete product.
"Without partnerships, something like Horizon is not possible. You cannot do that in isolation."
Further rollout to more customers
As Vervoort explains, the future at Liberty Global is looking bright. The platform will continue to be rolled out to more customers, while the amount of content available will continue to increase.
"With our Horizon platform, we are now for the first time active in all the markets where we operate," he comments. "Now, we need to further penetrate the base and roll it out to more consumers so they can enjoy the latest and the greatest."
Further down the line, the level of content will be expanded into new areas and possibilities, from audio and gaming to smart home integration, as consumers look for more holistic experiences.
"That expansion of the definition of entertainment is not something that we have come up with, but that's something that consumers are looking at the entire entertainment space. It's very logical for us, as a platform, to follow that definition and to make sure that things like gaming and smart homes also find their way onto the platform."
As customers increasingly look for seamless experiences, Vervoort predicts that the future will see further convergence between fixed broadband services and mobile. "People less and less find it important to fully realise on what kind of platform they sit," Vervoort says. "As a result, the mobile experience and the WiFi experience need to be absolutely seamless. It also comes with the obligation that the WiFi coverage needs to be there at speed in every corner of your home. It's the same for mobile – every corner of your country needs to be covered with enough bandwidth."
Liberty's latest set-top box is designed with this increased fixed-mobile convergence in mind. "Our latest set-top box is very small and fully IP-based," Vervoort explains. "But it's also fully cloud-based. With that, it can run over a hybrid fibre coaxial (HFC) cable, it can run over fibre, it can run over DSL, and it can run over a mobile network.
"As a result, it becomes agnostic and independent of its video delivery from the network. That's critical to us because we also have various fibre rollout plans in some of the markets in which we operate with our brands."
Increased competition in the entertainment space
As competition between streaming platforms continues to increase, and consumers are faced with ever-more choices – with Netflix admitting last year that competition was eating into its growth – new strategies are necessary.
"If we look at the industry as a whole, I think there will be even more competition in future," Vervoort predicts. "We already saw the rise of global streamers with Netflix and Disney, and all the others are following. You can find video services everywhere now. And, with players like TikTok and Instagram, a lot of consumers get a bit overwhelmed."
As a result, with uncertain economic conditions globally causing consumers to re-evaluate and cut back on streaming services, providing bundled services will be central to Liberty Global's strategy in future.
"We foresee a need to offer an aggregated, integrated, curated experience," concludes Vervoort, "not only from a user interface perspective but also financially.
"Not everybody will sign up for 10, 11, or 12 different subscriptions, so there is an opportunity to also aggregate or bundle our services. By bundling various subscriptions, allowing people to pick and choose, this will allow customers to be more flexible in the way they consume their video content."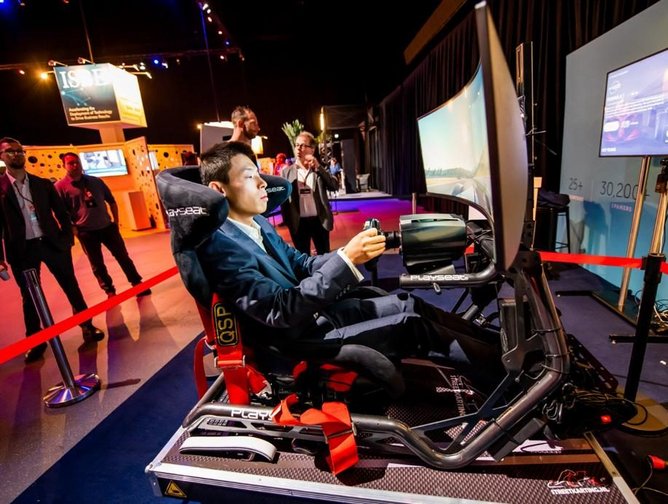 Liberty Global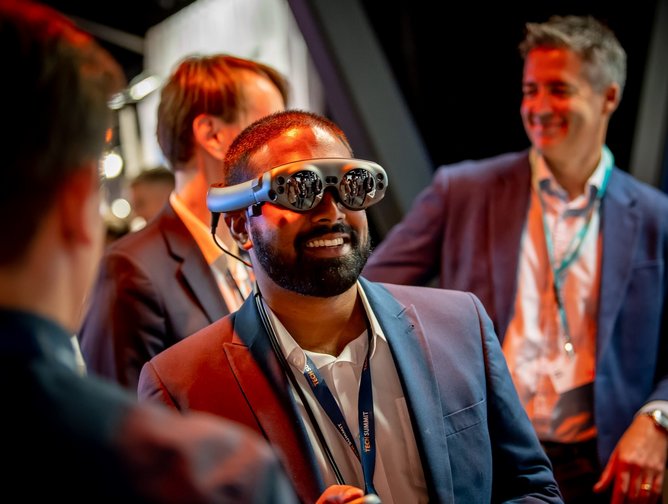 Liberty Global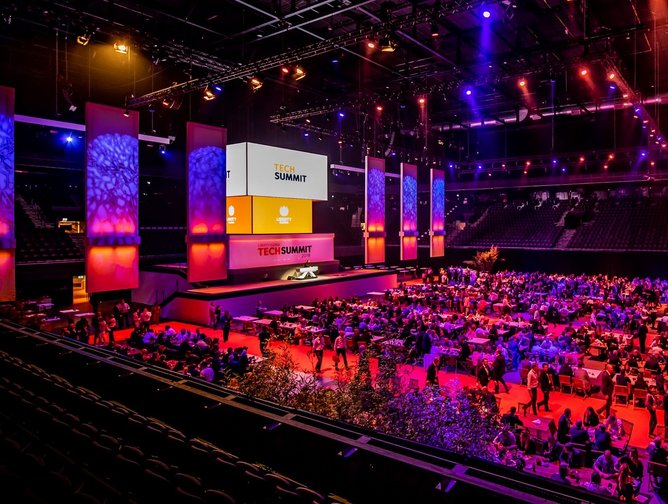 Liberty Global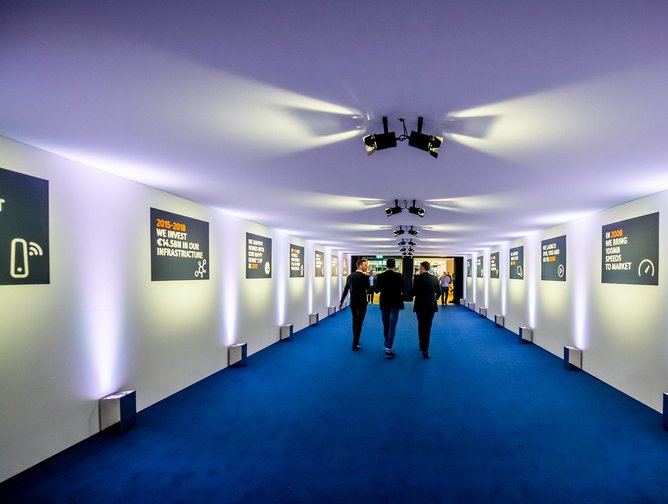 Liberty Global