Vodafone UK is tackling the nation's "digital divide"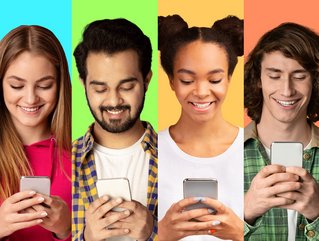 Credit: Getty Images
Vodafone UK and The Trussell Trust are collaborating to close the digital divide in the UK, to ensure everyone in the nation can afford to be connected
Vodafone UK is backing The Trussell Trust's 'Guarantee our Essentials' campaign, which aims to raise awareness of how the total rate of universal credit falls short of covering people's essential requirements.
The campaign seeks to highlight the pressing issue of individuals and families struggling to meet their basic needs despite being on universal credit.
"We are demonstrating how the basic rate of universal credit doesn't add up. It's not enough to cover the essentials for people and we just want to raise awareness of that," Eniola Akinlabi, Campaigns and Communications Manager at The Trussell Trust's Tottenham food bank told Vodafone UK News.
Connecting the nation
To combat this, Vodafone and The Trussell Trust have connected more than a million people in the UK by distributing over 200,000 sim cards, on behalf of the 'everyone.connected' campaign.
The mobile network plans to continue this good work by connecting a further three million people by the end of 2025.
Akinlabi adds: "The SIMs have been incredibly useful for our clients. We've been able to connect people in a way that they weren't connected to before. I even know one client who got a SIM card from us and used it to apply for jobs and then got a job."
Nicki Lyons, Vodafone's UK Chief Corporate Affairs & Sustainability Officer, adds: "For Vodafone, connectivity is vital. We've been campaigning for the past couple of years through everyone.connected to ensure that as many people as possible are supported in crossing the digital divide.
"We've been working with The Trussell Trust to distribute connectivity via their food banks, and we believe that it's something people can't – and shouldn't have to – live without.
"But I'm cautious about sounding too self-congratulatory. The digital divide still exists – 1.7 million households in the UK remain digitally disconnected. There's plenty more work to do."