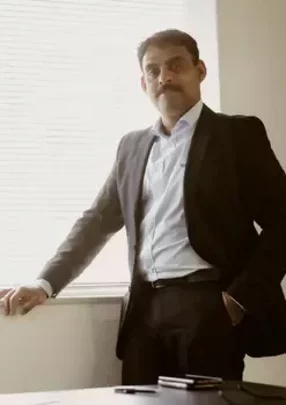 From the Indian Air Force to the Netherlands' leading tower-co, Shibu Varghese has always maintained his passion for building something out of nothing.
For Shibu Varghese, joining Telekom Infra in 2019 as the CEO and Managing Director of the Netherlands' leading tower-co felt a lot like coming home. During his 30 year career, Vargehese has been an irrepressible builder of networks from Myanmar to Western Europe, including two stints in the Netherlands. 
His career began with a short stint as a radar and communications engineer for the Indian Air Force after leaving university with his degree. "Then, in 1995, I started building the GSM network when it was introduced to India. That was my passion because it was connected to new, exciting things," he recalls. After his time building networks in India, Varghese got "a call from Nokia who asked me to build a new network for them in the Netherlands, so I moved there in 1999, and stayed to build the network that later became T-Mobile Netherlands." Varghese stayed within the T-Mobile umbrella for a number of years, working as the regional manager for mobile networks at T-Mobile, before moving to Deutsche Telekom international, where he worked on a staggering variety of projects in  India, China, and the Philippines, as well as throughout the UK, Germany, Austria, and the Czech Republic. 
"In 2013, I decided to take a break," Varghese continues. Once again, he explains, "I followed my passion and left Deutsche Telekom to go build something new in Myanmar, because the country was just starting to open up at the time." Varghese built networks in Myanmar for Ooredoo and ZTE over the next few years, leading projects and working as a technical director. 
In 2019, however, his old mentor from Deutsche Telekom called with a request that he come home. "He asked me to come back and build a new network for infrastructure in the Netherlands," explains Varghese. "Both Deutsche Telekom and the Netherlands were quite dear to me, so it was a great opportunity to combine my fondness for the company and the country with my passion for building something new. Both for me and my family, it's been great to come back to the Netherlands again."   
Read the full story HERE