Will 5G give us the first cloud-based smartphone?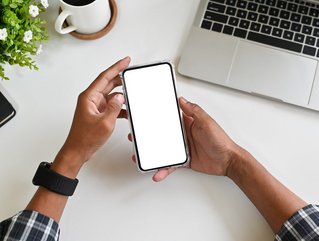 5G's lower latencies and faster connections could mean radically rethinking what constitutes a smartphone
Written by Harry Menear
With the growing power of the cloud and ubiquitous 5G connectivity, the coming decade could see our devices truly step beyond the limitations of physical hardware.
Earlier this year, UK carrier Vodafone and Canonical — the company behind Ubuntu — unveiled a prototype for a new kind of smartphone. Combining virtual machines, cloud storage, and a low-latency 5G connection, the result is "a smartphone running entirely on the cloud while leaving basic functionality on the device a user holds". By outsourcing the phone's entire android operating system to a virtual machine in a nearby data centre, this cloud-based smartphone can effectively deliver infinitely scalable computing power through a handset with less on-board hardware than today's most affordable devices and, supposedly "provides the user with an environment that shows no difference to what they are regularly used to having".
Damian Hanson, Co-Founder & Director of CircleLoop, says: "Cloud-based smartphones could offer consumers an unmatched user experience and may one day replace the physical smartphone altogether as usage grows.
"Current issues with sustainability surrounding telecoms, such as manufacturing CO2 emissions and the use of non-recyclable materials, will also be solved thanks to a higher reliance on cloud-based smartphones. Supply chain issues will also be less problematic as demand for physical smartphone devices drops in favour of a simple login to a cloud-based telephone provider."
The Long Road to Cloud Based Smartphones
The idea of a smartphone that offloads the bulk of its processing and storage capabilities to the cloud ‒ pulling what the user needs as and when they need it ‒ has been slowly gaining traction for a number of years now.
Back in 2013, two ex-Googlers, Tom Moss and Mike Chan, founded a company called Nextbit. The startup launched its debut smartphone, the Robin, on Kickstarter a few years later, with a vision to deliver "seamless cloud-first computing across multiple devices".
The Robin came equipped with a paltry 32GB of onboard storage and a plan to use AI-based behavioural analysis to offload underused applications and data ‒ like videos, pictures, and even entire applications ‒ into an unlimited cloud storage space, outsourced in a way that optimised performance and reduced the demands placed on the device's internal hardware.
The approach is similar to Google's Chromebooks, which host applications in Google's own cloud and online to reduce the need for large amounts of RAM and powerful chipsets. The project raised over US$1mn on Kickstarter and, like most Google spin-off projects ahead of their time, fell quickly off the face of the Earth.
The idea of a cloud-based smartphone, however, persisted.
Back in 2020, Qin Fei, Head of Vivo's Communication Research Institute, speculated in an article published in the Manila Standard that, with low enough latencies between the end device and an edge computing data centre, smartphones might effectively be freed from the constraints of having to carry around all their own hardware.
"Could the future be as simple as a single sheet of glass, which is how artists and science fiction envision the future smartphone?" he asked, wondering if the eventual form factor of a smartphone might be a "pure display device with all processing and intelligence in the cloud".
Raj Shah, North America Industry Lead for Telecom, Media, and Technology at digital consultancy Publicis Sapient, thinks the future form factor of a smartphone might even stop resembling a single device.
"By pushing the computing power to the cloud, smartphones can grow smaller and consume less power, possibly fragmenting into components – one small piece in your pocket or purse for connection, an audio device in your ear, and a visual overlay for AR/VR," he tells me, adding that making smartphones into a more integrated and unobtrusive technology, while simultaneously making them more powerful by orders of magnitude is "a critical step for the future of digital reality. A cloud-based smartphone is a necessary step to an immersive, always-on Metaverse that we believe is coming."
Cloud Gaming: A Blueprint for Cloud-Based Smartphones?
The rapidly expanding cloud gaming sector is probably the best example we have for using low-latency connections to host heavy IT workloads that are streamed in near-real time to the user's device. The idea is that powerful computers run demanding games remotely, and stream them to a smartphone with such low latency that twitch-based games, where reaction times are paramount, can still be played effectively.
However, 5G infrastructure isn't quite ready to deliver the kinds of cloud gaming experiences that can compete with local platforms, yet.
Sri Iyer, CEO and founder of Game Bench, notes that, "To meet the demands of enthusiasts, the input latency needs to be less than 133-milliseconds, quickening to less than 83-milliseconds for ultra-gamers, yet the best we can currently serve up is 170 to 180 milliseconds, which only caters to basic performance".
Iyer insists, however: "We're not too far away from an exhilarating future where 5G means high-end games can be played convincingly and seamlessly on mobile devices." The question poses itself: if we're entering an age where we can run AAA games on monstrously powerful gaming rigs in a data centre, and stream them in near-real time to a smartphone, why can't we also stream the phone's OS, apps, and data in real time as well?
The computing power and the software certainly exists. The issue lies with connectivity.
5G: Is it Fast Enough?
According to David Owen, Managing Director of Communications at Intercity, when it comes to assessing the viability of a cloud-based smartphone, "You can draw parallels with Chromebooks here, which carry just the OS and basic services and then everything is drawn from the cloud. These struggled to take off in a significant way because connectivity in the UK is still patchy and the risk of not being able to work due to this is too great".
Shah agrees that, while "the computing power is certainly available, the latency and coverage needed to be a truly reliable device – even with 5G C-Band rollout – aren't quite there yet". The need for superfast connectivity also creates some dissonance when held up against one of the biggest selling points of a cloud-based smartphone: fewer, less powerful components. This makes them an ideal candidate for the budget market. Budget phones tend to sell best in markets where the quality and reliability of networks is a few years behind more affluent countries.
Nevertheless, the gulf between what's possible and what's needed for the dawn of a cloud-based smartphone age is, Owen continues, smaller than it might appear. "We already consume cloud-based services on our phones for work, email, Power BI, calendar, Teams, Zoom – none of these would work without connectivity, so I can see why cloud-based phones might be attractive," he says.