Ericsson uses lasers to power 5G cell sites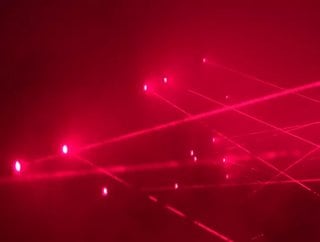 In partnership with laser innovator PowerLight Technologies, Ericsson has successfully demonstrated the world's first completely wireless base station.
Ericsson has taken a major step towards commercialising wireless power transmission in a "larger-scale" system - effectively taking the wireless charging technology that's becoming increasingly common in our smartphones and using it to get the juice flowing to something much, much bigger. 
On Monday, Ericsson announced that it had successfully completed a trial in collaboration with PowerLight Technologies, a US-based laser innovation firm. The proof-of-concept (PoC) trial took place in Seattle, Washington, and saw Ericsson and PowerLight Technologies use an optical beam - a "laser-based" technology that converts electricity into high-intensity light, to later be captured and transformed back into electricity when it reaches its destination - to power a completely off-grid 5G base station. 
Ericsson stressed in a press release that "No wires were connected to the site from the street power grid network and no on-site power generation was involved. The base station site was completely 'powerless' until wirelessly powered over the air through a laser beam." 
Remote charging using a laser beam isn't a new technology. In 2018, scientists and engineers at the University of Washington (just a few miles from where Ericsson and PowerLight conducted their test) reportedly managed to charge a cell phone from across a room using a laser "as quickly as a standard USB cable". Last year Huawei filed patent documents for a laser-powered smartphone charger - although this has yet to materialise into anything resembling a commercial launch. 
However, Ericsson is the first company to push the technology beyond the bounds of household electronics with anything resembling a commercially viable product. The main reason this hasn't happened yet is that - as the researchers at UoW stressed in 2018 when they were just trying to juice up a single handset - safety is a serious concern. 
The Ericsson project - much like the UoW PoC from three years ago - confines the highly-charged laser beam within a ring of other, safer lasers. Ericsson calls it a "virtual shield" that "automatically and temporarily shuts down power transmission before any living or inanimate object crosses its path." Considering the fact that mobile base stations (especially mmWave 5G ones that need to sit really, really close to the people using them) could conceivably fry a passing bird or cat in a matter of seconds, being able to cut out remote charging and hand power over to a backup battery would be an essential step to making this technology work safely in the real world.   
As telecom companies around the world begin to look beyond building cell sites in densely-packed, highly connected urban spaces, and towards more rural and remote locations, Kevin Zvokel, Ericsson's head of networks for North America, says that remote charging is a game changer. "The ability to safely transfer power across distances without having to be connected to the power grid eliminates one of the big obstacles we have when building new cell sites. The time savings and flexibility gains will make this an attractive solution for our customers," he said on Monday. 
Claes Olsson, Executive Chairman, PowerLight Technologies, added that "Most people are aware that wireless charging technology is available today for small electronic devices, such as cell phones and watches. This breakthrough demonstration, which utilised the best innovative technology from PowerLight and Ericsson, underscores the major leaps we have made recently toward the commercialisation of safe, wireless power transmission for larger-scale systems. PowerLight is developing systems today to transfer kilowatts of safe power over distances of kilometers that will be commercially available in the next few years."