Will blockchain take mobile voting mainstream?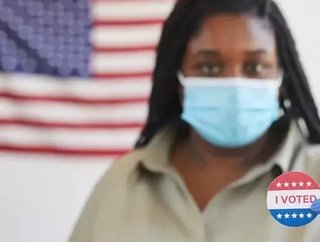 As the US election draws to its fraught climax this week, we look at the future of mobile voting tech...
While citizens wait in line to cast their vote in the US election, dutifully trusting in the security of the ballot counting system, 2020 could be one of the last times they register their vote at a polling station in person.
But fear of vote-rigging inflamed by leading Republicans and President Donald Trump, who has implied that his loss of the election would be down to a "fraudulent" voting system, has resulted in current US election officials dismissing the use of smartphone voting tech.
Despite this, the future development and testing of applications and cybersecurity mean that by 2024's Presidential election, a large proportion of votes may well be cast using mobile phones. 
The technology to manage voting via smartphones already exists and is being piloted in 29 of America's 3,141 counties. These areas have decreed that some absentee voters can cast their ballots via (a newly developed polling platform) in the current election. Officials in the voter's jurisdiction are opening lockboxes, printing the paper ballot - thus making an auditable paper trail - and finally running them through optical scanners. The scheme will be a test case regarding the efficiency and reliability of mobile phone voting, which could result in all elections adopting the system in future. 
Compromised security
However, some experts are reticent regarding the decision to increase the availability of mobile or online voting for mainstream elections. They cite security risks and vulnerabilities that could occur in the process of transmitting such sensitive information via the internet. 
(a politically neutral group) which promotes election integrity, is against the adoption of mobile phone voting, citing recent data breaches of wealthy corporations as evidence that the Internet is simply not secure enough to ensure election fairness. 
, President of Verified Voting recently told , that if high-budget corporations could not keep data safe despite huge cybersecurity funding, she was doubtful that poorly-funded organisations could do an effective job. She said, "It begs the question of how these election officials, who do a great job with insufficient resources, are going to keep this safe," she said.
Though voting software developers disagree, saying their tech can manage a mainstream election without being compromised, a report released by independent testers in March 2020, revealed several vulnerable areas that could potentially be exploited if Voatz became a mainstream voting tool. The 200-page report by Trail of Bits cited a lack of test coverage and documentation, a manually provisioned infrastructure lacking infrastructure-as-code tools and nonstandard cryptographic protocols. 
A previous study by MIT also found weaknesses with the app. Voatz developers responded publicly to the MIT findings, saying the study was problematic and that proceeding updates to the system had already eradicated the issues MIT detected.
Future smart voters
However, though mobile phone voting may still have some teething troubles, its almost certainly going to turn mainstream soon. Smartphone voting is convenient. In terms of the US, it allows for the estimated 3mn American citizens living outside the country to vote in elections swiftly and simply. According , approximately 19% of Americans are also living with disabilities. A large majority of those will have compromised mobility. A smartphone voting system could be the answer for people who might otherwise not bother to register their vote. 
Mobile app voting systems, like Voatz, rely on blockchain technology, which is usually known for its end-to-end transparency and security. Though used frequently in the latest financial technology software for banking and payment systems, blockchain has been criticised as a safe platform for voting app development.
A recent report by outlines why blockchain technology is currently safer for financial transactions than for election use. It states, "The basic idea of a blockchain is to create an open ledger in which a series of transactions are stored publicly for anybody to verify, while protecting the identity of the individual users. For voting, that should result in a system where anybody could verify the validity of the election, while individual voters' choices are kept private."
The report continues, "But voting wouldn't have the same incentives and disincentives built into the program as the original blockchain, bitcoin. Attacking the cryptocurrency system is more expensive than participating in it and earning rewards in bitcoin, but there is no cost deterrent for voting, so there is no way to dissuade malicious actors from trying to take over the network. Because every vote is valuable, critics fear there is no good way to keep a user's identity and vote separate."
Both the possibility of hacking and voting accountability, which a paper trail provides, are central to the smartphone voting debate. However, most smartphones already have biometric identification security either through facial or fingerprint recognition. Therefore, a mobile app voting using blockchain should prove virtually impossible to hack.
However, , executive director of the Centre for Election Innovation and Research, a politically neutral research group in Washington, maintains that voting authenticity remains the primary objective, not the accessibility of votes. Therefore, until the technology can prover otherwise, paper ballot votes provide the most secure pathway to a trusted election outcome. He told , "Making voting more accessible is a laudable goal, but accessibility needs to be balanced with security. It's important to have an election where winners and losers have confidence that the process came up with the right result."