The three best protective cases for the Google Pixel 4a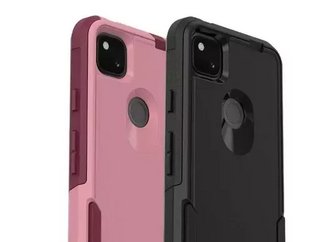 With the new Pixel 4a wading into the mid-range smartphone market, we break down the three best cases you can put on your new device...
Google just launched its new mid-range/budget handset, the on Monday. The $349 smartphone is targeting the same portion of the market that's currently being dominated by the and the . 
The handset measures 5.67" x 2.73" x 0.32", has a gorgeous OLED touchscreen with a 1080x2340 pixel resolution and a 19.5:9 ratio, made from Gorilla Glass 3. In early side-by-side comparisons, the Pixel 4a appears to against theiPhone SE on most counts - although its decidedly mid-range Snapdragon 730G processor means it just doesn't have the same oomph you get from the iPhone SE's monstrous A13 Bionic. 
If the new Pixel 4a looks to be your next phone, there are already several great options for protective accessories aimed at keeping it safe and sound (and stylish). 
Google Pixel 4a Knitted Case
From Google itself, this knitted phone case definitely favours style over practicality, although the company maintains that the case's microfiber lining will effectively prevent scratches. The case comes in three colours: Blue Confetti, Static Grey, and Basically Black. It's also machine washable, as well as being made from 70% recycled materials. At $40, you're definitely paying for the brand and unique look, although we have to admit it: it's a pretty cool look. Google's knitted cases are currently available to through the official store (and there's free shipping). 
OtterBox
Renowned for their nigh-indestructible cases, OtterBox is bringing its patented slim cases and glass screen protectors to the Pixel 4a. OtterBox CEO Jim Parke said in a : "OtterBox protects Pixel 4a with cases suited for everyday activities as well as exciting adventures, including those found right in your backyard."
As of now, Pixel 4a owners can buy the OtterBox Commuter Series case for their devices, which features antimicrobial technology (topically) and a two-piece design that combines a hard outer shell with a soft inner cover. For users after something less bulky, the company is also offering the Symmetry Series, which offers slightly less protection, but in a silhouette that doesn't make your phone look like it's about to jump in a dropship to rain fire and death upon the bug home planet. If you'd like to know more, .  
Catalyst
For an option that lies somewhere in between OtterBox's terminator armour and Google's $40 sock, you could try . The Las Vegas-based accessories manufacturer makes cases that are sleek, matte and are usually drop-proof up to about 10ft. 
The company's new starts at $39.99 (take that, Google sock - seriously though, I'm a sucker for a kooky design and the last time i was more than 10 feet off the ground, there was a Boeing 737 underneath me, so I'll probably end up with the designer bobble hat myself) has a back covered in a Polymetric grip to prevent marks and fingerprints. The case features an exposed face for direct touchscreen access. A raised top and bottom bezel protects the display, front camera, and other important touchscreen features while being simple to install and remove.