Is mobile customer experience still lagging behind?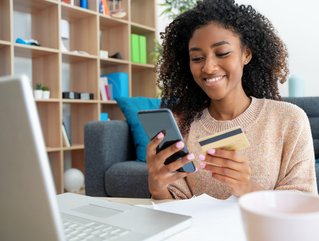 Huw Owen, Head of EMEA at Couchbase, explains why organisations must create a more engaging digital journey through mobile with a better approach to data
With two-thirds of all internet shopping in the UK now being done through mobile devices, it's clear that retail offering consumers a seamless mobile experience is more than just a 'nice-to-have' – it's a business imperative.
Offering a frictionless, personalised mobile experience can be make-or-break for companies looking to nurture customer loyalty. Yet many mobile customer journeys are currently less functional than the traditional website experience, leaving customers frustrated and dissatisfied.
If organisations delay futureproofing their mobile offerings, not only do they risk losing out on vital revenue streams but also the opportunity to engage and retain customers.
Stuck in the past
Organisations must bolster their mobile infrastructure now, as they won't have many chances to get it right. A recent report from PwC found that 17% of consumers will walk away from a company after just one poor customer experience. A weak mobile experience has the potential to cause a business to lose up to a fifth of their customer base in just one day.
Retail is a prime example where the mobile channel is often considered as an afterthought to the traditional website experience. This ranges from forcing customers to create accounts through mandatory sign-up processes, to websites that are difficult to navigate on a mobile device, being forced to repeat information input, and limited payment options.
In mobile banking, we see similar sources of customer frustration. A report from Forrester Research surveyed consumers to find that they are often dissatisfied with mobile banking apps. Customers reported that many mobile banking apps do not have the same capabilities as the website experience, such as budgeting and savings features. Customers are demanding a seamless mobile banking experience, yet they are complaining about having to jump through too many hoops to complete a simple transaction. More customers are now switching to digital-first challenger banks such as Monzo and Revolut, where apps are designed with customer experience at the forefront and are not hindered by outdated legacy technology.
Unlock customer loyalty with mobile experience
Organisations must adopt a better approach to data to ensure the mobile experience does not appear as an afterthought when compared to the traditional website experience. The answer can come from a mobile database platform: a secure, responsive, and resilient database that stores and processes data natively on mobile devices will help to deliver the seamless mobile experience that customers have come to expect. A database that extends to the edge will also underpin organisations' new mobile applications – ensuring greater agility in the mobile experience.
In an increasingly competitive business landscape, delivering a first-class mobile customer experience on the move is critical to engage and retain customers. A mobile database also brings offline-first capabilities to apps, helping to minimise friction even in areas with patchy internet connectivity, and therefore deliver a more streamlined customer journey. This means organisations no longer have to sacrifice speed, scalability, or ease of use when developing new mobile apps.
Doing mobile right
Making use of offline capabilities when designing mobile apps opens the door to several new opportunities that can benefit a wide range of sectors. Retailers can deepen customer loyalty by creating a more engaging customer journey through mobile. For instance, fashion brand Tommy Hilfiger has brought the world of fashion purchasing to life for its wholesale buyers via 'digital showrooms'. These mobile showrooms allow buyers to view outfits, see real-time stock levels, and place their orders through an entirely digitised process using interactive screens. Customers can also test physical samples for texture and style, while ordering the exact design they want to be delivered.
Innovative uses of mobile can also allow businesses to find new ways of keeping shoppers engaged and excited. No longer is the focus on just the final transaction, instead it's on the overall customer experience, with special emphasis placed on how people got to their purchase, what they've bought previously and their preferences. For example, PepsiCo upgraded their entire vending machine stocking process to 5G, helping to remove the dependency on outdated 3G networks. By modernising their order to cash process, PepsiCo benefited from a fully offline-enabled app that syncs in real time, while also allowing them to seamlessly integrate with third-party speciality apps.
Mobile databases allow data to be constantly streamed, accessed, and analysed, even from locations that don't have consistent internet connection. This helps organisations to innovate, using mobile to ensure that all plaforms deliver an experience to retain customers, not just the main website.
The future is mobile
The way we want to shop has changed. Many loathe the idea of waiting in long queues or travelling to over-crowded shops, so organisations dedicate more resources towards upgrading their digital experience to match customers' new expectations. The shift towards mobile ecommerce is representative of a much broader move towards a new method to engage and retain customers. Mobile is here to stay, so organisations must ensure that the mobile experience is not falling behind that of the traditional website experience. Customers will not give brands that fail to deliver on mobile a second chance.
Organisations should prioritise reducing friction within their mobile apps to ensure customer loyalty – but they must have the right technology in place to support this. Reassessing strategies and adapting to this mobile-first world – will save organisations from losing out to competitors that are better prepared to meet customer expectations.