Exito to host Digital Transformation Summit 2021 in UAE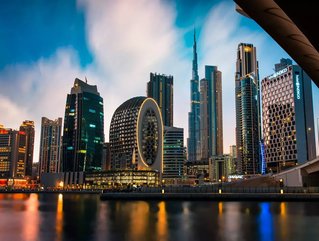 Exito will host this year's Digital Transformation Summit event in Dubai in the United Arab Emirates, an exclusive event for IT leaders
Digital transformation has become the bedrock of UAE's Vision 2021 which is driving business transformation and accelerated operations across both enterprises and Government entities.
With that in mind, the physical edition of the Digital Transformation Summit - UAE, is an exclusive gathering for IT leaders from across industries in UAE hosted at the Conrad, Dubai. Under the patronage of The Private Office of H.H. Sheikh Ahmed Bin Faisal Al-Qassimi the conference is gearing up to be one of the biggest digital transformation events this year.
The chairman, H.E Mr. Tomas Zaleski said: "The Royal Private Office of Sheikh Ahmed Bin Faisal Al Qassimi has been enabling a robust business ecosystem through technology and leadership in the UAE. In that context, it is our pleasure to announce our support towards the Digital Transformation Summit: UAE, a one-day event gathering business and IT leaders from UAE to explore the best practices for business transformation.
What's in store for you at this Summit?
This on-ground conference will gather the biggest Digital Transformation leaders, C-level decision makers, and technology evangelists from the UAE and across the globe.
The event will drive path-breaking conversations on UAE's key IT challenges and priorities and foster networking via coffee and luncheon breaks. Housing leading digital transformation solutions, the platform will allow leaders to explore a host of solutions for their digital roadmap.
With a rich experience of hosting six editions across Saudi Arabia, India, Southeast Asia, Africa, and Qatar, this edition will have expert keynotes, panel discussions, fire-side chats and solution showcase from our speakers and partners along with speed networking sessions and one-to-one meetings.
Featured Discussions at the Summit:
● Role of Digital and ICT in UAE'S Vision 2021
● Evolution of BI in the Cloud & Big Data era
● Customer Experience Roadmap for 2021
● Operational Efficiency Improvements using AI, RPA and more.
Top Speakers headlining the conference
● Sanjay Khanna, CIO, RakBank
● Hoda A.Alkhzaimi President Emirates Digital Association for Women
● Ahmed Aly Shaban Senior Consultant Government Services Improvement Sector
UAE Government
● Rashid Hazari Chief Strategist, Futurist Department of Economic Development,
Government of Dubai and more 
To recognise the exceptional work done in digital transformation initiatives, the conference will honour the top IT leaders and solution providers through the Digital Transformation Leadership Awards.
Leading solution providers like Kyndryl, AppDynamics, and Zerto will showcase their
capabilities in accelerating business transformation.
"The pandemic was an eye-opener for businesses and governments across the world,
instilling a new awareness of the importance of technology," said Vickram Nagi,
Managing Director, Kyndryl Middle East, Africa, and Turkey, said: "Having the right digital
transformation strategy and embedding innovation in everyday life enabled the UAE to
position itself as an example during the pandemic. And through our global talent of
90,000 experts, Kyndryl will continue to provide world-class services offerings for
customers in the UAE and across the world and help them accelerate their ongoing
transformation journeys."
Kyndryl, a Gold Partner of the Summit, is the independent public company that will be
created following the separation of IBM's Managed Infrastructure Services business.
Kyndryl designs, runs, and manages modern, efficient, and reliable technology
environments for the world's most important businesses and organisations, including 75
of the Fortune 100 companies, with the industry's most experienced services experts.
Our Silver partner, AppDynamics is a leading business observability partner and will take to the stage at the Digital Transformation Summit: UAE to showcase how they impact the bottom line for businesses.
Media partners
Intelligent CIO, AI Magazine, Mashable Middle East, Cyber Era, Security and Fire
Africa, Security Middle East, Global Risk Community, MyTechMag
Date: November 18th, 2021 | Time: 9 am - 6 pm (Gulf Standard Time)
Venue: Conrad Dubai, UAE
Website: digitransformationsummit.com/uae/