Clean machines: the future of antibacterial smartphones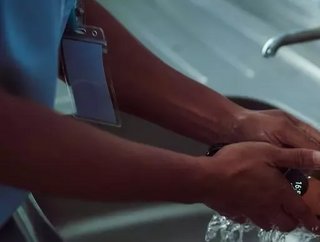 The CAT S42 and a new innovation from NBD Nanotechnologies are the latest in a wave of antibacterial technology designed to keep us, and our phones, saf...
"Some-body once told me the world was 'gonna roll me… I ain't the sharpest tool in the shed. She was looking kinda dumb with her finger and her thumb in the shape of an 'L' on her forehead…" 
Well, I bet you didn't know that the first four lines of is exactly the same length as the WHO's recommended duration for safely washing your hands. And they don't stop coming and they don't stop… anyway. 
Hand washing, wiping down surfaces with antibacterial wipes, and slathering ourselves in hand sanitiser like it's mayonnaise and our hands are a 30lb Thanksgiving turkey, have all been cornerstones of the last year. 
Now, we already covered the fact that, no matter how much you're washing your hands, the surface of your cell phone is probably nasty, even potentially harbouring as much as . Now, we were as horrified to find out about that as you probably are right now. But fear not. 
Innovators in the smartphone community have seen a huge rise in demand for antibacterial technology during the pandemic - for pretty obvious reasons - and, during the past couple of months, several interesting new products have hit the market that promise to make keeping your phone as clean as your hands as easy as breathing (in a mask - seriously, it's easy. Anti-maskers are a bunch of weenies. I don't really know where weenies came from, maybe it's a period-appropriate slip after intently watching Smash Mouth videos. Incidentally, did you know that William H Macy and Ben Stiller are in that music video? Did you know that I've gotten off-track here?). 
A very brief history of antimicrobial screens
The technology used to manufacture a smartphone screen that attracts and retains less dirt has been around for more than five years now. In 2015, Chinese manufacturer ZTE was the first smartphone maker to hit the market with an . 
Manufactured by Corning, the Antimicrobial Gorilla Glass is made by , which makes it harder for microbes to gain purchase (or because e coli is secretly tiny werewolves? I'm not a scientist) and is highly effective at reducing the amount of bacteria that winds up on screens. 
Another method that's gained prominence in recent years is that developed by Kastus Technologies, an Irish firm which sprays a titanium alloy onto the glass, coating it to achieve a similar effect. It is worth noting, however, that this technique does not also repel werewolves. 
While both are useful, the employment of expensive metals and complex manufacturing procedures has made them expensive and niche, and led many analysts to relegate the technology to a niche market targeting germaphobes and people working in sterile environments, or chemical weapons factories. 
COVID-19, of course, changed all that. 
Meet InvisiPrint
Based in Massachusetts, NBD Nanotechnologies, is another company hoping to capture a slice of the now burgeoning antibacterial screen market. In a recent interview, president and co‐founder, Miguel Galvez, said that, "We started to see a trend of people going toward antimicrobial even before COVID‐19… "We came along and said what if there was a way to blend antimicrobial into our anti‐fingerprint coating, we could cut a lot of cost out of the system." 
The result is the InvisiPrint, an anti-fingerprint, antimicrobial coating for smartphones which - in addition to keeping your screen free of cheeto dust and any loose marinara sauce you might have coating your mitts (you animal) can also reportedly reduce the amount of odour or stain-causing bacteria on your phone screen by 99.999%. 
The technology functions by blending a proprietary silane‐based antimicrobial technology with the company's existing anti-fingerprint solution. NBD has been working on this stuff since 2019, and plans to move to a commercial launch in Q1 of this year. Just in time for mass vaccinations. 
Regardless, Galvez added in his interview with the , that he expects demands to continue, fueled by behaviours developed during the pandemic. "People are going to want surfaces that stay clean," he says. 
Dip your phone in bleach. It's probably fine.
From heavy earth moving equipment to wrecking ball cranes, CAT is a brand associated with tough machines. Although it's operated by a different company based in the UK called Bullit (also a good tough name) the CAT brand also makes highly ruggedised smartphones. 
Now, the company is hitting the post-pandemic market with a solution that, when you compare it with blasting glass with microscopic bits of silver or soaking it in titanium juice overnight (again, not a scientist and I don't work for Corning) seems devilishly simple. 
The CAT S42 was announced in late November last year and, according to the company's press release, is the world's "first fully antibacterial phone". In addition to having every single component treated with a Biomaster antimicrobial agent, which reduces germ density by more than 80% within 15 minutes and 99.9% within 24 hours, the . 
"Throughout 2020 we have consistently been driving awareness of the importance of mobile hygiene for us all, but this is vital for those among our customers working within a health or social care setting, and those visiting multiple sites for their job," said . 
"Using a Cat phone already allows them to have confidence that they can wash and sanitise their Cat phone regularly or between visits." 
Well, Peter based on that statement, and Bullit's press images, it looks to me like you're suggesting the best way to really make sure your phone is clean is to fill up the sink, lather up those hands and ask Alexa very nicely to play Smash Mouth's greatest hits.