Asia Pacific growth to be showcased at MWC Shanghai 2023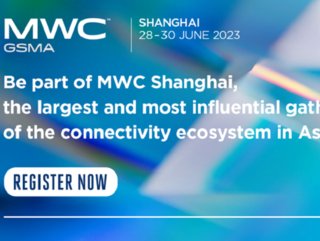 Registration is open for MWC Shanghai press passes
GSMA will host MWC Shanghai 2023 from 28th to 30th June at the Shanghai New International Expo Centre (SNIEC)
Representatives of the mobile, technology and adjacent vertical industries across China and Asia will gather in Shanghai next month for Mobile World Congress (MWC) 2023.
Organised by the GSMA, MWC Shanghai 2023 will revolve around the themes of 5G Transformation', 'Digital Everything' and 'Reality +' and showcase how the Asia Pacific region has grown to be one of the most vibrant and advanced markets for mobile and digital technologies.
Mobile technology's value in China
In 2022, mobile technologies and services generated 5.5% of GDP in China – a contribution that amounted to $1.1 trillion of economic value added. China will be the first market in the world with 1 billion 5G connections, reaching the milestone by 2025. 5G connections in China will reach 1.6 billion by 2030, accounting for nearly a third of the global total.
China and the wider Asia Pacific region also house a comprehensive mobile ecosystem that is activating the development of advanced technologies including 5G and 6G as well as the technological capabilities driving the metaverse such as AI and XR.
MWC Shanghai provides a unique opportunity to network with industry leaders, attend keynote speeches, participate in panel discussions, and gain insights into the latest trends and technologies shaping the industry. Industry leadership will take the stage with nearly 350 speakers from around the globe, almost 100 hours of thought leadership content and nearly 60% senior-level participation. Speakers for the 2023 edition include Jim Cathey, Chief Commercial Officer at Qualcomm and Xu Ziyang, Executive Director and CEO of ZTE.
Alongside industry experts, global companies will also be looking to market their products, innovations and services to the region at the event.
Media and industry analysts can apply for a complimentary pass, with all other attendees invited to register for the event here.