Appear Inc to launch "first" ever graphene battery 5G phone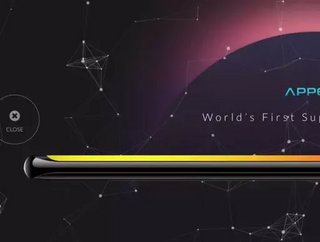 The device will hit stores in March 2021, and features water resistance technology, and an ultralight, "first of its kind" graphene battery...
San Francisco-based electronics startup claims it's about to beat the competition to bring graphene battery smartphones to the market. However, this somewhat mysterious startup's grand claims and lack of additional information warrant further scrutiny. 
The company - which has virtually zero online presence beyond a 'coming soon' website (pictured) and its press release - revealed today that customers can expect the launch of the "world's lightest and first graphene battery-powered smartphone with innovative water-resistant technology" in March of this year. 
Appear, the company's press release claims, is a technology company with experience making "innovative electronic products", particularly water-resistant speakers. We were unable to find any evidence of such speakers online. However, Appear claims to have used the same technology as one of the key features in its upcoming device. It also claims to make levitating speakers, which is a technology unlikely to be included in the device. 
A world first?
In addition to the logical redundancy of claiming to be the first and lightest graphene powered phone (by definition it would also be the heaviest graphene battery-powered device as well), the exact nature of the battery that Appear is putting in the phone would have some impact on the validity of the claim. 
Last year, Chinese phone maker Xiaomi also claimed to have cracked the puzzle of using graphene technology to enhance its batteries. The is powered by a graphene-enhanced lithium-ion battery with a capacity of 4,500 mAh. Back in January of last year, US-based battery firm, Real Graphene, announced that it was preparing to trial graphene batteries with several manufacturers, with the that a 3000mAh cell using their technology charges from 0 to 100% in 20 minutes, against 90 minutes on average with a conventional lithium battery.
Appear also claims that it's known for its Appear Graphene Super 20 Power Bank, which can charge fully in 20 minutes, adding that it has incorporated this technology into its new phone.
It seems as though Appear's new batteries are, like Xiaomi and Real Graphene, an enhanced version of a lithium-ion battery. In the company's press statement, it is explained that "Graphene, similar to graphite, is composed purely of carbon. It has revolutionised many areas of manufacturing due to its unique properties. Though it is stronger than steel, graphene is lightweight and one of the most conductive materials. This allows graphene to act as a super capacitor for Appear's revolutionary Fast Charge Technology. Graphene-enhanced Li-ion batteries have longer lifespans, higher capacities and faster charging times while remaining flexible and light."  
Whether or not there's a distinction to be made between the technology Appear plans to put in its phone and the "graphene enhanced" tech already beginning to filter into the market is probably the fulcrum on which its claim of achieving a "world first" will rest. Perhaps the claim of the world's lightest graphene battery was tagged on the end just in case anyone fact-checked them on the first part. So far, it seems as though Xiaomi at least has already beaten them to the punch by about a year. 
Regardless, a water resistant 5G phone with ultra-fast, long-lasting graphene battery charging capabilities has the potential to be a winner. 
Coming soon
Appear claims that demand for its phone is already strong and growing stronger. It's hard to see exactly how this is the case, given the company's almost total lack of marketing, online presence and available information, but it's forecasting sales in the millions during the first six months of release. 
The company is reportedly working with Foxconn India (Foxconn famously serves as Apple's main contractor for iPhone parts and assembly - so it's a promising sign of potential quality) for its manufacturing needs. 
So far, there is no information available concerning additional specs, hardware (beyond the fact that the phone will be 5G compatible), pricing, or even a name. Mobile Magazine has reached out to Appear Inc for further details and will update this story if we receive a response. 
The device is projected to appear on Amazon and other online retailers in March, and will be available globally.