Vocus recognised as Australia's best fibre network operator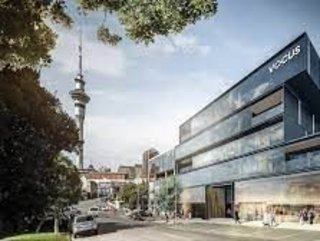 At the CommsDay Edison Awards 2022, Vocus was named as Australia's best fibre network operator with CEO Kevin Russell being admitted to the Hall of Fame
Vocus has been recognised as Australia's Best Fibre Network Operator in the CommsDay Edison Awards 2022, with CEO Kevin Russell also being admitted into the CommsDay Hall of Fame on 3rd May 2022 in Sydney.
The awards recognised Vocus for its significant investments in 2021 to increase capacity and reach of our Australian fibre network infrastructure. Kevin Russell was granted the 2022 Hall of Fame award for his lifetime of service in the Australian telecommunications industry.
Recognised for massive fibre expansion
"Our judging panel favoured Vocus because of the scale and intensity of its capital upgrades at a time of uncertainty in the industry. They were especially impressed with the ambition of Project Horizon and the proposed Darwin to Singapore cable which breach new frontiers for Australian telco infrastructure," said CommsDay CEO Grahame Lynch.
In 2021, Vocus started two of the largest infrastructure projects in the company's history. These are Project Horizon, which is a new 2,000-km fibre cable from Perth to Port Hedland via the Pilbara, and aims to provide 38 terabit per second connectivity per fibre pair, and introduce much needed competition to the Pilbara, where charges for bandwidth are disproportionately high.
The second is the Darwin-Jakarta-Singapore cable, the final link in a US$500mn system of cables connecting Darwin, Port Hedland, Perth and South-East Asia. It will be Australia's first submarine international cable into Darwin, delivering 40Tbps of internet capacity between Australia and Asia, unlocking Darwin as a major new data hub for the Asia-Pacific and opening up the Pilbara mining region for low-latency connectivity into Singapore.
Vocus also completed the "Terabit Territory" project for the Northern Territory Government, providing a 25-times increase in capacity in Vocus' fibre backbone from Darwin, Adelaide, Brisbane and Townsville.
Bringing connectivity to hard-to-reach places
Vocus was also recognised by the Edison Awards judging panel for bringing broadband to notoriously difficult-to-connect places in Western Australia and the Northern Territory
The launch of Vocus enterprise-grade Business Internet Satellite enables businesses in the resources, mining and utilities sectors to invest in locations that might otherwise have been difficult to operate from without adequate connectivity. The service has seen a 13-fold growth in uptake over the course of 2021.
Vocus is continuing to invest in the latest satellite technologies, using its fibre network to connect satellite ground stations for satellite operators and acquiring regional transmission licences for the sole purpose of connecting new generation Low Earth Orbit satellite constellations to our fibre network.