Mobile storage firm Greener Power Solutions raises €45mn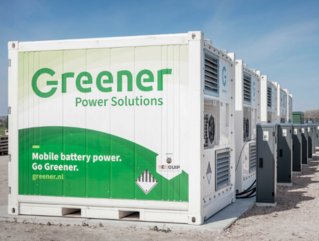 Mobile battery storage rental company Greener Power Solutions has raised €45mn from DIF Capital Partners
Greener Power Solutions, a company that provides mobile battery energy storage solutions, has raised €45mn in a fresh round of funding.
The investment came from DIF Capital Partners, a Dutch investment company with over €11bn under management. The firm is globally active and specialises in infrastructure and renewable energy through the investment fund DIF CIF III.
Greener will use the capital to strengthen its market position in the Netherlands and beyond, by further investing in hardware, software and innovation.
Willem Jansonius, partner and head of the DIF CIF strategy, said: "DIF believes that the importance of decarbonising the economy and drastically reducing nitrogen emissions creates unprecedented momentum for clean energy solutions. The current nitrogen crisis in the Netherlands plays a major role in this. Moreover, temporary energy is of growing importance due to the overloading of the Dutch power grid that we are currently seeing.
"Greener's mobile energy solutions offer its customers a significant reduction in harmful emissions and therefore contribute to the realisation of the energy transition. We look forward to working together with the management to realise Greener's ambitious growth plans."
Improving sustainability of energy solutions
Founded in 2018, Greener Power Solutions provides services to the temporary energy industry. They offer mobile batteries equipped with their own software for leasing to a variety of industries, including construction, grid reinforcement, events, and EV charging.
The company aims to improve the effectiveness and sustainability of energy solutions for on- and off-grid projects by renting out batteries. For this, Greener has built its own planning, monitoring, and EMS software to optimise power supply. By accelerating the energy transition in this manner, Greener works to minimise its CO2 impact.
Greener's fleet consists of 60 batteries with a total capacity of 20 MWh. By replacing polluting diesel generators, the company says it has already saved almost 1.5 million litres of diesel and 4.5 million kg of CO2 emissions in recent years. Additionally, Greener claims that its self-developed software that controls the batteries helps customers to manage their energy consumption in a smarter and more economical way.
"When we started Greener, we wanted to disrupt the temporary energy market with our batteries. Now, we can safely say we have achieved this goal. DIF's investment enables us to pursue new goals and capitalise on the great opportunities we see for our energy solutions. We believe that temporary energy facilities can play a major role in accelerating the transition from fossil to renewable energy sources. Moreover, our ambition is to help customers achieve sustainability on an even larger scale. With this investment, we will strengthen the team, enter new markets and expand the fleet," CEO Dieter Castelein explains.