Apple iPhone 11 outsells competitors in H1 2020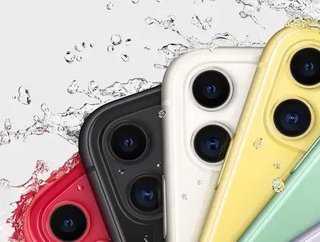 With 37.7mn units shipped, the iPhone 11 easily clinched the top spot for smartphone sales in the first half of 2020...
The iPhone 11 is officially the best selling phone of the year so far. Apple's flagship handset sold a total of 37.7mn units in the first half of 2020, according to a from . 
The latest iPhone's sales figures have not only smashed its nearest competitor, the Samsung Galaxy A51 by 26.3mn units, but also outstripped the best selling phone of H1 2019, the iPhone XR by 10.8mn units. 
According to Omdia, a key reason for Apple's success with the iPhone 11 was its relatively low price tag compared to previous years' iPhones. The iPhone 11 is priced a full $50 lower than the XR, despite receiving several significant hardware upgrades, including a dual-lens camera. 
In total, Apple shipped 13% more smartphones in H1 2020 compared to H1 2019, despite the economic impact of COVID-19 which, according to Gartner, saw global smartphone shipments fall by . 
The iPhone 11 was not the only Apple product to make its way into the list of highest-selling phones in H1 2020. The iPhone SE - Apple's high-powered budget entry - sold 8.7mn units, the iPhone XR sold 8mn, the iPhone 11 Pro Max sold 7.7mn, and the iPhone 11 Pro sold 6.7mn. 
The only other company that came close to matching Apple's domination of the market with Chinese smartphone maker Xiaomi. The company's budget range of phones struck a chord with consumers during the economic effects of the COVID-19 pandemic, meaning the Redmi Note 8 and the Redmi Note 8 Pro sold 11.4mn and 11mn units, respectively, as well as the Redmi 8A and Redmi 8, which sold 7.3mn and 6.8mn units. 
Samsung, on the other hand, only managed to place one phone in the top 10 during H1 this year. The Korean smartphone giant's budget device experienced strong sales, but stood alone, with not a single Samsung flagship phone making it above 6.7mn units sold. 
Samsung may be looking to turn around a disappointing first half of the year - which also saw itself in late July in terms of overall device shipments - with its mid-cycle device releases. 
The company dropped its third generation folding phone, the Galaxy Z Fold 2, on Tuesday, and is expected to put out before the end of September, including its new budget offering the Galaxy M51.