Porch pirate crime drives new smart security trend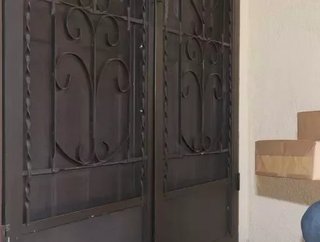 The e-commerce boom and package theft is motivating innovations in mobile technology security solutions...
According to a new , the theft of doorstep delivered packages has reached an all-time high, with 43% of Americans targeted in parcel theft incidences in 2020.
The wave of what has now been dubbed 'porch pirate' crime has been driven up by the vast volumes of sales that now take place online and use delivery services. 
C+R Research surveyed over 2,000 online shoppers to document their experiences with domestic package thefts. The results show that although 81% of victims were able to claim refunds on the stolen items, which have an average value of $136, only 47% of the incidences that took place, were reported to the police. 
Additionally, 2020 became the year of the package theft wave, as 29% of all respondents said they experienced a doorstep theft during the pandemic and many of those were first-time victims of porch pirates. 
Opportunistic
show that most incidences of porch pirate crime are carried out by practised individuals who follow package delivery vans such as UPS and FedEx. Once the parcels are dispatched, they're almost immediately stolen by the awaiting thieves.
The wave of thefts has become so prevalent that it is now driving forward a new industry in doorstep security and mobile technology, with smart video security cameras and smart doorbells leading the charge.
Cameras linked to mobile phones are one of the most usual ways to deter package thieves, according to C+Rs survey report, which stated, "These small cameras allow homeowners to screen and monitor who comes to their front door in real-time. According to respondents, 50% have some type of doorbell camera, motion lights or other type of surveillance camera to prevent package theft."
Other options involved agreements with the delivery services themselves. Amazon Prime is piloting a scheme called Amazon Key, where packages can be delivered inside the home after a security agreement has been reached between the vendor and the homeowner. 
Mobile ingenuity
However, the unprecedented wave of , which now constitutes 10.6% of all larceny defined crimes, has driven some victims to create revenge packages for doorstep criminals. 
YouTuber , who has 16mn subscribers, invented invent what he calls, The Glitter Bomb after his video footage of thieves stealing from his doorstep in broad daylight, was not enough to interest local law enforcement. 
A smart device containing four mobile phone cameras, ominous countdowns, flashing warning lights and obnoxious scent sprays, the Glitter Bomb captures up close and personal footage of the thief. Inspired by the film Home Alone, it is heavily booby-trapped with glue and alarms and explodes upon opening, showering the perpetrator with glitter and skunk scent. 
The footage of the thief is also instantly uploaded to the cloud for prosecution purposes. 
Community response
However, some residents of areas that have been particularly badly targeted by thieves, believe gadgets, no matter how extreme, are not necessarily the answer. 
Speaking to recently, Chad Pickens, a resident of Fresno in California, explained how he's organised the – a group of residents who essentially have formed a 'watch' club to prevent thefts, because, according to Pickens, petty criminals are more likely to be deterred by actual people, than devices. 
"The purpose of the group is to encourage vigilance by having at least one person visible outside, maybe on their front porch, keeping an eye on things," he told Gwire.
"If they (porch pirates) feel somebody is just out walking their neighborhood, whether it's just around the block or not, or even just walking to stand in front of their front yard, raking leaves or watering their lawn, it deters them."
Three smart devices to secure doorstep deliveries
#1 Ring Video Doorbell 3
Wireless security camera doorbells are a cheap and effective way to deter a porch pirate. The Ring Video Doorbell 3 offers 1080 HD video that lets users see, hear, and speak to anyone from their phone, tablet, or PC. It also allows users to receive instant notifications when anyone presses your doorbell or triggers the built-in motion sensors, can be paired with Alexa-enabled devices and is easy to install.
#2 Amazon Key
Amazon Prime members can keep an eye on their parcels via the Amazon Key service. It allows Amazon to deliver packages directly into the home. Currently only available in the US, the Amazon Key In-Home Kit is required to enable the Key service. It provides one Key-enabled Amazon Cloud Cam indoor security camera and one Amazon-approved third-party smart lock. Users can receive alerts when a courier arrives and watch them deliver the package inside their home. Of course, the Amazon Key service only applies to Amazon packages, neatly tying in the security-conscious ever more tightly to the Amazon marketplace.
#3 Ring Spotlight Cam integrated security light
This integrated porch light security camera is part of an emerging smart home security trend. The device enables users to watch a live video feed on their mobile devices, receive motion alerts and talk to people via two-way audio intercoms. Customers can also schedule the lights to turn on and off at set times. But the Spotlight Cam goes one step further with a 110-decibel siren that can be triggered to scare someone away when required.