Microsoft and Warner Bros: Come on and slam (the keyboard)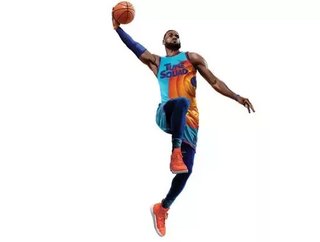 In anticipation of Space Jam: A New Legacy, Microsoft is partnering with Warner Bros to launch a new initiative encouraging kids to code...
It's been 25 years since Space Jam united basketball superstar Michael Jordan, the Looney Toons characters, Wayne Knight, Danny Devito and (probably after ambling onto set uninvited and calmly helping himself to the craft services table) Bill Murray, for 88 minutes of transcendental cinematic joy.
Seriously, it's the best. Just bask for a second in this line of copy from the film's website - widely recognised as one of the first pieces of truly iconic online advertising, it's a from the earliest days of the internet - "If you like basketball, and you like to jam, go no further. Space Jam isn't just about Michael Jordan meeting the Looney Tunes -- it's about a slammin' jammin' game to keep the Looney Tunes out of a failed intergalactic theme park!" How does that not spark joy? Anyway… 
With the reboot (starring LeBron James) coming in 2021, for a new partnership aimed at encouraging children to code. Microsoft announced earlier this week that it's launching a competition to create an original Xbox arcade-style video game inspired by Space Jam: A New Legacy.
Between now and December 30, fans aged 14 and up can submit ideas for a Space Jam game in fewer than 500 words. The two winners will have their games made and released as part of the XBox Game Pass next year, as well as receiving a bunch of other Space Jam-themed XBox swag. 
The console and mobile gaming industries have gone from strength to strength during the pandemic. In the UK, the gaming industry grew employment by 20% during the past year, and is expected to triple by 2025. Mobile gaming alone is expected to account for more than $100bn of revenue worldwide this year, eclipsing console and PC gaming, as well as the film industry. 
In order to further support kids learning to code, Microsoft is hosting a number of Space Jam-themed virtual workshops on video game coding. "The first lesson includes predicting efficiency ratings with machine learning and using data from human and Tune Squad basketball players. The second lesson includes building a web app that uses additional machine learning models in real time to help a coach decide who needs a water break and who should be put in the game to yield the highest likelihood of winning," explains a press release from Microsoft.  
Reportedly a vocal advocate for gaming and computer science, LeBron James hopes the movie can (Science, Technology, Engineering, Arts and Mathematics) education."