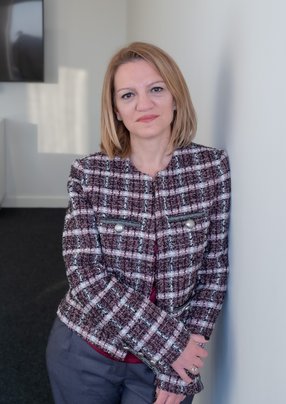 5 minutes with: Evangelia Tzifa
Head of Networks Pre Sales UK & Ireland at Ericsson
Evangelia Tzifa, Head of Networks Pre Sales UK & Ireland at Ericsson
Please introduce yourself and your role
I am an Electrical Engineer with extensive experience in the telecommunications sector and have worked at Ericsson for nearly 23 years.
Recently, I relocated from Greece to the UK to lead Networks Solutions and Managed Services for all Ericsson customers in the UK and Ireland.
This new role comes at an exciting time, as the UK is experiencing significant progress in 5G deployment. Currently, the UK has reached more than 60% 5G population coverage. UK operators are preparing to switch on 5G standalone during 2023, which will further improve the 5G user experience and enable the most innovative 5G use cases.
Tell us about your education and career path
I hold a PhD in Electrical Engineering from the National Technical University of Athens (NTUA). While studying there, I was one of only 15 female engineers in my class. As a result, promoting diversity in STEM and the telecom industry is a cause that is close to my heart.
After completing my PhD, I engaged in postdoctoral activities and research at NTUA until July 2000, when I joined Ericsson in Athens, Greece. I believe it's vital for society's growth to connect universities with the private sector and industries. One brilliant example is our 6G R&D programme in the UK in partnership with researchers, academics, and operators to push the boundaries of what's possible.
During my two decades at Ericsson, I've had the privilege of working in various roles and leading brilliant teams from different countries and cultures. Now, as I embark on this exciting new chapter in the UK, I cannot wait to see what lies ahead.
What led you to this industry?
I had a real passion for maths and science from a young age, but it was my experience of a major earthquake in Athens in 1999 that sparked my respect for the critical role of communications in society. It was crucial in reconnecting loved ones, keeping people safe, and rebuilding our communities.
Telecommunications has the power to bring people together, keep them safe, revolutionise the way they work, and create new opportunities – and we've already demonstrated the potential of 5G to stimulate economic growth, transform industries, and contribute to sustainability efforts.
In fact, research shows that new use cases enabled by 5G's unique capabilities could deliver additional economic growth of £15bn in the UK.
We, as telecoms industry professionals, carry a great responsibility to ensure that connectivity is accessible to all. Part of my new role will be working with customers to accelerate 5G in the UK to transform our everyday lives.


What have been the greatest challenges in your role?
5G, the fastest-growing technology to date, has primarily been focused on consumer use and concentrated in urban areas. For the next stage of 5G deployment, the challenge lies in driving broader 5G adoption across various industries and enterprises. To accomplish this, we must embrace the unique capabilities of 5G, such as network slicing and private networks, to industry stakeholders.
The good news is that we have already collaborated closely with UK operators and businesses to showcase the exciting advantages of 5G. The Green Planet experience in London last year, in partnership with EE, demonstrated how 5G-powered AR could create immersive learning experiences. We've also worked with industry partners like Ford and Belfast Harbour to exhibit the advantages of 5G in complex environments like ports and factories.
Regarding my role as a manager, creating an open and empowering environment is fundamental. It is through this inclusive approach that we can foster fresh thinking and enthusiasm when engaging with customers to explore new possibilities and new business potential for 5G.
What do the next 12 months hold for you and the company?
In the next 12 months, 5G standalone will be spotlighted in the UK. With this transition underway, my focus will be to enhance collaboration with UK customers to advance network evolution and realise 5G monetisation.
Other priorities include boosting 5G capacity through mid-band (TDD) densification since many sites still need to be upgraded to 5G mid-band. In addition, improving network performance in indoor environments is a priority and presents vast potential for 5G use cases.
Sustainability is also a core focus for me. Our 5G portfolio is 10-times more energy efficient per transferred data than 4G, and we have already observed significant results with our lightweight antenna-integrated radio (AIR 3268), achieving up to a 40% reduction in energy consumption for BT/EE.
I am truly excited about the future and committed to a strong and successful partnership with our valued customers.
"Our digital journeys need to be absolutely frictionless. We do have traditional channels as well. But our digital touchpoints – our apps, websites, and user interfaces – are critical to our success."