Edge Computing: A discussion with Verizon and Couchbase
Thu 24 Feb - Thu 24 Feb, 2022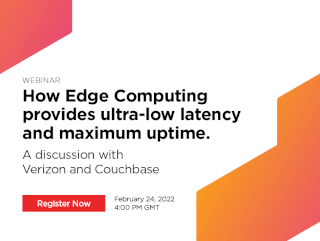 In this online event, Verizon and Couchbase talk about how Multi-access Edge Computing (MEC), 5G and local data processing work together
How Edge Computing provides ultra-low latency and maximum uptime: A discussion with Verizon and Couchbase
A distributed-cloud architecture is fundamental to Edge Computing, which greatly reduces latency by storing and processing data closer to the applications and users that consume it, enabling innovations like connected homes, autonomous vehicles, robotic surgery, and advanced real-time gaming. In this online event, Verizon and Couchbase talk about how Multi-access Edge Computing (MEC), 5G and local data processing work together to enable ultra-low latency for mission-critical apps and services.
When: Thu, Feb 24, 2022 · 4:00 PM London (GMT 0:00)
Agenda:
Why is edge computing so hot, and why now?
How MEC provides the highest guarantees of low-latency
The importance of an edge-ready database
How the network ties it all together
Use cases - travel, retail, healthcare, online gaming, etc.
Presenters:
Brent Eiler, Principal Architect 5G Edge at Verizon
Mark Gamble, Director of Product & Solutions Marketing at Couchbase
Scott Birch, Chief Content Officer at BizClik Media Group